Whether you are growing vertically, horizontally, indoors, or in a greenhouse, pests are a real concern for your crop. No matter where you are in the world, there are insects that will feed on your plants.
Good Bug Bad Bug – A Point on Prevention
Article from | ZipGrow
Do not worry though! There are many safe, reliable methods of dealing with insect pests that do not necessarily require mixing chemicals or using a sprayer.
The key to successful pest control and growing a healthy crop is IPM (Integrated Pest Management) which encompasses different methods of pest management in an escalation to maintain control over pests and instead of focusing on elimination, utilizes different tools to keep pests below an economic threshold (the point where the pest will cause economic losses greater than the cost of control). If you look at the IPM triangle below, you will see the first step in IPM is prevention. Often pest management practices are ineffective if used after a significant infestation of insects has taken place, and pesticide options are needed to bring a level of control to prevent the pest from reaching the economic threshold.
So how do we effectively incorporate prevention into our growing methods? We already know the crop must stay clean, and exclusion of insects is the number one way to prevent outbreaks (check out this blog post that mentions pest exclusion: https://zipgrow.com/cultural-pest-controls/). One of most valuable abilities that biological controls have, is that they can actively undertake pest prevention for you while you are doing other tasks. There are many predatory insects that can be released to preventatively control pests.
There is a large selection of predatory insects that can be released regularly to prevent insect pests from establishing colonies in your crop and reaching the economic threshold. The table above shows some of the more common biologicals used in vegetable growing systems to effectively control and prevent pests. Predatory mites such as Amblyseius swirskii will roam plant canopies feeding on larvae of whitefly, thrips, as well as fungus gnats.
A small bottle of Swirskii costs between $50-$100 and is enough to cover a medium-sized vertical farm for several weeks of protection. For longer-term control, sachets can be hung on plant stems and branches to give continuous protection for up to 8 weeks (sometimes longer If the conditions are right! We have found living mites in these sachets up to 3 months after application). The Sachets work by providing a breeding environment for Swirskii mite as well as non-malignant "feeder mites" that provide a source of food for the mites in the absence of a pest.
There are many biological products on the market that can be used in your farm, whether indoor, greenhouse, or outdoors to help prevent outbreaks of pests. Often these preventative actions are more cost effective than pesticide applications and cultivate a healthy growing ecosystem. Stay tuned for more blog posts about biological controls!
The content & opinions in this article are the author's and do not necessarily represent the views of AgriTechTomorrow
---
Comments (0)
This post does not have any comments. Be the first to leave a comment below.
---
Post A Comment
You must be logged in before you can post a comment. Login now.
Featured Product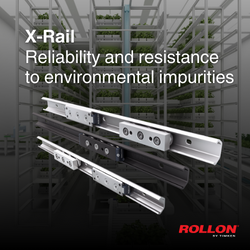 Rollon's X-Rail linear rails are a reliable solution in environments susceptible to impurities. Equipped with rolling elements with shaped and flat raceways, they are available in several versions: galvanized, nitrided or stainless-steel sheet metal. The latter version ensures total corrosion resistance, which is critical for hostile environments such as those found in vertical farming. Particularly innovative is the T + U configuration of the X-Rail linear rails, which can compensate for the parallelism errors of mounting surfaces. This simplifies installation and reduces costs.