The future of agritech and the ag retailer/client relationship ultimately depends on learning from all the data available. The information gathered is vital for both farmers and their retailers.
Data Trends in Agribusiness
Christina Trimis, Content Marketing Manager | Growers
The agriculture analytics market is projected to grow at a compound annual growth rate (CAGR) of 14.4% during a forecast period of 2021 through 2026. Agriculture analytics uses cutting-edge technological advances like Big Data, the Internet of Things (IoT), and other analytical tools. Ag retailers can use these tools to increase the potential for plant genomics, livestock management, soil health, and more.
Agribusiness took a significant hit during the pandemic. Ag retailers can help crop growers by providing them with the tools they need to offset the industry disruptions. Ag retailers need to give their clients the information they need to make wise decisions for their business – and to do that, they need to turn to our old friend; data.
The future of agritech and the ag retailer/client relationship ultimately depends on learning from all the data available. The information gathered is vital for both farmers and their retailers.
Here are three of the best data trends to promote with your growers to help maximize the benefits in the agribusiness for you and your grower.
Providing Actionable Insights
The role of an ag retailer can be complicated. Customers can't afford to try something new, often hoping for the best outcomes for the lowest cost. Every ounce of data from the farms you service is essential, no matter how well they are doing. Data collection is more important now than it ever has been. As the ag retailer in the equation, you need the data to see a complete picture of a grower's operation to offer them the unique insight that they come to ag retailers for in the first place.
Data collection can help a grower make informed decisions about their operation, yet some 71% of growers say no one has advised them to collect this vital information! Ag retailers can encourage their growers to gather data on everything related to their business. Farmers should have data on: delivery times from various suppliers, demand for certain crops month over month, and even soil quality in different parts of their fields. The more information your growers have, the better and more precise your analysis and guidance can be!
But what should an ag retailer do once they have all this data? Use it to drive decisions! By analyzing the data, ag retailers and growers can spot trends, identify weak points, and improve farm operations in the long run.
Accessible Data for All
Of course, farmers should not be the only people collecting ag data. Ag retailers also need to have plenty of data about their products – and that data needs to be available to all their clients!
Ag retailers are in a unique position. While your products are an essential part of your business, you are also "selling" your guidance and expertise. It's important to build a relationship with your growers and establish yourself as someone they can trust. How do you do that? By being open and transparent with your own data regarding things like product pricing and details.
According to research from McKinsey, about 50% of growers said pricing wasn't available from their retailers, 41% said they couldn't easily compare products, and 36% couldn't even get the product details they needed to make their decisions. This is one way to quickly lose customers.
Making your data accessible to all growers will help them make better purchasing decisions. They'll be more likely to return to you for products in the future.
Interoperability
As an ag retailer, you want to support your growers. You should be on the lookout for programs and technology that embraces interoperability. Interoperability is the ability for multiple programs to work together on one device.
Ag retailers can help drive change in the industry by promoting this kind of productive agritech, making daily tasks slightly easier for their clients. In this way, ag retailers can become advocates for their growers while also offering innovative new technology that helps them gain a competitive edge for their business.
Whether you're new to agribusiness or a seasoned veteran, one thing is clear: In the 21st century, data is the key to success in this industry. Studying the current data trends can help you offer better insights to your grower clients, helping them make better decisions about their farming operations. In this way, following the data trends isn't just an industry curiosity – it's an essential business practice.
About Christina Trimis
Christina Trimis is the Content Marketing Manager at Growers (growers.ag), an agtech company building solutions that make it easier for the ag retailer to do business with their farmer customers. Trimis has a B.A. in Anthropology, with a specific focus in Environmental Anthropology, giving her unique insight into how agriculture affects communities. When she isn't writing pithy commentary on the ag industry, she's raging a one-woman battle against Oxford comma non-believers.
The content & opinions in this article are the author's and do not necessarily represent the views of AgriTechTomorrow
---
Comments (0)
This post does not have any comments. Be the first to leave a comment below.
---
Post A Comment
You must be logged in before you can post a comment. Login now.
Featured Product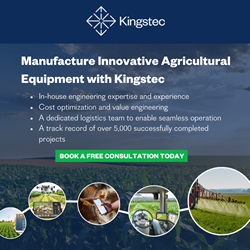 In the rapidly evolving agricultural landscape, leading AgriTech companies are increasingly leveraging the experience and expertise of strategic engineering and manufacturing partners to bring cutting-edge, cost-effective solutions to market. Kingstec is an all-in-one engineering, manufacturing, and logistics partner, with over 40 years of experience and 5,000 successfully completed projects. We can help you bring innovative, cost-optimized farm equipment, sensors, drones, components, and more to market quickly with in-house engineering and manufacturing expertise, a dedicated logistics team, and a network of world-class manufacturing and supply chain partners.