The next 10-15 years will see huge disruption in farming, but also exciting changes for the agricultural industry as it invests in more sustainable and regenerative practices.
Is Indoor Farming Really Profitable?
Article from | Light Science Technologies
This comes as a recent survey* of almost 300 growers revealed a big shift towards AgriTech innovations, underlining their awareness of the wider sustainability agenda and its growing importance to the future of farming, with 63% planning to invest in new technology in the future and 84% believing that new technology investment was an important or very important priority.
A significant part of future AgriTech innovation will be in the form of vertical farming, but is it profitable? In short, yes.
A hotbed for investment
Take a look at the current climate, which points to a thriving global market that is only set to grow further. Currently worth £19.2bn, the indoor farming sector is growing by 20% a year and is forecast to reach an eye-watering $11.7bn by 2027, according to Emergen Research's report published in 2020. Little wonder that in the face of such attractive rates of growth, it is proving to be a hotbed for investors.
Giant indoor farming company BrightFarms, which supplies US grocery retailers with packaged salad greens, recently secured $100m funding, including capex to support its expansion plans, while vertical farm start-up Infarm attracted $100m investment in June 2019. And California-based Plenty raised $200m in 2017, while managing to attract backers which include Amazon boss Jeff Bezos.
Interest has also extended to the public sector, as reflected in the Abu Dhabi government's $100m investment in indoor farming in 2020.
Multi-factored approach
However, success hinges on adhering to expert guidance and avoiding common pitfalls. Failure to do so could mean farmers and growers ending up with capex so high it takes a decade to generate profit, or even worse – being saddled with needlessly high operating profits which make it impossible to ever reach a profitable position. There are many factors to consider in getting it right – but they undoubtedly spell the difference between profit and loss.
"From spectrum wave form analysis to nutrients analysis, there are so many different elements that come into the mix. Also, being given the wrong advice not only has a negative impact on your profits but puts your entire investment at serious risk," warns Craig Price, Operations Director at Light Science Technologies, which works with customers in the sector.
Ensuring growers have the right foundations in place from the outset is a prerequisite to a profitable CEA farm. It's all about achieving the right balance of three key ingredients – capital expenditure (capex), operational expenditure (opex) and yield.
"Cutting too many corners just won't work, as you won't get the output you want. You also must scrutinise your operational costs and resources, including staffing, supply chain, seeding and nutrients," Price explains.
Price advocates asking basic but tough questions such as: How much are you going to grow? How long will it take to grow those specific plants? How much yield are you expecting? Of course, there's a huge amount of granular detail within each of these elements and it's essential to balance infrastructure costs such as plants, equipment, machinery, lighting, growing mediums and so on correctly.
Lighting can account for up to 30% of capital expenditure when setting up a vertical farm and between 25-30% of operational costs. Due to the many misconceptions around lighting technology, a common mistake is to treat LED lighting as a commodity and buy on price, or to be misled by misunderstanding the technology, product and related data. For example, 10% of light is being wasted if a plant receives 200 micromoles of light when it needs only 180 – a needless cost that will only come back to bite farmers when they receive their electricity bills, also ultimately impacting end of year profits.
Recipe for success
By seeking advice from experts like LST, it's possible to cut out that type of waste and increase profit margins by sticking to a bespoke growing 'recipe'.
Price explains: "It's vital to do your due diligence. Driven by the manufacturing process, there are vast differences in the quality of LED and how it produces light. For instance, cheaper but poorer quality LEDs would typically have low CRIs, poor phosphor and colour hues and won't deliver the amount of light and cost the client more in power."
Price adds: "Be careful not to be steered down the path of a particular manufacturer, rather than the correct way. Looking at the science attached to some quotes I've seen, given that light depreciates over distance and time, some of what is cited is just not possible within the laws of physics."
Growing science
As well as its research with some of the world's top laboratories and plant scientists, LST's own in-house laboratory includes the latest technology, including controlled environmental growing chambers which are linked and able to transmit data continuously to keep growers and farmers constantly updated with data about plant performance, quality, colour and taste.
Price adds: "We'll look at the crop, test it in different environments and with different light sources and run all those tests. All those elements will enable you to make smart decisions and smart decisions lead to smart profits."
As indoor farming starts to become more widely used as a solution in global food production, having the right foundations in place will inevitably pay off for more growers.
*Source: Virgin Money's Agri-Customer UK survey, Dec 2020
The content & opinions in this article are the author's and do not necessarily represent the views of AgriTechTomorrow
---
Comments (0)
This post does not have any comments. Be the first to leave a comment below.
---
Post A Comment
You must be logged in before you can post a comment. Login now.
Featured Product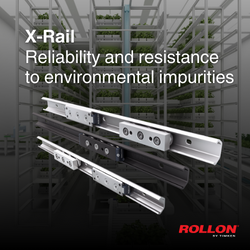 Rollon's X-Rail linear rails are a reliable solution in environments susceptible to impurities. Equipped with rolling elements with shaped and flat raceways, they are available in several versions: galvanized, nitrided or stainless-steel sheet metal. The latter version ensures total corrosion resistance, which is critical for hostile environments such as those found in vertical farming. Particularly innovative is the T + U configuration of the X-Rail linear rails, which can compensate for the parallelism errors of mounting surfaces. This simplifies installation and reduces costs.