The district has been producing food with conventional methods since the 1990s. But now, it's being expanded to integrate vertical farming systems, research and public outreach.
Urban Farming Spotlight: Sunqiao Urban Agricultural District
Leah Soto | Pure Greens LLC
In Shanghai, China, the Sunqiao Urban Agricultural District is set to introduce vertical farming to the country's biggest city.
Shanghai has the largest population in the country, with 24 million people.
Having that many people in one city naturally comes with increasing urbanization, which traditionally pushes agriculture into more rural areas.
To combat this effect, the city is expanding its urban agricultural district.
In this article, we're spotlighting the Sunqiao Urban Agricultural District in Shanghai.
China is the world's biggest consumer and exporter of agricultural products.
The industry is so big, 22% of the country's jobs are in it.
But over the last twenty years, China lost 47,000 square miles of farmland to urban areas, and one-sixth of the remaining farmland is polluted.
In the United States, large-scale corporate farms produce most of the food and are typically located in rural areas.
But in Shanghai, it's common to find smaller-scale farms just outside of the urban landscape.
Unfortunately, the growing population is making it harder to keep farmland so close to the city.
In order to account for the growing population and shrinking farmland, the country is searching for innovative solutions.
The Sunqiao Urban Agricultural District is meant to solve this problem.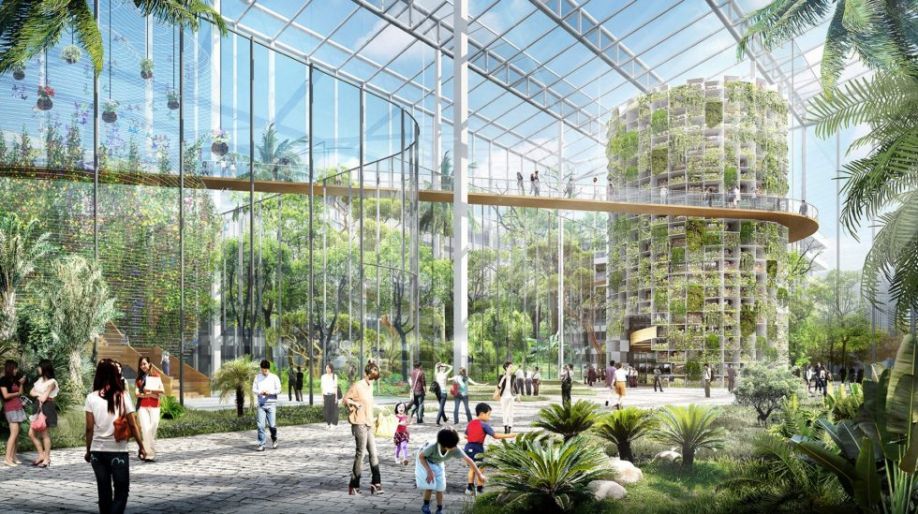 The district has been producing food with conventional methods since the 1990s.
But now, it's being expanded to integrate vertical farming systems, research and public outreach.
Plans to expand district to cover 100 hectares of space were announced in 2017 and construction is still ongoing.
The expansion of Sunqiao includes much more than just adding vertical farming systems.
The plans, designed by US-based design firm Sasaki, include 717,000 square feet of housing, 138,000 square feet of commercial space, 753,000 square feet of vertical farms and 856,000 square feet of public space.
The public spaces will include interactive, playful and engaging experiences to teach the general public about the innovation of urban agriculture.
For example, the plans include an interactive greenhouse, science museum, aquaponics showcase, and festival market.
As a result, Sunqiao will effectively feed residents while teaching them where their food comes from, hopefully inspiring children to take an interest in the industry.
Meanwhile, the inclusion of housing and commercial space helps bridge the gap between producer and consumer.
In Shanghai, land prices are high, so being able to grow plants vertically, rather than horizontally, is a huge advantage.
Plus, most of the vegetables eaten by Shanghai residents are leafy greens, and leafy greens are the optimal crop for vertical systems.
Leafy greens thrive in even the most simple hydroponic set-ups, so they're the most common vertical crop.
In addition to vegetable-growing vertical farms, the plan includes other urban-friendly farms.
Algae farms, floating greenhouses, green walls and seed libraries will all be added to the Sunqiao Urban Agricultural District.
With the inclusion of various types of farms, interactive public areas and commercial and residential spaces, Sunqiao celebrates food production as the center of a functioning society.
The content & opinions in this article are the author's and do not necessarily represent the views of AgriTechTomorrow
---
Comments (0)
This post does not have any comments. Be the first to leave a comment below.
---
Post A Comment
You must be logged in before you can post a comment. Login now.
Featured Product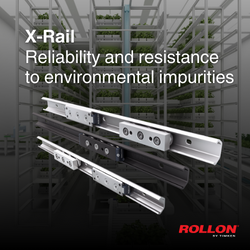 Rollon's X-Rail linear rails are a reliable solution in environments susceptible to impurities. Equipped with rolling elements with shaped and flat raceways, they are available in several versions: galvanized, nitrided or stainless-steel sheet metal. The latter version ensures total corrosion resistance, which is critical for hostile environments such as those found in vertical farming. Particularly innovative is the T + U configuration of the X-Rail linear rails, which can compensate for the parallelism errors of mounting surfaces. This simplifies installation and reduces costs.