As farmers learn to adapt to a changing climate, the industry must also reduce its own carbon intensity by 2030 in alignment with the Paris Agreement to reduce greenhouse gas emissions.
Smart Solutions Help Farmers Combat Climate Change
Bertrand Piccard, Initiator and Chairman | Solar Impulse Foundation
No industry is immune from the effects of climate change, but agriculture is among the most vulnerable. As farmers learn to adapt to a changing climate, the industry must also reduce its own carbon intensity by 2030 in alignment with the Paris Agreement to reduce greenhouse gas emissions.
Farm machinery, fertilizers, and even livestock contribute to emissions that need to come under tighter controls. Meanwhile, patterns of rising air temperature, increased precipitation in some areas, drought in others, heatwaves, water shortages, and continuing erosion make farming more of a challenge year after year.
Fortunately, the entrepreneurial spirit around the world is finding solutions for farming through water and land management, soil enrichment, and a focus on more efficient use of valuable resources. Efficiency saves time, saves money, and supports a profitable future by allowing agricultural enterprises to scale and grow. For example, xFarm, a digital platform for agriculture, enables farmers to keep up with regulations and certifications, and track every step and location of an agricultural product. Field sensors and IoT technology make this possible. Similarly, a company called Agricolus provides data collection technology to monitor and forecast weather, disease, pests, fertilizers, and other adversities as a tool for crop optimization. SinaSens Smart Agri uses sensors to reduce water consumption, increase crop quality and yield, and anticipate and reduce leaf-borne diseases.
Back In 2013, during the Obama administration, The United States Department of Agriculture (USDA) released a report about farming adaptation, calling for research into this type of sensor technology to improve management tools. Today's advances in machine learning and artificial intelligence (AI) have enabled a shift from older polluting industrial agriculture methods to more sustainable approaches. Take, for instance, 3Bee Hive-Tech, an IoT (Internet of Things) monitoring system that uses AI to diagnose disease and anomalies in farm animals at an early stage, allowing for a reduction in chemical and antibiotic treatments.
Solutions now exist, but getting them into the mainstream is sometimes more challenging. The agriculture industry is not alone in its reluctance to change. As a psychiatrist, I see all too often the way people suffer because they are unwilling to give up old habits that prevent them from moving ahead toward something better. The Union of Concerned Scientists writes that the "industrial model that dominates agriculture – a model that neglects soils, reduces diversity, and relies too heavily on fertilizers and pesticides – makes US farms susceptible to climate impacts in several ways."
The Solar Impulse Foundation addresses climate impacts by finding and validating at least 1000 solutions that support a green economy through profitable approaches that protect the environment. Agricultural systems are now capable of effectively zapping weeds with solar and wind-powered electricity instead of using chemical herbicides. Patented steam technology eliminates weeds and improves soil conditions without pesticides, and increases yield by 70 percent. Not only does this keep pesticides out of our foods, but also out of our water supply by eliminating runoff.
Farms are starting to use zero-emission battery-powered electric tractors charged by wind or solar instead of diesel. Natural food additives are helping to achieve 85% methane reduction in dairy cows and beef cattle. And seed-coating technology boosts water and nutrient intake to increase yield without fertilizers.
There's a great amount of work being done to use water more efficiently and also to provide added income to farmers through agrivoltaic systems that combine, on one plot of land, crops, and dynamic photovoltaic panels in order to protect crops from frost and hail without damaging the ecosystem. And bio-based products that are 100% natural can trigger a plant's natural response to abiotic stress caused by climate change.
Yes, solutions exist to support agriculture across the globe. The fallacy has been that protecting the environment comes with a high price tag. While this was true 10 years ago, it is no longer true today because of advances in technology and innovation. We have the way. What we need is the will of policymakers to think and act differently to support farmers who are working hard to adapt to a changing climate.
About Bertrand Piccard
Bertrand Piccard initiated the Solar Impulse Foundation after his history-making flight around the world in a solar-powered plane. Fueled only by the rays of the sun, this "impossible flight" proved that methods and technologies exist today to provide clean energy and solutions that protect the environment in a profitable way.
The content & opinions in this article are the author's and do not necessarily represent the views of AgriTechTomorrow
---
Comments (0)
This post does not have any comments. Be the first to leave a comment below.
---
Post A Comment
You must be logged in before you can post a comment. Login now.
Featured Product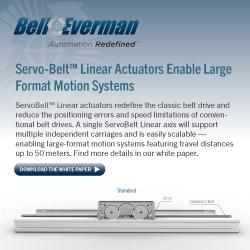 Manufacturing and packaging operations that still depend on manual material or parts handling operations can reap immediate benefits from a type of automation based on long-travel Cartesian robots with custom end-of-arm tooling (EOAT) and advanced sensing capabilities. These robots can support a variety of machines - performing otherwise manual tasks such as machine tending or transferring in-process parts - making long-travel Cartesian transfer robots a major upgrade to processes and operations. Download the White Paper from Bell-Everman