But, if you are set on becoming a farmer, there are many schools to attend and courses that you can take. There is no degree necessary to start plowing, but it would be beneficial to have a knowledge of the industry.
So, You Want to be a Farmer
Article from | Len Calderone
If you are reading this, I guess that you know that a farmer plants crops and raises animals. They harvest the crops and sell them to produce markets and food companies. The positive aspects of farming are that you get to work outdoors, where you get fresh air, sunshine, and interact with nature. As a farmer, you can grow your own food. Your days of commuting to work are over. You can set your own pace and every day is different.
There some drawbacks, such as the crops are influenced by the weather, disease and subject to price vacillations. The days could be long and the work physically strenuous. Many times, you will work outside in less than ideal weather.
But, if you are set on becoming a farmer, there are many schools to attend and courses that you can take. There is no degree necessary to start plowing, but it would be beneficial to have a knowledge of the industry. You might want to start by apprenticing or training under an experience farmer. Then, there are degrees that you can get in agriculture, husbandry, or farming,
As your career progresses you might want to seek the Accredited Farm Manager certification presented by the American Society of Farm Managers and Rural Appraisers. You will need to successfully finish a four-part certification examination and pass a test on the code of ethics. A bachelor's degree in the agricultural field will be required, and you will have to acquire four years of farming experience to obtain this certificate.
The study of the sciences is the basis of any agriculture degree. You should study the basics of chemistry and mathematics prior to applying for an agriculture degree. Economics is also an important part of agriculture. A useful science course to take prior to studying agriculture is biology, which is important in areas such as the breakdown of plant life and people's dietary needs.
The most obviously role for an agriculture graduate could be as a manager on a conventional farm, or in a specialized component on a farm. These jobs can be well paying and rewarding positions.
Biochemists, biophysicists, veterinarians and environmental engineers will be agriculture's most in-demand jobs going forward, according to a report from the U.S. Department of Agriculture. The agriculture industry employs over 1 million people, yet 49% of them are jobs off of the farm.
Here are some of the jobs in agriculture: Biochemist or biophysicist, large animal veterinarian, environmental engineer or scientist, environmental compliance manager, food scientist, agricultural engineer, enzymologist, molecular biologist, genetic researcher, weather and crop production analyst. There are over 70 colleges and Universities in the U.S. alone that have agriculture programs.
Agriculture Business can be divided into three distinct categories as follows: Productive resources like feed, seed, fertilizer, equipment, energy, and machinery; agricultural commodities like raw and processed commodities of food and fiber; and facilitative services like credit, insurance, marketing, storage, processing, transportation, and packing.
Most future farmers have their eye on owning a large farm, but anyone can start small with an agricultural farm by investing a moderate amount of money. You can then produce crops to fulfill the local demand and sell them locally.
Vermicompost organic fertilizer production requires a very low investment and can be profitable as a startup. Vermicompost comprises of water-soluble nutrients and is a very good, nutrient-rich organic fertilizer and soil conditioner.
Flowers are among the most profitable plants, which are producing one of the highest returns of any specialty crop. Flower production is one of the fastest-growing crop trends in today's agriculture.
Anyone can start a fertilizer distribution business as a small, medium or large-scale business. Small distributors generally operate within a small area while large distributors cover an entire state or more. Fertilizer distribution shows no signs of declining, and you can start this business with a moderate capital investment.
There is an increased demand for organically grown farm products that has led to the growth of organic farm green houses. Consumers are turning to organic produce, because of the many health risks in foods grown with chemicals and fertilizers.
Most large-scale farms are family operations, and it's not uncommon to encounter sixth-generation corn and soybean farmers. On family farms, skills and technical knowledge are passed on from one generation to another, while small-scale farmers come from all walks of life, and the skills must be acquired.
Many small farms hire interns for a growing season. This is an important step in your farm journey. Don't just do it for one season; work for three to four years before you even contemplate starting your own farm. This period will not only provide basic knowledge, but also confirm that farming is something you enjoy.
You might also get The Greenhorns' Field Guide for Beginning Farmers. The Greenhorns are a grassroots nonprofit with the goal of replacing our current agricultural system with smaller, sustainable farms. Their field guide is loaded with real-world advice on everything from farm fitness to farmers market best practices.
But let's assume you're ready. First, you have to decide whether you want to purchase your own land or lease it. New farmers should lease before they buy to be sure that the farm will work out.
There are still some U.S. cities that are not oversaturated with small-scale farmers If you're willing to relocate, you might be able to track down arable land near one of these American cities, such as Lawrence, Kansas; Mobile, Alabama; Gainesville, Florida; Lincoln, Nebraska; Grand Junction, Colorado; and Fayetteville, Arkansas.
Today, there are about 2 million farms in operation in the US and they attribute 1.3% of the employed U.S. population, employing around 2.6 million people.
Is it worth being a farmer? If you love farming, it's worth it, but don't plan to get rich quick. The average farmer earns around $70,000 a year. It's also hard to get started. Until the initial investment is paid, you won't get to keep much of that income. Every year, there are over 50,000 jobs available in the US farming industry, yet there aren't enough qualified graduates to fill these jobs.
The content & opinions in this article are the author's and do not necessarily represent the views of AgriTechTomorrow
---
Comments (0)
This post does not have any comments. Be the first to leave a comment below.
---
Post A Comment
You must be logged in before you can post a comment. Login now.
Featured Product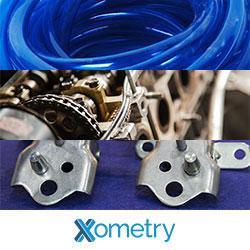 Xometry is your source for custom parts. Now, in addition to getting instant quotes on 3D Printing, CNC Machining, Sheet Metal, and Injection Molding, customers can create and send RFQs for die casting, stamping, and extrusion work to our nationwide network of pre-vetted manufacturers with just a 2D drawing. You will receive and be able to review responses from qualified shops within 7 days on an advanced web-based RFQ management platform. To learn more go directly to our site to issue and RFQ today. Stop wasting time managing RFQs through email and by phone, and start issuing RFQs at scale and in the cloud.