Using GPS technology, farmers can control the variable swath of a field. Swath control is where a farmer controls the size of the swath a certain piece of equipment takes through the field.
How Variable Rate Swath Control Helps the Farmer
Article from | Len Calderone
Using GPS technology, farmers can control the variable swath of a field. Swath control is where a farmer controls the size of the swath a certain piece of equipment takes through the field.
Since the size and shapes of many fields are irregular, there is bound to be overlap to some extent with every application. Using GPS mapping, the equipment in the field now knows where it has been during each pass. Swath control closes off certain sections of the applicator as it crosses the overlap area, preventing the farmer from applying applications twice on the same piece of ground. This allows the farmer to save money by using less seed, fertilizer, herbicides, etc.
Also, using GPS, variable-rate technology (VRT) allows farmers to customize the planting of diverse types of seeds at multiple locations with a single pass of the tractor. VRT has the advantage of targeting different rates into different soil zones. The gain of VRT over flat rate fertilizer was often as much as $10-30 a hectare, but in some situations, it could surpass $100 a hectare.
Based on a field's history and soil tests, a farmer can build a calculated GPS map for the input. By identifying what zones of a field are the most and least productive, the application rate of an input, such as fertilizer, can be custom-made to increase or decrease automatically at a suitable time, instead of applying a set rate of fertilizer over the entire field. This is a huge advantage for farms, as an operator can now apply at a rate most applicable for a specific section of a field.
The newest equipment includes control systems that turn multiple inputs on and off, increasing the potential for input cost savings beyond seed to fertilizer and other crop inputs. The most state-of-the-art systems add variable-rate proficiencies to the mix, giving precision agriculture the capability to apply prearranged amounts of crop inputs down to the square foot.
Trimble's FIELD-IQ system includes control software embedded in the FMX/FM1000 and EZ-Guide 500 monitors, as well as hardware components. It controls up to 48-row shutoff sections for seed and fertilizer. It also has LiquiBlock valves for turning row fertilizer on and off, hydraulic drives for variable-rate planting and fertilizer application, and sensors for on-the-go optical crop sensing and variable-rate application.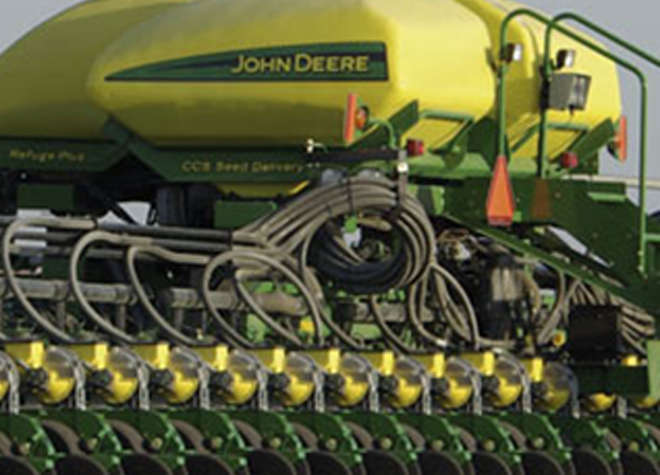 Photo: Trimble
Their Tru Application Control system, which is available only on the FMX/FM1000, is intended for sophisticated planting systems. Combining technologies from Trimble and Dickey-john, it manages up to 24 shutoff sections. Supplementing variable-rate treatments of up to four products, it presents supplementary monitoring capability, including seed monitoring, hopper levels and air pressure readings.
Dickey-john has THE AUTO SECTION control package, which features a dedicated color terminal that displays field coverage maps for real-time viewing of the planting operation with a monitor that displays seed-monitoring and application-rate information without disruption. The IntelliAg® MVT is a two-channel control system for row crop planters, which allows for application of 2 separate products or sections of the planter, while monitoring up to 84 seed sensors at the same time for individual row performance. In addition, the system offers optional manual individual row section control, and can be used as a planter population monitor or as an air seeder monitor.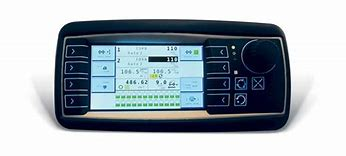 Photo: Dickey-john
The swath-control monitor contains a manual override feature in case there is a lost GPS signal. GPS latency and run-in and run-out overlap settings can be customized to turn row sections on and off at the precise time the planter enters and exits a previously seeded area or headland. The company also built an Auto Section Control module, which controls up to 24 sections.
John Deere's Section Control improves productivity for farmers. One of the primary benefits of Section Control is decreased product overlap in the field. Overlap reduction decreases the total amount of product used in the field, which saves the farmer money by lowering the input costs for the farming operation.
Photo: John Deere
The reduction of overlap can also improve the yield, as some crops are very sensitive to disproportionate seed population or product application. Crops characteristically yield less in overlapped areas of the field where the seed population is too high, and some crops can be easily harmed by unnecessary chemical or fertilizer applications that negatively impact the yield of the crop. The John Deere Section Control reduces overlap and helps the crop achieve its highest yield potential.
John Deere Section Control also reduces the stress level of the operator, because the operator does not need to focus on manually turning the implement sections off and on. This reduces fatigue and allows the operator to be in the field longer hours. It also helps less experienced operators perform the product application accurately in the field.
Variable rate swath control lowered input costs considerably more than GPS systems alone for irregular-boundary fields. The savings in fertilizer alone owing to individual nozzle controls range from $24 to $32 an acre. The use of these systems to reduce overlap would result in input cost savings.
In fields that are not square or have unusual features that force farmers to go around them, such as rocks and waterways, overlap may increase inputs by as much as 15 percent. A survey of U.S. farms by the U.S. Department of Agriculture indicates a 2.5 percent greater profit for farmers using GPS guidance systems, compared with farmers who do not. Also, the reduction in overlap has an environmental benefit of reducing total fertilizer and pesticide load by about 2 percent in square fields with more in odd-shaped fields.
GPS-linked guidance systems can reduce fertilizer/pesticide overlap during application, increase speed of operations, offer greater flexibility in labor quality, extend the workday and result in more optimum input placement. The guidance systems also helped plant fields in the most efficient manner with minimal overlap, reducing planting time by 30 percent, with a 10 percent overlap using a fertilizer applicator or pesticide spray applicator, but overlap was reduced to 0.5 percent using the guidance system. The time saved with the use of tractor guidance could be used to finish planting earlier, or use the extra time to farm more acres.
Variable rate swath control reduces input costs much more than guidance systems alone.
The content & opinions in this article are the author's and do not necessarily represent the views of AgriTechTomorrow
---
Comments (0)
This post does not have any comments. Be the first to leave a comment below.
---
Post A Comment
You must be logged in before you can post a comment. Login now.
Featured Product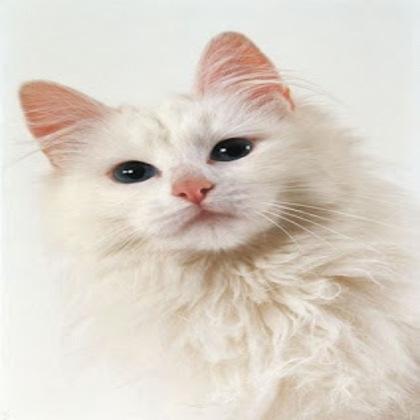 Image processing opens up a wide range of possibilities for the automation of modern agriculture - but what to do when only a small budget is available? That is where the uEye XLS comes in. With the launch of these super-small industrial cameras, even price-sensitive applications and volume projects become feasible. Measuring just 29 x 29 x 7 mm, the compact cameras offer excellent imaging characteristics without excessive heat generation, making them a perfect fit for embedded vision applications in agricultural machinery and equipment. The industrial cameras comply with the vision standard and are available with Micro-B connectors and with or without C/CS or S-mount lens holders, further increasing their adaptability to different agricultural environments. Thanks to these features, the cameras offered by IDS Imaging Development Systems lower the barriers to entry and make it easier to explore the potential of vision technology to optimize agricultural processes.