So what is actually happening on UK farms? Why is there a shortage of workers? What does this mean for UK farmers and consumers? How do we fix the problem?
Securing Our Harvest: Farm Labour and a Reduced Workforce
Article from | LettUs Grow
Last week, the government called on furloughed workers again to take on second jobs on UK farms, due to concerns that the shortage of farm labourers would have extreme consequences on the agricultural market.
There seems to have been confusion surrounding this scenario, with many different reports suggesting that although thousands of people have applied to work on farms, huge numbers have either been rejected from the work, or have turned the work down.
So what is actually happening on UK farms? Why is there a shortage of workers? What does this mean for UK farmers and consumers? How do we fix the problem?
The answer is not straightforward and placing blame in one direction or another is not constructive. Here, we summarise the conversation from the past few weeks, and aim to look to the future to assess how controlled environment agriculture might be able to bring some stability to this crisis and beyond.

Why is there a shortage of workers due to Covid-19?
Although this issue has been thrust into the spotlight by Covid-19, a shortage of labour on our farms and reliance on migrant workers is not a new problem. Over the past few years, there have been growing worries about cultivating our farm workforce, particularly among conversations about Brexit. Our current system is delicate and easily upset by events out of the ordinary; it is also an issue that will not disappear when the current crisis has passed.
It is estimated that only a third of the people who usually work on UK farms over the summer are currently in the country, and these low numbers mean tonnes of fruit and vegetable crops will likely be left unpicked. Restrictions to travel due to Covid-19 mean that the migrant workers who would normally travel to the UK for seasonal work will be unable to contribute to this year's harvest.
It's worth noting that this situation is not unique to the UK. Growers from all over Europe are currently struggling to pick their harvest and are facing huge losses. This is also a problem for us, as we import a large proportion of our produce from Europe.
Therefore, the government has called on furloughed workers in Britain to apply for roles on UK farms in order to bolster these numbers.
Why fruit picking is not for everyone
Unfortunately, the problem is not as simple as finding people to make up numbers. The first plea for people to work on farms saw only 112 people finding roles out of 50,000 applications. There are several reasons why this may be the case.
Firstly, it comes from a lack of understanding of what farm work entails and where our food comes from. The work is not "unskilled"; in an article for the Guardian, Steve Jones, an ex-fruit picker explains that the job is incredibly physically demanding, fast-paced, and calls for knowledge of what makes for a quality harvest.
That is not to say that it cannot be done, but that it is unlikely that those taking up picking for the first time will be able to perform to the levels that are needed to harvest enough food to meet UK demand. The coming season is also a particularly important harvest, since between the months of March and June, very little food is picked or stored in the UK, and reserves are low. Furthermore, the work is not flexible. It involves working early shifts and long hours in remote locations - perhaps living away from family during the week. If you also consider that the work is seasonal, this goes some way in explaining not only why it will be difficult to recruit and retain new workers this year, but also why the work is not a popular choice for many domestic workers in general.
Another important perspective to consider is the farmers'. Whilst some are asking why more is not being done to encourage British workers to take up these positions, it is worth remembering that this food is their livelihood. In a time when farmers are already struggling, taking on inexperienced workers will undoubtedly have further impacts on their profits.
Where controlled environment agriculture comes in
Another way we can support our harvest is by embracing growing technologies. The nature of controlled environment agriculture (CEA), such as indoor, vertical and greenhouse farming, means that it can operate throughout all seasons and the harvest is not weather dependent.
CEA can provide steady, year-round employment for farm labourers who might otherwise be turned off by the instability of seasonal work - encouraging more domestic workers to join the industry. Much of the growing operation can be controlled automatically, meaning that hours needed within the farms are reduced.
There is also the capacity to harvest certain crops using robotics. So, another benefit of harnessing these technologies is that it can be used to create supplies of crops such as leafy greens, whilst taking the pressure off of the production of crops that must be soil grown and hand picked.
Coming together
Food left unpicked is not only the farmer's loss - it is the consumers'. During these unprecedented times, nobody can afford for this harvest to go to waste. Therefore, it is important that we understand and fully appreciate the labour that goes into making sure the shop shelves are fully stocked - this would be impossible to achieve without migrant workers.
It is more important than ever that as a country we are united, which means that farmers, technology providers, labourers, government and furloughed workers alike must support one another in this endeavour by contributing to our harvest, but also by remaining empathetic to the needs and struggles of different parties. It is clear that moving forward our farm production and distribution systems must be strengthened and simplified. We must ensure we are not reliant on one method of production or group of people to deliver our food to us, and are bringing together all of our greatest assets in order to secure and guarantee our future harvests.
The content & opinions in this article are the author's and do not necessarily represent the views of AgriTechTomorrow
---
Comments (0)
This post does not have any comments. Be the first to leave a comment below.
---
Post A Comment
You must be logged in before you can post a comment. Login now.
Featured Product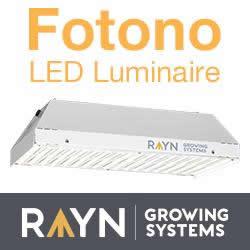 Fotono is a full spectrum LED horticultural luminaire designed to directly replace HPS lights in greenhouses. At 12 pounds, 20 inches long, and 5 inches high, Fotono's compact size makes installation simple while minimizing structural burden on greenhouses. This compact fixture packs energy-saving and yield-improving features, such as a high output, stepless dimming, advanced spectral capabilities, and more.