The use of agbots is increasing to help with the shortage of human farm labor. Robots are being used to pick fruit, milk cows, and other jobs that formerly required human labor. These agbots have specialized arms that can perform a variety of farm duties.

Article from | Len Calderone
Okay, what is an agbot? An agbot, or agribot, is an agriculture autonomous robot used in farming to enhance productivity and reduce manual labor. The farm of the future will be using various lightweight, small, autonomous, energy-efficient agbots. Each agbot will have its own place and purpose. Agbots will work together to weed, fertilize, control pest and fight diseases, while collecting data which can be used to correct and enhance farming.
The use of agbots is increasing to help with the shortage of human farm labor. Robots are being used to pick fruit, milk cows, and other jobs that formerly required human labor. These agbots have specialized arms that can perform a variety of farm duties. Agbots can connect to wireless sensor networks (WSNs), which refer to a collection of dispersed and dedicated sensors used for monitoring and recording the physical surrounding environment. The WSNs organize the accumulated data at a central location. They measure existing conditions, such as temperature, pollution, humidity, wind, etc. With the help of drones and sensors, they gather large amounts of data. Then, big data analytics assist farmers in extracting statistics from the enormous amount of supplied data to make farming more effective.
A WSN is built of nodes from a few to several hundreds. Each node is connected to one, or several, sensors. Each sensor network node has several parts. They are a radio transceiver with an internal or external antenna, a microcontroller, an electronic circuit for interfacing with the sensors and an energy source, which is usually a battery. The size of a sensor node could vary in size. The cost of sensor nodes ranges upwards of hundreds of dollars, contingent on the intricacy of the individual nodes. Size and cost of the sensor nodes depend on such things as energy, memory, computational speed and communications bandwidth.
Some innovative farmers are already incorporating this latest technology to increase their yields and cut costs. In the future, we will see oranges and corn to be 100% sown, grown and harvested by robots.
Other agbots are tractors that use machine vision and autonomous controls to replace outdated large, expensive and uneconomical tractors. Robotic weeding agbots are used to inspect crop rows and identify and remove weeds quickly. Robots operating at low speeds can detect weeds, and with the help of computer vision, algorithms will be used to classify them. Agbots are also being employed for harvesting, sorting, packaging and boxing.
Just about every major manufacturer of agricultural equipment has a tractor, using machine vision and autonomous robotics, or is developing one. Autonomous farm equipment is more efficient than manual equipment and can integrate information shared by drones.
The idea is to replace outdated tractors with a multitude of cost-effective agbots that can work the farm around the clock. At the Queensland University of Technology, engineers are working on a prototype agbot that is equipped with cameras, sensors and software that is designed to work in autonomous groups to plot a course around a farm, detect and classify weeds, while managing them mechanically or with chemicals. They can also apply fertilizer for site specific crop management.
The benefits of QUT's agbot is an increase in reliability of operations by developing equipment which can be produced at a lower cost per unit than conventional machinery.
Farmers will be able to purchase several agbots, which will operate together in the field. Multiple agbots will increase the reliability of an operation, and should a mechanical failure occur, the other agbots will continue working. The light weight design of QUT's AgBot II decreases soil compaction, which affects crop root development and soil health. AgBot II operates at slower speeds, enabling it to detect weeds and use classification software to decide on most advantageous method of weed destruction.
Soon, unmanned autonomous weed-eaters will roam a farm at will, identifying problem specimens, and eliminating them. These agbot weeding machines will be used to inspect crop rows and identify weeds faster than any human.
According to research by IDTechEx, agbots and drones are a $3 billion market, and this figure will increase to $6 billion in the next few years. Prototype robotic systems are in use in agribusinesses all over the world. This new technology will transform agriculture essentially overnight.
Both small and large farms will become more productive, efficient, and cost-effective than ever before. As agbots are introduced into farms, agriculture will never be the same.
Millions of pounds of milk are produced throughout the U.S., making dairy one of the most important parts of U.S. farming. As part of the $2 billion dairy automation industry, agbots are being used to automate manure cleaning, feed pushing, and more.
Lely.com
Many areas of fruit harvesting are fully mechanized. Yet, there's a need for growth among delicate, fresh harvests. IDTechEx estimates that large-scale use of auto-harvesters will begin by next year for strawberry and citrus-picking. California is successfully using the agbot in their strawberry fields today.
Agbots can scout fields looking for nematodes, allowing the farmer to make adjustments to minimize the impact. Then, these agbots will use artificial intelligence (AI) to make decisions and recommendations about what they find to the farmer in real time. To make this happen, there needs to be a real strong broadband capability.
We are now entering the fourth agricultural revolution. In sheer contrast to the previous revolutions, this digital movement is integrating the digital age with robots. The first revolution was a period of rapid experimentation and innovation in food production in the 18th century. The second was the invention of the internal combustion engine, which led to mechanized farm tools in the 1920s, and the third was the green revolution of the 1960s and 70s where the use of nitrogen and phosphate fertilizers became prevalent, and global grain output tripled.
Throughout the world, the green revolution left a residue of over-cultivation and disproportionate chemical usage. This contributed to extensive land degradation and the pollution of our natural ecosystems. Farmers today are extremely aware of the need for balanced resource management. Now, the farmers are making finely balanced calculations, weighing the use of chemicals with yield forecasting and long-term management of the farms.
Data drives many of these decisions. Modern farms face the growing challenges of climate variability, and population growth. Digital agriculture has developed as a way of feeding the world, using agbot technologies and data science to optimize farm production. Agbot technology from IoT enabled machinery to smart farm management, to Artificial Intelligence that calculates optimal harvest times, data will provide innovative insights on how best to manage food production.
What we are seeing is that digital technology combined with agbots has no boundaries.
The content & opinions in this article are the author's and do not necessarily represent the views of AgriTechTomorrow
---
Comments (0)
This post does not have any comments. Be the first to leave a comment below.
---
Post A Comment
You must be logged in before you can post a comment. Login now.
Featured Product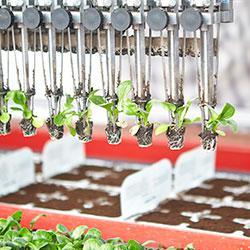 "Smart farming" is an important part of the answer to this existential question: Extremely high efficiency in food production through the targeted use of the latest technology, computer-supported and - where possible - fully automatic. Seeds are individually and precisely placed; fruits carefully picked by mechanical grippers; fertilizers and plant protection products applied in small doses and in a targeted manner. These operations require a large number of small electric motors that are both robust and powerful.