The increased utilization of precision agriculture has resulted in more data breaches. Precision agriculture is a management system that relies on measuring and quantifying vast amounts of data to improve yields and decrease inputs.
How Farmers Are Using Technology to Secure Their Land and Equipment
Scott Huntington | Off The Throttle
When it comes to large farming operations, this method is transforming how land is farmed and the resources, such as pesticides, that are involved.
Farmers today should maintain hyper-vigilance to lessen the chance of a cyberattack. The impact of COVID-19 on farming includes operation shutdowns and limited mobility. This disruption of supply chains and labor resources has forced many agricultural productions to use more online software, often without the proper training or knowledge base to implement this technology. With more people online than ever before, farmers are at risk of data breaches, as many people turn to other options to fill the desperate need for manual labor.
The publication of the FBI advisory on cyberthreats and economic espionage, as well as subsequent articles distributed by the Department of Homeland Security, give farmers options to prevent cyberattacks and react to data breaches. Here are 10 ways farmers can use technology to secure their land and equipment.
1. Utilize Appropriate Password Protection
When dealing with a vast amount of software, it can be tempting to reuse passwords for multiple platforms. However, when it comes to protecting data, making sure different logins use various passwords is a simple step to safeguarding information. Be cognizant of how many employees have access to certain login information
2. Make Timely Software Updates
Farmers today are handling more technology than ever before. Every new piece of equipment requires constant attention and frequent updates to ensure it's running correctly. Software must be kept current for smart technology to boost efficiency.
3. Create a Contingency Plan
Progressive technologies in precision agriculture have streamlined tasks that used to be labor-intensive. While this is a positive development regarding profitability and production, it may also result in an over-reliance on a fragile system.
Set up a detailed plan of actionable steps in case you do experience a security breach. With the current economic situation due to COVID-19, many agricultural organizations are preparing farmers for changes in labor availability. However, simply replacing human energy with machines is not enough. Farmers need to have a plan in place in case valuable data is stolen or smart equipment is hacked.
4. Back up Files Regularly
It may sound simplistic, but backing up data regularly is critical. Farm technology is no different. In addition to any documents stored on the cloud or logistical information in a device, farmers should be aware of any backups that can be made to other technologies to ensure valuable data is protected.
5. Train Essential Employees
A learning curve often accompanies the utilization of new technology, and this issue is specifically prevalent in farm tech today. With many farmers looking to technology that can manage operations more efficiently, there is little time remaining to make sure it's properly implemented.
Training employees on how to best use new software and making sure everyone is maintaining optimum levels of security is essential to prevent possible data breaches.
6. Secure All Devices
Cybersecurity tends to conjure up images of email hacking or desktop viruses, but Internet of Things (IoT) geo technology is especially at risk for cyberattacks. Farmers are utilizing systems such as geo-database tracking, smart sensors and other implements, and it's important to safeguard these devices as well. Security items, such as on-site cameras, can also be secured for optimum protection.
7. Protect Wi-Fi Networks
Wi-Fi connectivity is often relatively limited in most rural areas, making it difficult to securely connect to a network. Because of this, farmers tend to overlook the safety mechanisms that are needed in installing a protected system. Making sure your Wi-Fi connection is private and regularly checking it for issues can prevent unwanted guests from accessing sensitive information.
8. Monitor Accounts
With the proper training, most management and IoT accounts come with an accompanying monitoring capability to investigate any potential issues. Be sure to install any precautionary mechanisms that can be on the lookout for questionable logins, hacking attempts and other account issues.
9. Separate Management and Operational Systems
The sudden utilization of technology in agriculture means that the functionality of these systems is still catching up to their widespread usage. With so many different networks in place for managing and monitoring data, it can be tempting to store all this information in one place.
While this may seem like a practical solution, it is important to keep management data separate from other systems. For example, while GPS, soil testing and livestock health data may be stored in one area, you mitigate your chances of losing private integrity information, such as sales or yields, if you have it securely stored in the cloud.
10. Itemize Inventory Assets
Precision agriculture faces the threat of losing valuable data or disruption in production due to cyberattacks. However, data breaches regarding vital information about your assets is just as dangerous.
Make sure to store all information related to production materials, products and other equipment in one location that is password protected. Making sure your inventory is updated regularly prepares you in case information is stolen.
Optimizing Food Security With Secure Data
Issues can arise when farmers rely on agricultural technology instead of human capabilities. The ability to gather and store large quantities of data is lifechanging, but like anything, it's never risk-free. Storing all your management and operational information on a computer can leave you vulnerable to cyberattacks and potential data loss.
The influx of technological platforms in agriculture today has intensified the danger of losing valuable data to a cyberthreat. Now more than ever, it is essential for farms to have the proper cybersecurity in place to protect their information.
These are unprecedented times for industries across the board and around the globe. Changes to supply chains and limited access to labor resources have forced farmers to utilize new data to keep business operations running smoothly. Security for farmers today is much more than building a proper fence or putting locks on barns. With so many ag professionals utilizing precision agriculture, especially in light of COVID-19, protecting data is of the utmost importance.
The content & opinions in this article are the author's and do not necessarily represent the views of AgriTechTomorrow
---
Comments (0)
This post does not have any comments. Be the first to leave a comment below.
---
Post A Comment
You must be logged in before you can post a comment. Login now.
Featured Product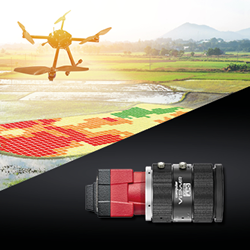 Allied Vision's compact and light weight Alvium SWIR (short wave infrared) cameras are the ideal choice to build cost-effective OEM systems used in embedded and machine vision applications. The cameras support a spectral range from 400 nm to 1700 nm at high quantum efficiencies. This allows to capture images in both the visible and SWIR spectra with a single camera and enables users to reduce overall system costs! Equipped with Sony's IMX990 and IMX991 SenSWIR InGaAs sensors, Alvium SWIR cameras deliver high image quality and frame rates. This makes them well suited for drones or handheld devices used in various industries such as, agriculture, mining, solar cell inspection or medical.