The primary function of agricultural drones in the current market is integration for pesticide management and irrigation systems. By collecting and analyzing data, drones can assist agricultural operations in more efficient pesticide use.
Are Crop-Spraying Drones the Wave of the Future?
Scott Huntington | Off The Throttle
Starting in 2014, investment in agricultural drones began seeing an explosion. While the market is still brand-new, drones have been widely embraced around the world. Investments in agricultural drones increased by a whopping 344% between 2013 and 2015.
Monoculture systems will see the most benefit from drone technology because they are easier to assess by air. Crop-spraying drone technology can potentially provide significant benefits for commodity crop farmers. For example, corn, soybeans and sugar beets are easier to manage via drone than a diversified apple orchard.
The primary function of agricultural drones in the current market is integration for pesticide management and irrigation systems. By collecting and analyzing data, drones can assist agricultural operations in more efficient pesticide use and water consumption.
How Crop-Spraying Drones Work
Agricultural drones serve two main purposes. One is to more easily capture aerial imagery and provide real-time data. The second is for spraying capabilities. Drones can share topographical data that helps farmers plan for the next season, by measuring changes in terrain, temperature and more.
Crop-spraying drones are also increasingly incorporated into agricultural enterprises. By using a drone instead of a tractor sprayer or backpack sprayer, farmers may be able to more precisely combat pest issues and save money on labor costs.
While there are several agricultural drones currently on the market, they are all classified into two general models of agricultural drones. These are multi-rotor drones and fixed-wing drones. Multi-rotors are reportedly the easiest to use and most cost-efficient. They are designed for greater adaptability and may be more user-friendly.
The FAA first approved the use of agricultural drones in 2015. While the use of agricultural drones is not widespread in the United States at this time, the market predicts that drone usage will increase significantly in the coming years. Asia already has embraced technology that allows for the treatment of crops via drones, or unmanned aerial vehicles (UAVs).
Potential Benefits of Agricultural Drones
Drones have the potential to improve the efficiency of chemical spraying, requiring fewer chemicals and decreasing water consumption.
Drones are utilized in several ways. Primarily, they aid in digital mapping and data analysis. They are also used for crop spraying. Drones may be an important piece of precision agriculture, an approach that relies on analyzing real-time data to boost crop production. Some of the technology opportunities with agricultural drones include infrared cameras, automated flight patterns, custom data processing and GPS systems.
The most notable benefits of crop spraying drones versus traditional sprayers are safety and cost savings. Some drone companies specialize in offering software that helps farmers map out and plan their flights. In commercial trials, farmers have found this technology helpful in the spot treatment of certain crops. For example, if data provided by the drone signals a problem area in the field, farmers can spot-spray that particular area instead of wasting the time and money of covering the whole field.
One of the main benefits of crop-spraying drones is the replacement of labor-intensive work. Utilizing a drone can increase efficiency and precision in addition to reducing the risk involved with laborers potentially coming into contact with potent chemicals.
In addition to spraying, there are other benefits to this new drone technology. A startup agricultural company in Denmark is researching the potential of using drones to disperse beneficial insects as a form of pest control.
While there are many potential benefits of crop-spraying drones, the technology is still so new that it is difficult to quantify their impact on improving crop health and management.
Crop Spraying Drone Maintenance
When comparing the cost of maintenance between a crop-spraying drone and a traditional sprayer, there are pros and cons to both approaches. Drones are smaller and may be easier to use, but tractors rely less on sensitive technology that can break easily. Tractor repairs can be costly, but drone repair may be cost-consuming.
For farmers interested in crop-spraying drones, it is important to compare the investment of maintaining this new equipment. While significantly less of an expense compared to other farm implements, drones come with the added risk of potential data loss or a broken camera.
By weighing the steps involved in taking care of both types of sprayers, farmers can make an informed decision on what technology makes the most sense for their enterprise.
Maintenance for your crop-spraying drone may not be much different than maintaining traditional spraying equipment. Some things to check for to increase the longevity of your drone include:
Check it before and after each flight

Use a microfiber sheet to clean the hull

Take care of the camera and sensor

Test the propellers
Maintenance for a traditional sprayer may include:
Clean the spray nozzles

Check tire pressure

Repair your pump

Test the electrical system​
The Future of Precision Agriculture?
The market for agricultural drones is forecasted to expand by 38% in the next few years.
The future of crop-spraying drones is projected to expand, but it is too early to tell what kind of impact this technology may have on crop management. While the overall construction of these devices may not change much, there continue to be considerable advancements to the software that accompanies them. For example, GPS systems may be able to read more complex soil data. The possibilities are seemingly unlimited when it comes to this market.
Another potential development of this new technology is the specialization of the processing software. The drone itself has decreased in price significantly, but the accompanying software can still be hard to access. One such technology, referred to as NDVI, measures the wavelengths of a crop and can highlight where variability may occur. NDVI, or Normalized Difference Vegetation Index, has been modernized through the use of measuring the light radiation of plants.
While the purchase of crop-spraying drones may be subsidized in the future, it will be vital that the accompanying software does not increase dramatically in price. Considering the cost of most farm equipment, agricultural drones are considerably more affordable. With the ability to analyze more exact crop data, commercial trials demonstrate that farmers make back their investment in the technology immediately and turn a profit in the first season. However, more advanced software, like the NDVI infrared measurement tool, may continue to rise in price.
Whether crop-spraying drones become standard agricultural equipment in the future is hard to say. While there is significant investment behind the endeavor, many farmers are still skeptical as to how they can benefit their crop operations. These drones may be capable of increasing efficiency in pesticide management plans and irrigation systems, but only time will tell.
The content & opinions in this article are the author's and do not necessarily represent the views of AgriTechTomorrow
---
Comments (0)
This post does not have any comments. Be the first to leave a comment below.
---
Post A Comment
You must be logged in before you can post a comment. Login now.
Featured Product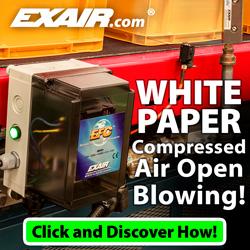 Compressed air is a limited resource that is generated in-house for the benefit of many operations within the manufacturing environment. Learn how to ensure all point of use applications are using your compressed air in the most effective and efficient way possible. Learn how much it costs to produce that compressed air and how Engineered Nozzles can help you use your air more effectively and efficiently.