Meeting regulatory compliance standards is only half the battle. Once your operation becomes compliant, you also have to stay compliant.
3 Tips For Keeping Your Cannabis Operation Compliant
Article from | Artemis
Meeting regulatory compliance standards is only half the battle. Once your operation becomes compliant, you also have to stay compliant.
You may have all your ducks in a row. You have a digitized record-keeping system, recall protocols, and seed-to-sale plant traceability. However, with rapid and frequent legislative changes you could wake up tomorrow with a whole new set of compliance hurdles ahead of you.
You are accountable to governmental regulations, your customers, your team, and your investors. As our Regulatory Compliance Specialist, Amanda Carter, often says, "compliance is a way to demonstrate accountability to consumers."
Here are three tips to help assess the health and longevity of your compliance program:
1. Undertake a complete risk assessment of your business.
A head-to-toe risk assessment includes everything from worker safety, to legal obligations, to building codes, to loss prevention, to emergency communication and corrective action planning.
The more often you evaluate your business, the less likely you are to miss an opportunity for improvement. For example, some skeletal and muscular disorders are associated with repetitive hand motions such as trimming. Think about how you can rotate your workers through your facility so that they're not put at risk. If tasks are less likely to result in injury, workers will be able to perform to the best of their ability for the long-haul.
2. Know all of your SOPs inside and out.
Have you managers and team do the same. If you don't have a product safety plan in place, get one immediately. Every cannabis business should budget for the cost of developing a product safety plan (which will save you from bleeding money if and when you have a recall, crisis or break in your supply chain).
As the old adage goes: "an ounce of prevention is worth a pound of cure." It will cost you seemingly a lot of money to implement new traceability software or to hire a consultant to help with audit prep. This investment however will save you much more later down the line when the unpredictable happens. You need the right tools in place to mitigate risk if you don't want to play fast and loose with your business.
3. Invest in training for your workers.
Training logs are your first line of defense. First, train your workforce on the compliance accountability you expect of them. Not many software companies also offer training programs for workers. This is something we pride ourselves on offering at Artemis. The better trained your team is, the more likely you are to maintain good compliance practices. It's also important to show workers why they do what they do. How your employees understand leadership attitude will affect how seriously they take the compliance work that you give them.
The content & opinions in this article are the author's and do not necessarily represent the views of AgriTechTomorrow
---
Comments (0)
This post does not have any comments. Be the first to leave a comment below.
---
Post A Comment
You must be logged in before you can post a comment. Login now.
Featured Product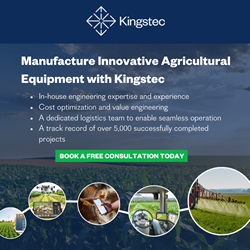 In the rapidly evolving agricultural landscape, leading AgriTech companies are increasingly leveraging the experience and expertise of strategic engineering and manufacturing partners to bring cutting-edge, cost-effective solutions to market. Kingstec is an all-in-one engineering, manufacturing, and logistics partner, with over 40 years of experience and 5,000 successfully completed projects. We can help you bring innovative, cost-optimized farm equipment, sensors, drones, components, and more to market quickly with in-house engineering and manufacturing expertise, a dedicated logistics team, and a network of world-class manufacturing and supply chain partners.