The modern-day desire for efficiency through automation has spread its way into every industry. Even in the agriculture sector, unmanned ground vehicles are being considered to supplement work with crops and improve farm management.
Husky UGV Turns Over a New Leaf
Sabrina Guillen | Clearpath Robotics
Harvesting Potential in the Agriculture Industry
The modern-day desire for efficiency through automation has spread its way into every industry. Even in the agriculture sector, unmanned ground vehicles are being considered to supplement work with crops and improve farm management. The main idea here is for those UGVs to work outdoors in collaboration with humans. A team of researchers from Clemson University's Edisto Research and Education Center — Christina Chiu, Dennis Daly II and Joe Mari Maja, is looking to adopt mobile robot platforms specifically for cotton harvesting and weeding with Husky UGV. Currently, their goal is to research possibilities and educate others about the field, eventually developing a proof of concept. They believe that robots potentially could increase productivity and free human laborers of repetitive tasks.
The Current Field
The main drawback of current cotton harvesting is that those machines can cost upwards of $700,000 whereas Clemson's solution could be developed for as little as $14,000. Beyond reduced costs, their Husky UGV solution also would be able to autonomously travel to fields and suction cotton balls off of the ground, using GPS waypoint navigation. Furthermore, cotton workers also face significant costs and time investment to control pests and weeds, often times needing to move workers off of other vital tasks to de-weed. The Husky UGV would be able to harvest selectively and harvest from fields before pests and weeds have the chance to settle in.
Saving Time
Since the Clemson team was looking to prove that robots could have a meaningful place in agriculture, they were glad to receive the Husky base, as it allowed them to focus entirely on the harvesting/weeding concept versus building their own mobile robot. The major factor in this decision was that they didn't want to reinvent the wheel of creating a mobile robot. The traditional way of robotic research by starting from scratch also did not appeal to them. Ultimately, it was a waste of time and money and would detract from their main concern around cotton harvesting. Without Clearpath they would've looked for similar robot products in the market that would address the purpose and goals of their project. However, Husky was the only solution available on the market as they were starting their project.
Learning From Clearpath
In May 2019, the team from Clemson University hosted a two-day workshop alongside Clearpath Robotics and five other universities, which was geared towards using the navigation of the mobile robots. This event also worked as a ROS training session where the team covered Husky upgrades, move_base, (such as systemd, using a PS4 controller, and husky_customization), and a variety of other topics as listed below:
Connecting robot sensors, cameras, and actuators to ROS
I/O boards such as Arduino
Using ROS for ArduPilot Arms, Moveit!, Pick and Place task planning
Building interactive applications using Turtlebot
Jackal UGV's navigation and control
How to save data directly in Jackal's hard drive instead (rosbag)
Creating global and local planners
Rebuild/Recover/Recompile Husky's/Jackal's configuration
Upgrading ROS Indigo to Kinetic
As a reminder, a variety of ROS tutorials are available here on the Clearpath Robotics website.
Hand-Picked Specializations
What was the main application for this project?
The main navigation of Clemson's Husky UGV mobile platform was programmed in the ROS environment. They also created their own control board to control the suction motor through one of the extra USB ports of the PC inside of the Husky. The goal of this was a vacuum-type system that could pick up material from the ground and store it in a receptacle. In short, harvesting. To continue they also used a SICK TIM551 LiDAR as their obstacle detection sensor and a proof of concept of their harvesting module. By adding an external battery and additional controller they were able to power and manipulate their suction motor. In conclusion their robot solution include a Mini-ITX Singleboard Computer System, an open IMU UM7, and a swiftnav piksi navigation unit.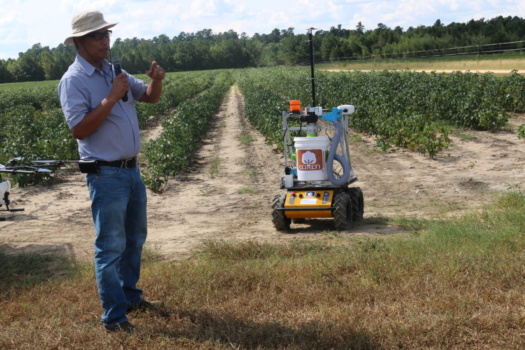 Planting Seeds for the Future
Overall, the Clemson team was happy with Husky as they were able to successfully demonstrate their harvesting module in 2018. This year they will be able to add the suction cup for harvesting and explore additional capabilities such as weeding through spray or mechanical tillage. They found Clearpath to have excellent customer support in terms of working out the best configuration of their Husky at a reasonable price. Their favorite features included the capability to code due to the native ROS support and the quality of ROS tutorials and guides provided by Clearpath.
A big highlight that came from this project was that Clemson demonstrated the robot prototype to different fora and an AG machinery company. In the future they hope that this will turn into industry partnerships. The project has also succeeded in finding publication at the 2019 Beltwide Cotton Conference under the title of "Adaption of Mobile Robot Platforms for Cotton Harvesting".
The content & opinions in this article are the author's and do not necessarily represent the views of AgriTechTomorrow
---
Comments (0)
This post does not have any comments. Be the first to leave a comment below.
---
Post A Comment
You must be logged in before you can post a comment. Login now.
Featured Product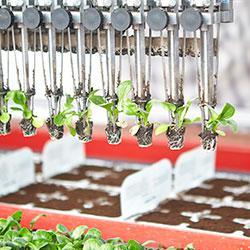 "Smart farming" is an important part of the answer to this existential question: Extremely high efficiency in food production through the targeted use of the latest technology, computer-supported and - where possible - fully automatic. Seeds are individually and precisely placed; fruits carefully picked by mechanical grippers; fertilizers and plant protection products applied in small doses and in a targeted manner. These operations require a large number of small electric motors that are both robust and powerful.