Technological advancements focused on sensors, Internet of Things (IoT), autonomous robots, and drones, when integrated with mechanized equipment, provide applications in various agricultural practices.
Tractor Implements Market
Report from | MarketsandMarkets.
Tractor implements or tractor-mount equipment are defined as a collection of tools that are attached to an agricultural tractor for performing various tasks on farmlands. These implements can handle multiple functions such as digging, plowing, sowing, cultivating, and seeding. They may be powered equipment (that takes power from the tractor engine) or unpowered.
The tractor implements market is estimated to account for USD 57.3 billion in 2018 and is projected to reach USD 76.1 billion by 2023, at a CAGR of 5.84% during the forecast period (2018-2023). High labor costs in the agriculture industry and the need to prevent post-harvest food losses are major factors driving the tractor implements market. The growing population is also one of the major factor contributing to the increased demand for food. This, in turn, has led to an expansion of the area harvested for food crops such as rice, soybean, barley, and wheat, particularly in the developing countries. The agricultural industry has continued to support the livelihoods of the people by offering various employment opportunities across the globe. The industry has evolved with time and coped up with the socioeconomic and environmental challenges. Factors such as the increase in global population, uncontrolled weather conditions, rise in the demand for food grain products, and various soil conditions are driving the need for technological advancements and mechanization of agricultural tools and equipment. Agricultural machinery includes a range of equipment such as tractors, mowers, tillage, balers, combines, and sprayers. As tractors are one of the major equipment used in the field, they have created a strong market demand for tractor-mount equipment. There are various phases of cultivation such as plowing, baling, spraying, seeding, sowing, irrigation, and harvesting that make use of these tractor-mount equipment.
The growing awareness about the benefits of powered equipment that are attached to tractors has encouraged farmers to use these implements in their fields. Powered tractor implements require mechanical and electrical power for their movement, which makes it more effective in performing various tasks during each farming phase as compared to using unpowered machineries.
There are mainly two types of tractors used by farmers in agricultural fields, namely, 2-wheel-drive and 4-wheel-drive tractors. The demand for implements in 4-wheel-drive tractors is projected to remain high compared to 2-wheel-drive tractors due to the associated benefits. The 4-wheel-drive equipment has more power and efficiency compared to the other drive. Moreover, 4-wheel-drive tractors enable the end users to attach multiple implements at the same time, due to which they remain more preferred by farmers.
The irrigation & crop protection segment is projected to grow at the highest CAGR between 2018 and 2023. The increasing availability of exclusive machineries for harvesting, plowing, and sowing in the market, as well as sprayers and applicators as implements for tractors, are factors that are projected to reflect positively on the segment growth as compared to the harvesting, tillage, and sowing segments. Hence, the demand for these implements continues to remain high compared to Other tractor implements. The demand for advanced agricultural techniques in irrigation and pesticide application is also projected to fuel the growth of the irrigation & crop protection segment.
Manufacturers are also heavily investing in R&D activities across regions to develop more efficient machinery, which would further augment the growth of the tractor implements market. Powered tractor implements are more efficient as compared to unpowered ones, due to which their demand is projected to remain high in the coming years. Powered tractor implements are majorly used in developed countries in North America and Europe. In developing countries, due to the low farm income and low awareness of farm mechanization, the demand for unpowered tractor implements remains high. However, it is projected that with the increased government efforts, the demand for powered equipment would increase gradually during the forecast period.
Farm mechanization reduces the drudgery associated with traditional farming methods and contributes to increased land productivity, enhances the timely preparation of land, and reduces the cost of production. Tractors are one of the major agriculture equipment used globally. Different types of implements are attached to tractors during various phases of farming, which effectively reduce the production cost and time. Thus, the demand for tractor-mount equipment has increased globally. Additionally, governments in various countries have been promoting agricultural mechanization for sustainable production by offering subsidies, tax exemptions, and investments.
Integration of technology and smart farming
Integration of technology in agriculture made it possible for farmers to manage the on-field processes, thereby increasing the farm production. Development of various energy sources such as hydraulics, PTO, and electric sources supports the use of tractor-mounted implements for various phases of cultivation. Involvement by the government and public-private partnership have encouraged farmers to adopt mechanized agriculture techniques, thus driving the agricultural equipment market, and in turn, boosting the demand for tractor-mount equipment. In addition, increased involvement of local players has made the market for tractor-mount equipment more competitive.
Technological advancements focused on sensors, Internet of Things (IoT), autonomous robots, and drones, when integrated with mechanized equipment, provide applications in various agricultural practices. These technologies also provide real-time field data integration to analyze and make decisions for farm operations.
Besides these technologies, the latest technology that has developed recently is Tractor Implementation Management (TIM) or Implement Controls Tractor. TIM is a system that allows the implements attached to tractors, such as baler, to control some of the functions automatically including control on speed and bale wrapping. This reduces operator fatigue and enhances productivity.
ISOBUS is one of those technologies that has been developed by AGCO Fendt for its tractor-implement series. Apart from AGCO Group, Deere & Company is also involved in the development of implement series with Tractor Implement Automation. The focus of such big brands and huge investment by the same in R&D further create opportunities for development and technology integration in the industry.
Increasing government subsidies
Various tractor-mounted implements such as tillers, spreaders, seeders, sprayers, and balers have been introduced with improved functionalities and are offered at higher prices at the same time. It has been observed that only a few small-scale farmers in developing countries purchase these implements for different phases of cultivation due to their high prices. Thus, the involvement of government has supported such farmers to mechanize agriculture all over.
Governments in different countries are focused on encouraging farmers to adopt agricultural and tractor-mount implement for better productivity and improved quality of products in less time.
According to the EU commission, the income of farmers is supported by the European Union through direct payments. The agricultural spending of farmers is supported by the funding through the European Agricultural Guarantee Fund (EAGF), which primarily funds the farmers and regulates the agricultural market in the region. European Agricultural Fund for Rural Development (EAFRD) is also a member of the funding program and co-finances the rural development programs. Under European Development Policy 2014-2020, EU contributes nearly USD 108 billion to rural development programs.
In the US, the government declared the 2017 agricultural budget to be USD 1.9 billion. The budget would help farmers to adopt new technologies and practices on the field to improve the overall process of agricultural production, along with the output. In India, various schemes have been launched by the government to support farmers, such as Rashtriya Krishi Vikas Yojna (RKVY), Mission for Integrated Development of Horticulture (MIDH), National Mission on Oilseeds and Oil Palm (NMOOP), and National Food Security Mission (NFSM). The government offers subsidies of around 25% to 50% to ensure the purchase of machinery by farmers in India.
Taking into account the number of 2-wheel drive and 4-wheel drive tractors as the measure of agricultural mechanization, FAO reports the projections for the number of tractors used on the field to increase from 2005 to 2050 in most of the Asian countries such as Bangladesh, India, Nepal, and China. Another report of FAO suggests that in India, the number of 4-wheel drive tractors reached 2.6 million in 2010, while in China, the number of tractors reached 2 million in 2008. The trend suggests that the mechanization of agriculture is witnessing growth in the current market scenario.
Such initiatives by the government support and encourage farmers to purchase implements and equipment for agricultural activities, which creates a market opportunity for manufacturers of such machineries.
Key Strategies Adopted by Major Players in the Tractor Implements Market: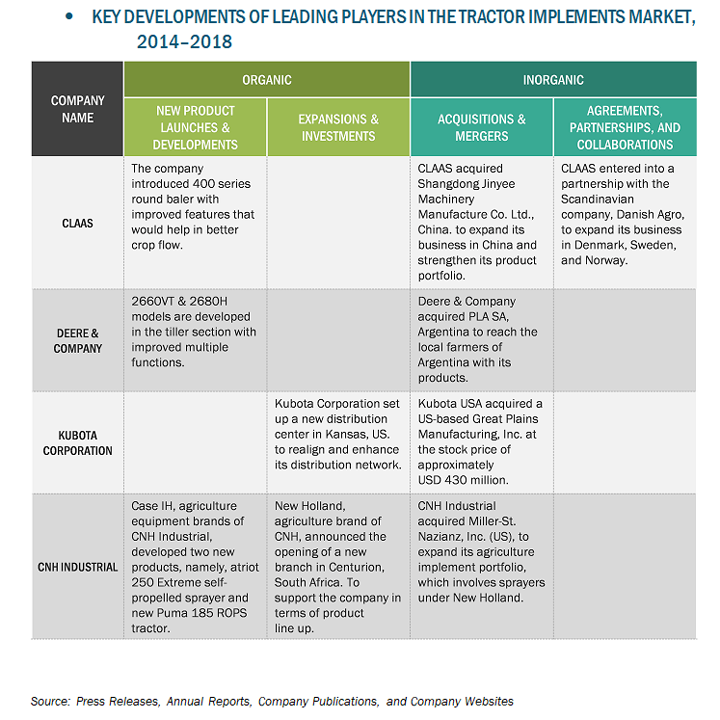 The increasing demand for food and the subsequent development of agricultural technology have led to the adoption of advanced farm machineries in the agricultural industry at a global level. Many land cultivation practices are labor-intensive; these include land development, ploughing, sowing, planting, irrigation, harvesting, and threshing. To eliminate the labor-intensive process for these practices, various equipment such as tractors, harvesters, and threshers have been introduced. With the advancement in technology, more advanced machineries have been introduced for conducting these practices. Some of these machineries are developed in the form of attachments that need to be mounted on tractors. Companies such as Deere & Company (US), Kubota Corporation (Japan), AGCO (US), Mahindra & Mahindra (India), SDF (Italy), and Kuhn Group (France) have shown immense interest in this field to introduce and manufacture various tractor-mounted implements that are offered to farmers to speed up their operational activities. Various strategies such as acquisitions, partnerships, and expansions have been adopted by companies, research institutes, and academic institutions to enter the equipment market. Some of the other important players in the market are CLAAS (Germany), CNH Industrial (UK), JCB (UK), Actuant (US), and Tractor And Farm Equipment Limited (India).
The content & opinions in this article are the author's and do not necessarily represent the views of AgriTechTomorrow
---
Comments (0)
This post does not have any comments. Be the first to leave a comment below.
---
Post A Comment
You must be logged in before you can post a comment. Login now.
Featured Product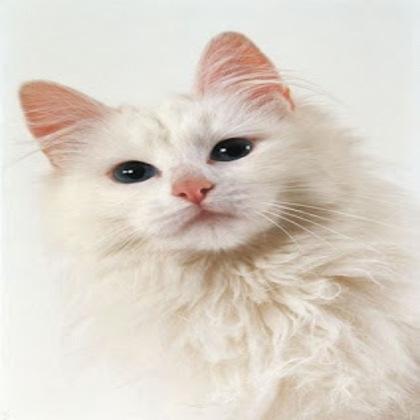 Image processing opens up a wide range of possibilities for the automation of modern agriculture - but what to do when only a small budget is available? That is where the uEye XLS comes in. With the launch of these super-small industrial cameras, even price-sensitive applications and volume projects become feasible. Measuring just 29 x 29 x 7 mm, the compact cameras offer excellent imaging characteristics without excessive heat generation, making them a perfect fit for embedded vision applications in agricultural machinery and equipment. The industrial cameras comply with the vision standard and are available with Micro-B connectors and with or without C/CS or S-mount lens holders, further increasing their adaptability to different agricultural environments. Thanks to these features, the cameras offered by IDS Imaging Development Systems lower the barriers to entry and make it easier to explore the potential of vision technology to optimize agricultural processes.