Enclosed facilities used in indoor farming create optimum growing conditions for farmers to grow a crop from the seed to its harvesting stages in lesser time and obtain higher yields in each cycle with limited land area.
Indoor Farming Technology
Narendran B | MarketsandMarkets
Indoor farming technology creates an artificial environment inside an enclosed facility using technologies that help plants grow and become more nutritious in a short span of time as compared to traditional farming. The growth, productivity, and quality of plants depend on technologies such as climate control, air purification, lighting systems, and pump & irrigation systems. Indoor farms are located close to the point of sale or where efficiency can be maximized. One of the main advantages of indoor farming is its higher yield compared to traditional farming, which makes it a viable option. Enclosed facilities used in indoor farming create optimum growing conditions for farmers to grow a crop from the seed to its harvesting stages in lesser time and obtain higher yields in each cycle with limited land area. According to the USDA data, in 2016, the average yield of tomatoes grown in greenhouse hydroponics was 10.59 pounds per square foot, and that of traditionally grown tomatoes was 1.85 pounds per square foot. Therefore, indoor farms can help in increasing the overall crop yield per unit area with the usage of stacked layers of potted seeds. According to MarketsandMarkets the indoor farming technology market was valued at USD 23.75 Billion in 2016, and is projected to reach 40.25 Billion by 2022, at a CAGR of 9.65% during the forecast period.
Global Protected Cultivation Area, 2016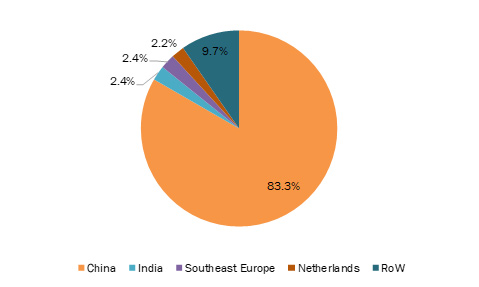 Source: ResearchGate Publications, FAO, FICCI, NAIP (ICAR), International Horticulture Congress, and MarketsandMarkets Analysis
The aeroponics segment is projected to grow exponentially during the forecast period for its effective use of growing conditions and crop inputs
In aeroponics, the plant roots are inserted in containers filled with plant nutrients, instead of soil, which is ideal for oxygenation and moisture and helps the plant absorb nutrients effectively, thereby aiding faster development and cultivation. This system can be controlled externally through computers or timers for the release of moist air at regular intervals and does not require frequent use of pesticides, weeding, and other maintenance processes as compared to conventional farming. Thus, with a high adoption rate of this technology, the market for aeroponics is projected to grow at the highest rate during the forecast period.
INDOOR FARMING TECHNOLOGY market, BY GROWING SYSTEM, 2017 (USD million)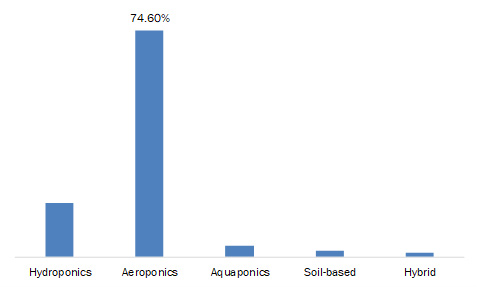 Source: Secondary Research, Expert Interviews, Related Research Publications, Government Publications, Company Press Releases, Company Websites, Company Publications, and MarketsandMarkets Analysis
The rise in demand for fresh foods with higher nutritive value is expected to increase the demand for indoor farming technology
Indoor farming is used for growing crops or plants suitable for both large- and small-scale farming. On a larger scale, indoor farming is followed to bolster local food supplies and provide nutritious, fresh produce to urban and suburban consumers. This method of farming controls the input of plant-fertilizing nutrients, so the food that is grown using this technique is highly nutritious. Indoor vertical farming systems provide organic food that is not contaminated with the use of agrochemicals. Hence, the driving forces for indoor vertical farming are the increasing consumer demand for pesticide- and herbicide-free food and the growing requirements to reduce the carbon footprint of traditional agricultural practices.
The key players in the indoor farming technology market include Philips Lighting (Netherlands), Argus Controls Systems (Canada), Netafim (Israel), LumiGrow (US), Illumitex (US), and EVERLIGHT Electronics (Taiwan). These companies are developing new processes or products to help improve productivity and achieve overall market growth. For instance, Philips Lighting (Netherlands), which provides lighting solutions for indoor farming, has been undertaking R&D operations for providing energy-efficient lighting systems. In January 2018, Philips Lighting introduced GreenPower LED top lighting at IPM Essen, Germany. This new version offers higher light efficacy, longer lifetime of 35,000 burning hours, and high energy efficiency compared to the former top lighting module. Furthermore, companies are focusing on investments, partnerships, and agreements. For instance, in July 2017, Softbank (Japan) invested USD 200 million in Plenty (US), a Silicon Valley start-up for vertical farm technology. In August 2014, FarmedHere LLC (US) partnered with Illumitex, Inc. (US), a leading lighting solution provider, to cultivate crops using less energy and lighting systems provided by Illumitex, Inc.
Future opportunities through the production of biopharmaceutical products can intensify the adoption of indoor farming technology
The cultivation of crops such as tobacco and cannabis for large-scale production of biopharmaceutical proteins is a recent development in indoor vertical farming. Biopharmaceuticals are proteins or compounds produced by a living organism, used for diagnostic and therapeutic purposes in human or animal health. Conventional methods of manufacturing biopharmaceuticals involve the usage of organisms that are highly expensive. However, using existing agricultural technologies such as indoor vertical farming to produce biopharmaceuticals in plants is cost-effective, requires less time and efforts, is pollution-free, and easy to produce. Indoor vertical farms are being used not only for food production, but also for aiding in applications that can support human health. For instance, Caliber Biotherapeutics, LLC (US), the world's largest plant-made pharmaceutical facility that has an 18-story, 150,000-square foot warehouse facility, which contains a 2.2 million tobacco-like plants, stacked 50-feet high. These plants are grown for making new drugs and vaccines. These indoor vertical farms are carefully monitored and controlled by technicians, thus eliminating the chances of possible diseases and external contamination.
About Narendran B
Narendran currently holds the role of Team Lead with an experience of 4.5 years in research and consulting practice for Food & Agriculture domain in MnM. He has provided influential market solutions involving market sizing, supply chain analysis, opportunity analysis, and market & competitive intelligence to clients in support of their strategic decision making.
He has authored 50+ business reports related to agrochemicals, fertilizers, seeds, biologicals, equipments, feed, and feed ingredients. He has been an integral part of successful consult studies conducted for leading market players such as Monsanto, Elanco, Arysta, and Vilomix (Danish Agro Group).
The content & opinions in this article are the author's and do not necessarily represent the views of AgriTechTomorrow
---
Comments (0)
This post does not have any comments. Be the first to leave a comment below.
---
Post A Comment
You must be logged in before you can post a comment. Login now.
Featured Product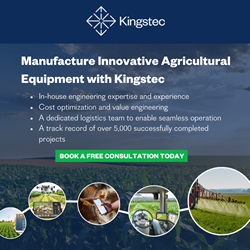 In the rapidly evolving agricultural landscape, leading AgriTech companies are increasingly leveraging the experience and expertise of strategic engineering and manufacturing partners to bring cutting-edge, cost-effective solutions to market. Kingstec is an all-in-one engineering, manufacturing, and logistics partner, with over 40 years of experience and 5,000 successfully completed projects. We can help you bring innovative, cost-optimized farm equipment, sensors, drones, components, and more to market quickly with in-house engineering and manufacturing expertise, a dedicated logistics team, and a network of world-class manufacturing and supply chain partners.