Were reappropriating previously unusable industrial space to grow crops indoors, closer to the point of consumption, at a rate that is 100+ times more productive per square foot of land than that of traditional agriculture.
Indoor Farming with Bowery Farming
Contributed by | BoweryFarming
Tell us about Bowery Farming and what you do.
Bowery is growing food for a better future by revolutionizing agriculture. Our modern farming company combines the benefits of the best local farms with advances made possible by technology to grow produce you can feel good about eating. BoweryOS, our proprietary software system, uses vision systems, automation technology, and machine learning to monitor plants and all the variables that drive their growth 24/7. Bowery produce is currently available at select Whole Foods and Foragers stores in the Tristate area, at select sweetgreen and Dig Inn locations in New York, and featured on the menus of Tom Colicchio's New York restaurants Craft and Temple Court.
What got you started in the search to improve your energy monitoring and consumption?
While Bowery farms offer vast improvements compared to traditional agriculture - using zero pesticides, 95% less water, and are 100+ times more productive on the same footprint of land - we knew there was an opportunity to make our farms even more efficient and sustainable. We began our search to improve energy monitoring and consumption so that we could reduce our Co2 emissions, which make up a meaningful majority of our energy usage.
Tell us about the microgrid system you will be installing at Bowery Farming.
Bowery's microgrid system will use distributed energy resources (DER), including a rooftop solar array, a natural gas generator equipped with advanced emissions control technologies and Schneider Electric's lithium-ion battery energy storage system (BESS) interconnected in a behind-the-meter configuration. The system will greatly reduce Co2 emissions by using sustainable energy to offset the electric grid, reducing the power load we put on the grid, and offsetting our power load during periods of peak demand.
The main drawback currently for Indoor Farming is energy expense from lighting, what are your expectations for overall energy savings you will see with this system?
While Bowery farms require energy to power LED lighting systems, LEDs are effective and have more than doubled in efficiency in the last five years, making them an energy efficient solution. The offerings provided by Schneider Electric and Scale Microgrid will help cover a meaningful amount of our energy consumption needs and set us up with the knowledge and experience to install significantly more sustainable solutions in future farms.
Bowery Farming is at the forefront of the indoor farming industry. Why is it important for you to continue to innovate and lead the industry?
We're continuing to innovate and lead the industry because we believe technology applied at scale can solve difficult and important, global problems. Agriculture sits at the epicenter of many global issues; over 70% of our global water supply goes to agriculture, we use over 700 million pounds of pesticides each year in the U.S. alone, and industrial farming practices have caused a loss of over 30% of the arable farmland in the last 40 years. At the same time, our global population is growing to 9-10Bn people by 2050 and we will need 70% more food in order to feed a population of that size. The result is a world in which the current food system must support the needs of an expanded population with a rapidly dwindling set of resources.
At Bowery, we're re-thinking the current agricultural system to address the needs of an ever-increasing population by growing produce in large scale indoor farms. We're reappropriating previously unusable industrial space to grow crops indoors, closer to the point of consumption, at a rate that is 100+ times more productive per square foot of land than that of traditional agriculture. In addition, our proprietary software and work management system BoweryOS organizes and directs the entire workflow inside the farm, driving efficiency, collecting data and creating a highly scalable framework for our farms.
Where do you see the indoor farming and Bowery Farming 5 years down the road?
We believe that indoor farming will continue to be a great contributor to solving difficult and important global problems. Our goal is to build a Bowery farm in every major city of the world to address major global challenges around food supply, environmental degradation and food waste.
About Brian Donato, SVP Operations, Bowery Farming
Brian leads the team that designs, builds, and operates Bowery's global network of modern farms. He comes to Bowery from Amazon where he spent 7+ years in a series of escalating roles in Operations including leading NA Customer Returns, Fresh, Pantry and almost half of the North American Fulfillment Network, which at the time included 24 Fulfillment Centers and a team of 30k. Brian's time at Amazon Fresh coincided with its largest period of US growth where it expanded from 4 cities to 12 and grew order volume by more than 500% in less than 12 months. Earlier in his career, Brian ran operations for General Motors, Diebold and Moen.
The content & opinions in this article are the author's and do not necessarily represent the views of AgriTechTomorrow
---
Comments (0)
This post does not have any comments. Be the first to leave a comment below.
---
Post A Comment
You must be logged in before you can post a comment. Login now.
Featured Product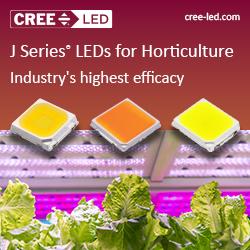 Horticulture and other forms of agricultural lighting require application-tuned ratios of spectral content, high efficacy and long lifetimes. Since these systems are designed to maximize yields for plants and animals, they require different metrics than lighting products designed around the human visual system. Cree LED delivers a wide range of spectral options and products optimized for these applications with leading efficiency and reliability.