Autonomous equipment technology will tackle the growing concern of labor shortages while boosting productivity and ecomonical savings, which will bring higher yields. The technology will allow for true 24/7 operations ...
Autonomous Farm Equipment Equals Higher Production
Len Calderone for | AgritechTomorrow
Why use autonomous farm equipment? Autonomous equipment technology will tackle the growing concern of labor shortages while boosting productivity and ecomonical savings, which will bring higher yields. The technology will allow for true 24/7 operations and a farm manager will be able to manage equipment operation from a home office or on a tablet while on the go.
CASE IH Case autonomous tractor
Each autonomous farm vehicle is equipped with a series of hardware and software components that permit a user to switch between manual and robotic control. The components work with the existing mechanical, or hydraulic control system and link the vehicles to a central control station, which will permit a single operator to manage multiple vehicles at the same time throughout the farm's operation.
A study by the California Farm Bureau Federation reported that 71% of labor-intensive specialty crop growers experience labor shortages. Farm automation technology will help surmount paralyzing labor shortages while increasing productivity and safety.
But, are fully autonomous farm equipment viable? Fully autonomous tractors require different and often overlapping sensors to navigate properly to avoid collisions. The technology is ready at the prototype level, and the components required are ready, such as lidar, sonar, and radar. Nevertheless, the autonomous equipment will require several more years of actual field trials. Components such as lidar are fairly expensive.
It will take time to address other issues such as liability and insurance. Regulatory issues could prevent agriculture from moving forward with this technology. Farmers need to know their liability. agBOT teams are working to make self-regulation recommendations on autonomous vehicles for farm safety.
Although autonomous farm vehicles are effective, farmers still prefer to remain in charge. Therefore, these vehicles must be 100% reliable before a farmer will place trust in them.
So, what is being done? Machine vision is making robots more adaptable than ever. Machine vision is a crucial element to robotic systems that perform effectively in agricultural environments, because careful and controlled movements are routine, but not identical.
The John Deere AutoTrac system is an innovative step forward for precision planting. Using enhanced GPS, it is able to plant lines of crops with a minimum distance of about one inch between each line. The overlap between tilling, planting, and fertilizing can be reduced, thereby reducing chemical treatment and operator fatigue.
Robots can harvest crops and accomplish many other manual tasks. They can also support farming in new, experimental directions. Using machine vision cameras, robots can accurately measure plant characteristics. This allows the robots to develop databases central to making genetic improvements in crops.
Agricultural drones are the eye in the sky that permits farmers to evaluate the status of crops. Problems such as pests, disease, and the effects of weather can be analyzed swiftly through a combination of low and high-flying images supported by precision machine vision sensors.
Machine vision is becoming cutting-edge enough to introduce totally autonomous robots into many facets of agriculture. As AI, machine vision, and motion control progress, fully autonomous farms may be achieved. This could be an important step to provide for an ever-growing population.
Drones or unmanned aerial vehicles are projected to bring an increase in the autonomous farm equipment industry. Autonomous Drones will be used for the purpose of crop monitoring, spraying, planting and field analysis. Drones can reach any location in the field quickly and can efficiently recognize problems, using scanners, thermal sensors, cameras, ultra-sonic echo machines, and 3D maps.
Drones can be helpful at the beginning of the crop cycle. They produce detailed 3-D images for early soil analysis, and are valuable in planning seed planting patterns. After planting, the analysis from the drone provides data for irrigation and nitrogen-level management.
There are drone planting systems that accomplish a realization rate of 75 percent and reduce planting costs by 85 percent. The drone shoots seed pods with plant nutrients into the soil, delivering all the nutrients necessary for the plant to support life.
Drones can scan the ground and spray the precise amount of chemicals, spraying in real time for uniform coverage, resulting in improved efficiency with a lessening of the amount of chemicals entering the groundwater.
Crop monitoring challenges are worsened by the increase of unpredictable weather conditions, which drive up chance with higher field maintenance costs. A drone can show the detailed development of a crop and expose production inefficiencies, allowing for better crop management.
A farming robot revolution is impending, with fruit-picking machines ready to roll into the fields and replace human workers. Whether it's berries, lettuce or grapes, the farmers are jostling for available labor.
The Florida-based startup, Harvest CROO Robotics, is manufacturing a robot strawberry picker. A single Robotic Optimized Obtainer machine will be able to pick a strawberry plant in just 8 seconds. It can also cover eight acres in a single day, replacing more than 30 human pickers.
Engineers are already designing machines, which can autonomously plant seeds, weed, water and spray without a farmer being in the field. These machines would be programmed to only pick crops when they were ripe to be picked. Presently, farmers harvest fields all at one time, which can waste up to 60 per cent of the crop because it was not ready.
An innovative company called Blue River Technology is manufacturing a machine that utilizes computer vision and artificial intelligence to recognize weeds in a field and spray only those. It uses a picture database of what the weeds look like and when it recognizes one, it sprays the weed. By identifying 90% of weeds, it reduces herbicide usage appreciably.
A company called Energid has developed a robotic citrus harvester. In this case, the harvester identifies the citrus, which is knocked out of the tree with a swift blow to the stem. This system is steered using two electrical motors per picking mechanism and is extended using pneumatics. The picking system is mounted on a four-axis hydraulic arm mounted on a diesel truck. The hydraulic arm permits an operator to move the picker with a scanning motion over the surface of citrus trees. The picking system automatically finds and removes the oranges in the area that is observed by the cameras.
According to the United Nations, by 2050 the world's population is projected to reach approximately 9 billion. Because of the demand for food, production will need to increase over 70%. Technology holds the potential of this happening, provided the rate of technological evolution is at par with agricultural innovation. With autonomous farm equipment, farming will be able to meet future food needs.
The content & opinions in this article are the author's and do not necessarily represent the views of AgriTechTomorrow
---
Comments (0)
This post does not have any comments. Be the first to leave a comment below.
---
Post A Comment
You must be logged in before you can post a comment. Login now.
Featured Product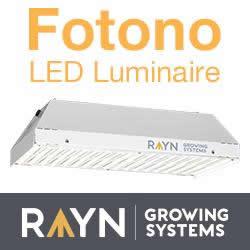 Fotono is a full spectrum LED horticultural luminaire designed to directly replace HPS lights in greenhouses. At 12 pounds, 20 inches long, and 5 inches high, Fotono's compact size makes installation simple while minimizing structural burden on greenhouses. This compact fixture packs energy-saving and yield-improving features, such as a high output, stepless dimming, advanced spectral capabilities, and more.