Eden Green Technology will be the first company to offer freshly picked produce, grown locally at next-generation vertical farms, on a large scale.
Crisply, a Freshly Picked, Pesticide, Herbicide and Chemical-Free Produce Line
Contributed by | Eden Green Technology
Eden Green Technology, a next generation vertical farming company, unveiled Crisply, a locally grown, freshly picked produce line today.
Eden Green Technology's Crisply produce, which is non-GMO and pesticide-, herbicide- and chemical-free, can be found in Walmart stores beginning in Texas next month. Eden Green Technology is believed to be the first vertical future farm able to scale to meet the produce needs of existing regional food distribution systems. Eden Green Technology will be the first company to offer freshly picked produce, grown locally at next-generation vertical farms, on a large scale.
"We are elated to make fresh, handpicked greens available to everyone who wants to eat high quality, nutrient-rich produce without spending an entire paycheck," said Jaco Booyens, co-chair of Eden Green Technology, a privately held Dallas-based company, which has been in stealth mode for two years.
"We pick our produce, package the same-day, and stamp the date when they are harvested on the package so consumers know exactly how fresh their salads are. We also make it possible for our retail partners to put our produce on their shelves immediately after they've been harvested, in some cases that same day. No other company does that," Booyens added.
Eden Green Technology's Crisply produce grows in greenhouses in proprietary vine-like systems. The company's technology encloses each plant in a medium less (no soil), microclimate bubble, which is monitored and optimized for growth and mitigating contamination. Engineers Jacques and Eugene van Buuren, who initially built their first greenhouse in South Africa, created the novel technology.
Eden Green Technology expects to grow 10 to 15 harvests a year, compared to an average of two harvests for conventional, soil-based farms. The company's technology enables plants to feed on a continuous flow of nutrient-filled water and natural sunlight instead of LED lights; this enables the company to save on energy and optimize produce growth and nutrients. The greenhouse also captures carbon gas, which the plants absorb for fuel. With the use of sunlight, Eden Green Technology facilities use less electricity so that their energy cost is one-eighth the cost of cooling regular greenhouses.
Private investors have invested $22 million in Eden Green Technology and its expansion. Eden Green Technology's unique business model is not dependent on government subsidies.
"Eden Green Technology not only cracks the food code, it cracks the scale code," said Jack Dweck, co-chairman and founder of Earthbound, which researches agricultural and fresh food technologies. "Its ability to scale tremendously well makes them viable economically, and that is key against any competition."
The first Crisply produce line includes multiple lettuce, greens and herb varietals. Crisply will also offer fresh Stevia leaves in an industry-first sweet salad blend. The produce is planted, picked and packed at the same facility, and kept in an unbroken cold chain to the retailer, decreasing the chances of contamination.
"Eden Green Technology intends to put premium produce at accessible prices on grocery shelves as well as donate fresh produce regularly to food banks so they can be distributed to areas that have long been considered food deserts," said Trey Thomas, CEO of Eden Green Technology.
The company will donate the first and best portion of every harvest to local communities in need. The North Texas Food Bank will be the first U.S. food bank recipient.
"Access to fresh produce is critical to the success of the North Texas Food Bank and to the health of the neighbors we serve," said Trisha Cunningham, president and CEO of the North Texas Food Bank. "The vision that we have laid out for our organization is to create a hunger free, healthy North Texas; we know that it will require the support of innovative partners like Eden Green Technology to turn this vision into a reality. We thank them for their generosity as part of the First Fruits initiative and can't wait to provide this healthy food to our neighbors in need."
About Eden Green Technology
Eden Green Technology, a Dallas-based privately held company, is revolutionizing agriculture at a time when accessibility to safe, healthy and affordable foods is urgently needed. Eden Green Technology grows produce quickly and safely on its proprietary, closed "micro-climate" bubbles and vine systems. The company's first product line, Crisply, offers organic, non-GMO, pesticide-free, herbicide-free, chemical-free produce. Eden Green Technology wants to ensure accessibility to fresh produce for all populations. The company's goal is to eliminate the problem of fresh food accessibility for every family no matter their economic situation.
The content & opinions in this article are the author's and do not necessarily represent the views of AgriTechTomorrow
---
Comments (0)
This post does not have any comments. Be the first to leave a comment below.
---
Post A Comment
You must be logged in before you can post a comment. Login now.
Featured Product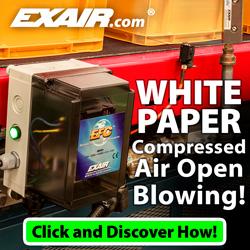 Compressed air is a limited resource that is generated in-house for the benefit of many operations within the manufacturing environment. Learn how to ensure all point of use applications are using your compressed air in the most effective and efficient way possible. Learn how much it costs to produce that compressed air and how Engineered Nozzles can help you use your air more effectively and efficiently.