For the farming community, high-speed internet has unlocked the power of Internet of things (IoT) applications allowing them to tap into internet-connected systems where they can monitor and control drying data on the move and much more.

John N. Colvin and David Coudron | Mimosa Networks And Advantenon
Traverse County in West Central Minnesota is home to vast soybean, sugar beet, and corn farms, and the resulting harvests make Minnesota the fifth largest agricultural producer in the US. The flat, sparsely-populated county has some of the state's largest farms and until recently, incredibly unreliable, slow internet access with unreasonable data caps.

Realizing that their farmers needed ultra-broadband to stay competitive, and frustrated with the amount of paperwork required by the State to get projects kick-started, the County decided to take matters into its own hands and contacted Advantenon, a wireless internet service provider (WISP) based in Plymouth for help.
Advantenon spent a month researching the requirements of the county's residents and existing internet options. In the spring of 2017, Advantenon presented the County with a plan for deploying wireless broadband, created a partnership and secured a no-interest loan. By the summer, residents started enjoying access to high-speed internet.
"We realized we had a huge, untapped opportunity in Traverse County," said Rhonda Antrim, former County Coordinator at Traverse County. "By bringing high-speed internet to our communities, we have immensely improved the productivity of our farmers and made the County a better place to work and play . We are most excited by the fact that the project was simple to plan and very quick to deploy, bringing benefits to our community much faster than if we had worked though the state process."
The WISP offers all residents in the County unlimited high-speed data with speeds of up to 100 Mbps. This allows residents to use applications which aid farming operations, provide access to educational portals for online learning, and enjoy high-quality video streaming.
For the farming community, high-speed internet has unlocked the power of Internet of things (IoT) applications allowing them to tap into internet-connected systems where they can monitor and control drying data on the move, internet-connected video cameras to monitor livestock and key equipment in real time, and internet-connected sensors for motion detection, and water, voltage and temperature settings to monitor leaks and system issues. These sensors send very basic data usually to a mobile application on the farmer's phone. There are also more advanced devices including controllers connected to a more sophisticated piece of machinery. Grain dryers are very common, but feed-grinding systems, livestock watering and feeding equipment, and grain handling equipment are also in use. These systems send more sophisticated data, like status updates of running jobs, real-time bin capacity, and moisture content. Advantenon expects security systems will be an increasing part of farm business, with demand for connected cameras, and home automation, but on a larger scale for farm yards.
Farmers are also using the high-speed broadband service to sell crops online, download GPS information on internet-enabled farm equipment, and access cloud applications. The education applications allow students to take classes and advanced courses remotely, and are also used by teachers for grading papers from home and getting them back to students in real time.
"The availability of reliable, ultra-broadband has been a game changer for the farming community, allowing farmers to access data that was previously unavailable to them," said David Coudron, President at Advantenon. "This gives farmers new opportunities to improve their forecasting and operations planning, and ultimately, their profitability."
"Residents have also really enjoyed the fast speeds," said Paul Hess, Vice President at Advantenon. "When we spoke to residents, one of the key requests was to have the service up and running by August, when children go back to school. More than 50 percent of our subscribers use broadband for primary K-12 education and they are excited to finally be able to complete homework in the comfort of their home."
Advantenon used the Mimosa Design Tool to pull together its deployment plan and evaluate tower location options. The WISP had some distinct advantages when planning its service, given the flat terrain and the fact that there was very little or no noise on the 5 GHz spectrum. Advantenon chose to deploy ten towers, using Mimosa's A5c access points, C5c client devices and C5 client radios with some licensed and unlicensed backhaul. The C5c and C5 devices are installed on homeowner's rooftops, barns and steel bins.

"This is our first Mimosa point-to-multipoint (PTMP) installation," continued Coudron. "The C5c really made a difference—it allowed us to create an effective business plan to offer high-speed rural coverage. The amount of bandwidth available to clients was the biggest surprise—we have big, wide 80 MHz bands. And with such high customer satisfaction, word spread quickly. We picked up 10 percent of our total addressable market overnight with no advertising spend at all."
Coudron offers these tips to other providers: "Make sure you know your spectrum and plan around it," said Coudron. "Then pick tower locations and be sure to get the right spacing and height. This will enable you to add as many clients as possible. We were also careful to choose towers southeast of the population centers. The Mimosa tool along with the knowledge of Mimosa's employees really helped us, and putting time into the planning process up front, really made a difference."
The content & opinions in this article are the author's and do not necessarily represent the views of AgriTechTomorrow
---
Comments (0)
This post does not have any comments. Be the first to leave a comment below.
---
Post A Comment
You must be logged in before you can post a comment. Login now.
Featured Product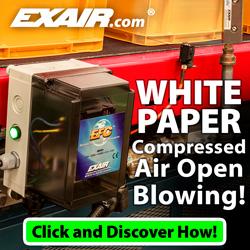 Compressed air is a limited resource that is generated in-house for the benefit of many operations within the manufacturing environment. Learn how to ensure all point of use applications are using your compressed air in the most effective and efficient way possible. Learn how much it costs to produce that compressed air and how Engineered Nozzles can help you use your air more effectively and efficiently.