Indoor Farms of America announces the first fully operating, 100% solar powered vertical aeroponic indoor farm in the world.
Indoor Farms of America Brings World's First Solar Powered Vertical Aeroponic Farm, Announces More International Sales
Contributed By | Indoor Farms of America
"This farm represents a major milestone for indoor farming. Everyone in the industry knows that the additional investment of solar energy generation to power an indoor farm can turn a solid return on that investment into a long term money loser, due to the length of time to recapture those extra investment dollars," states David Martin, CEO of Indoor Farms of America.
"Using solar technology to power up our vertical aeroponics, which grows fresh crops that are simply beyond organic, is really a great story, if the economics work," says Martin. "Our equipment was specifically designed to create that tangible R.O.I., which is the only yardstick that frankly matters in an indoor space, and furthers how we transcend anything else in the industry."

World's First Solar Power Installation for a Vertical Aeroponic Farm
In addition to being powered by solar energy, this farm is special to the company, as it represents one of numerous farms the company has built that are owned and operated by traditional agriculture folks, according to company President, Ron Evans. "When you can convert an older barn or outbuilding on a farm into a state of the art indoor farming facility, and operate that farm within a short distance to market, you are achieving the best of all worlds in farming. This farm is twenty minutes from market, so local people will have access to daily fresh herbs and greens that they have never experienced before, all year long, no matter what the weather or time of year."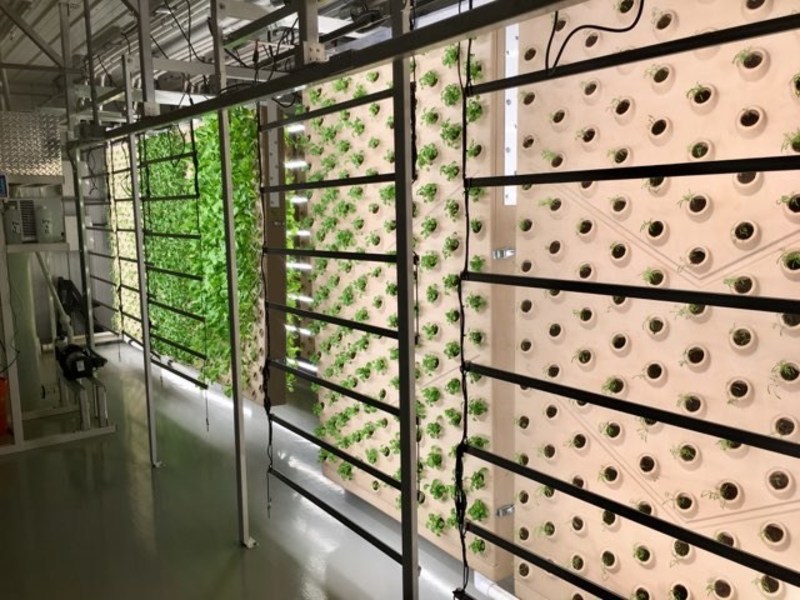 Inside the world's first solar powered vertical aeroponic farm
The company also announces additional sales in international markets. "We are really pleased to have been chosen as the containerized farm supplier for an extreme weather area of the world, in Northern Canada, where we are delivering a Model 8775 to the town of Yellowknife," says Martin. "This farm will experience temps of minus 40 celsius, and we have spent the past year in continual R&D to ensure our turn-key farms can operate anywhere on the planet."
The area of West Africa, known as the Ivory Coast, is receiving its first world class indoor farm, in the form of a Model 6825. "Here again, we were chosen over all competitors due to the fact our containerized farm models grow over double the yield of anything else in the world," according to Martin.
The U.A.E. is receiving its first vertical aeroponic farm from IFOA, located in Dubai, which is set to open for business in January, 2018. "Dubai will now have unprecedented access to daily fresh premiums herbs, and fresh strawberries," states Martin.
"If you are in Dubai in the first week of December, be sure and stop by the WOP Dubai event and see our display," says Ron Evans. "You can also visit with us at the Farm Forum event in Calgary, Alberta Canada that same week. We are always a show stopper at the events our equipment is displayed at."
Indoor Farms of America has a showroom with demonstration farms operating in Las Vegas, Nevada and in multiple locations in Canada, and in South Africa, where their patented vertical aeroponic equipment is on display.
The content & opinions in this article are the author's and do not necessarily represent the views of AgriTechTomorrow
---
Comments (0)
This post does not have any comments. Be the first to leave a comment below.
---
Post A Comment
You must be logged in before you can post a comment. Login now.
Featured Product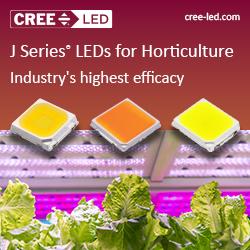 Horticulture and other forms of agricultural lighting require application-tuned ratios of spectral content, high efficacy and long lifetimes. Since these systems are designed to maximize yields for plants and animals, they require different metrics than lighting products designed around the human visual system. Cree LED delivers a wide range of spectral options and products optimized for these applications with leading efficiency and reliability.