LES SERRES BERTRAND EMBRACES THE DYNAMIC LED REVOLUTION WITH SOLLUM TECHNOLOGIES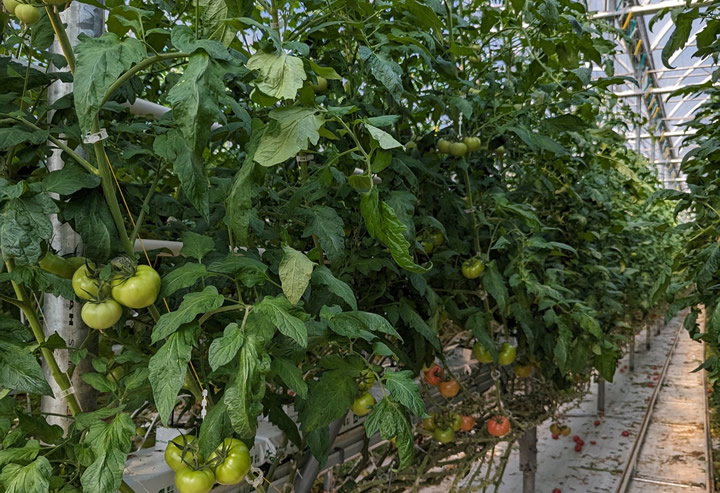 Sollum Technologies, the company that pioneered a fully dynamic LED grow light solution, is pleased to announce that Les Serres Bertrand, a leader in the greenhouse industry, has chosen to install Sollum®'s dynamic LED lighting solution for its tomato greenhouse located in Lanoraie, Québec, which they acquired in 2017. This investment is the company's first foray into LED technology.
Les Serres Bertrand is a dedicated family-operated business, with a facility in Mirabel as well as Lanoraie. It is well known for its commitment to local quality produce and innovative agricultural practices. With a storied history of growing the distinctive pink tomato, traditionally favoured by Québec consumers, they produce 12 additional tomato varieties and products that are distributed in major grocery chains throughout the province.
"In our continuous quest for innovation and excellence, we see the adoption of Sollum's LED grow light technology as a natural progression", says Stéphane Bertrand, owner of Les Serres Bertrand. "This isn't merely about integrating LEDs; it's about shaping the future of agriculture in Québec and delivering unparalleled quality to consumers who, more and more, favour local produce."
"We're excited that Les Serres Bertrand, a beacon of excellence in the greenhouse industry, has chosen our dynamic LED grow light solution to elevate their tomato cultivation", says Kassim Tremblay, vice president of Business Development for Sollum Technologies. "It's a testament to the transformative potential of our technology and its synergy with sustainable farming. Our team of technicians, agronomists and horticultural specialists look forward to supporting Les Serres Bertrand's transition to Sollum's LED grow light solution from planning to harvest, to ensure that their objectives are fully met."
About Sollum Technologies
Sollum Technologies designed the only 100% dynamic LED lighting solution that modulates the full spectrum of the Sun's natural light to illuminate closed environments such as greenhouses, research centers and laboratories. Sollum's award-winning, turnkey solution consists of internet of things, AI-powered light fixtures that are controlled by Sollum's proprietary SUN as a Service® cloud platform. Sollum's distinctive proposition is a fully scalable cleantech solution that evolves with business needs and multi-zone light management, with each zone benefiting from automatic dimming of an unlimited number of light recipes; this is why it provides unparalleled value in terms of energy savings and, additionally for greenhouse growers, increased productivity, and superior produce quality. Founded in 2015, the company is based in Montréal (Québec, Canada), where its design, development, and manufacturing activities are concentrated. For more information, visit sollum.tech.
Comments (0)
This post does not have any comments. Be the first to leave a comment below.
---
Post A Comment
You must be logged in before you can post a comment. Login now.
Featured Product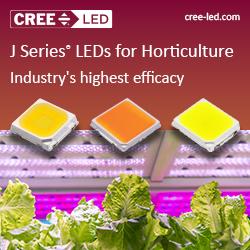 Horticulture and other forms of agricultural lighting require application-tuned ratios of spectral content, high efficacy and long lifetimes. Since these systems are designed to maximize yields for plants and animals, they require different metrics than lighting products designed around the human visual system. Cree LED delivers a wide range of spectral options and products optimized for these applications with leading efficiency and reliability.