Full LED from Philips Horticulture LED Solutions saves 40% of energy for Topline Gerbera and increases stem weight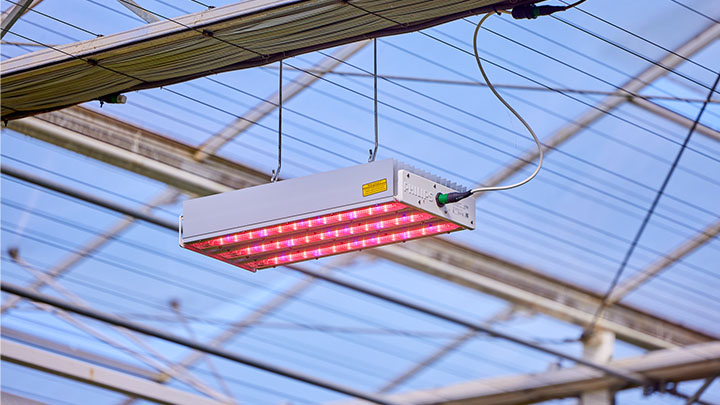 Eindhoven, The Netherlands – Signify (Euronext: LIGHT), the world leader in lighting, has assisted Topline Gerbera nursery in its transition from HPS to full LED. After its first season, grower Rino Mans is calling it a wise move. The Philips GreenPower LED toplighting force installation delivers more light with considerably less energy consumption, and can be used longer on an annual basis. "The flower quality is excellent, and the production can probably even be increased a bit," he says enthusiastically.
Mans has been following developments in LED lighting for gerbera for several years. Last year he decided it was time to take the first step. "Energy prices were rising, and it was clear that we couldn't operate optimally with the HPS installation and the two CHPs. By this point, research has shown that you can grow gerberas well under full LED, if you control the greenhouse climate slightly differently. We were already prepared for that, so it was mainly a matter of fine-tuning."
Higher light level, continuously adjustable
Based on knowledge, experience and proven reliability, the entrepreneur started working with Philips Horticulture LED Solutions and installer Stolze. "Philips Horticulture LED Solutions has the most knowledge and experience in the field of LED, supplies high-quality equipment, offers good support and takes responsibility during the project" he explains. "After a few conversations, we decided on a Philips GreenPower LED toplighting force installation that delivers a maximum of 205 μmol/m2/sec. That's 50% more than the HPS installation we had. With the GrowWise Control System, we can control the light level as desired."
Growing differently
In October 2022, the installation was ready for use and the lights were turned on. Since the LED installation emits hardly any radiant heat to the crop, and HPS lights do, the cultivation method had to be adjusted slightly. In particular, moisture control in the early morning requires extra attention.
Mans: "As soon as the lights are turned on, the plants start to evaporate. To prevent crop condensation in the still cold plants and to promote moisture removal from the crop, you must gently increase the light levels and crop temperature and stimulate air circulation through the crop."
At the same time, the absolute humidity in the greenhouse needs to be reduced. We have air handling units for this in the façade. They draw in relatively dry outside air, heat it, and bring it under the crop via distribution hoses. On its way up, the air takes up moisture from the crop. We can also ventilate internally with this."
40% less energy
Compared to previous years, the air handling has put in more hours for dehumidification. If the humidity deficit drops below 2.5 g/kg, it will mix in outside air. They also screened more, because the energy screen remained closed on dark days to retain the heat.
Mans: "Thanks to the efficient LED installation, energy consumption for lighting was 40% lower than the year before despite extra lighting hours. With LED you can continue to use lighting on relatively dark, warm days in spring and fall. That's not possible with HPS, because you don't want that extra radiant heat."
Topline Gerbera only used one CHP for lighting. This allows the lighting installation to run at 75% capacity, which comes down to 165 μmol/m2/sec. Mans adds: "We mainly used the second CHP for power supply to the grid and for high heat demand. It has greatly improved our energy efficiency and flexibility, despite the slightly higher heating curve we had to adopt due to the lack of radiant heat from the lights.
Flower quality and production
The grower says he hasn't had much trouble with Botrytis and flower rot (so called 'rot heads'). In his view, this proves you can cultivate flowers very well under full LED. The production was good, and the quality even improved slightly and was well above average.
"We harvested heavier flowers with thicker stems and larger flower diameters," said Mans. "They shouldn't get any heavier either because there is no extra benefit to that. The challenge for the coming season is to convert the higher light levels into more flowers. Perhaps the temperature will have to go up a degree during the day. It would be nice if that could be achieved. We are pleased with the new lighting installation and how the transition to full LED went."
Monitoring first lighting season
Growing gerberas under full LED according to the principles of Plant Empowerment is not without challenges. Many growers who have taken this step in recent years are having more problems with moisture control and Botrytis. To see how recently acquired new insights work out in practice, Mans and Philips Horticulture LED Solutions collaborated on a wide-ranging monitoring project within the framework of 'Kas als Energiebron', with input from researchers, Priva and cultivation consultants. The results of this have been shared in a meeting with the crop cooperative Gerbera. This made it possible to share and apply the positive experiences gained in the first lighting season at Topline Gerbera widely.
Comments (0)
This post does not have any comments. Be the first to leave a comment below.
---
Post A Comment
You must be logged in before you can post a comment. Login now.
Featured Product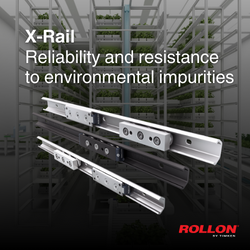 Rollon's X-Rail linear rails are a reliable solution in environments susceptible to impurities. Equipped with rolling elements with shaped and flat raceways, they are available in several versions: galvanized, nitrided or stainless-steel sheet metal. The latter version ensures total corrosion resistance, which is critical for hostile environments such as those found in vertical farming. Particularly innovative is the T + U configuration of the X-Rail linear rails, which can compensate for the parallelism errors of mounting surfaces. This simplifies installation and reduces costs.