Fluence LED Solutions Pave the Way for Optimizing Success in Urban Medicinal Cannabis Grow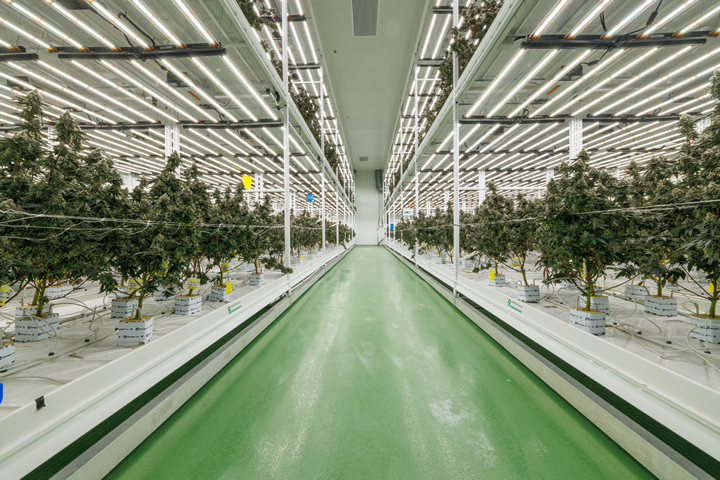 Fluence, a leading global provider of energy-efficient LED lighting solutions for commercial cannabis and food production, announced today its success in supporting Trichome, an Israeli facility growing world-class medicinal cannabis, to prove the concept of two-tiered vertical farming in an urban center.
To successfully launch an urban vertical growing facility in Qiryat Gat, Israel, Trichome needed to collaborate with the right solution partners to maximize space while optimizing quality and automation at every step of the process. To appropriately design for the compact, intricate indoor environment and complexities associated with tiered growing, Trichome turned to Fluence for its market-leading LED lighting solutions, local service capabilities through Fluence's Israeli distribution partner, REMY, and in-house horticultural experts to assist with planning, installing and managing the deployment of integrated lighting technology.
"By partnering with Fluence, we were not reinventing the wheel but choosing the best wheels in the market," said Tony Levi, co-founder and CEO of Trichome. "Standardization, longevity and optimization are critical factors in producing high-quality cannabis flowers. The team of experts at Fluence helped us accomplish all of those goals in an urban farm within city limits."
Trichome installed Fluence lighting throughout its fully standardized medicinal cannabis facility. To overcome the obstacles presented by a reduction in space between crops and the artificial lights in vertical farms, Fluence worked closely with REMY, Levi and the Trichome team to understand the facility's constraints. Ultimately, Fluence designed a bespoke system comprising its SPYDR 2i, SPYDR 2x and RAZR Modular series for Trichome. Trichome has completed 17 full crop growing cycles, all with greater than expected results using Fluence lighting—including above average yields, higher than expected terpene levels and high cannabinoid content.
"We are thrilled by the response of our plants to the Fluence LED lighting," said Steve Abboud, head grower at Trichome. "Our cannabis crops are taking in the light from Fluence fixtures and expressing its quality through their flowering. We have been able to standardize light intensity, harness control over our cultivation methods and achieve crop uniformity because of Fluence LEDs."
"Working with Trichome on lighting solutions has been an exciting and ambitious process where both parties learned a tremendous amount," said Jörg Meyer-Brenken, lead account manager, cannabis EMEA at Fluence. "The product Trichome supplies is outstanding, but the feedback from the market and patients makes me even prouder. Trichome has been able to set a new bar for urban farming."
​​Fluence LED lighting solutions are available for purchase by licensed cultivators in territories in which the cultivation of cannabis is legal.
For more information on Fluence, visit www.fluence.science.
About Fluence
Fluence Bioengineering, Inc. (Fluence) creates powerful and energy-efficient LED lighting solutions for commercial crop production and research applications. Fluence is a leading LED lighting supplier in the global cannabis market and is committed to enabling more efficient crop production with the world's top vertical farms and greenhouse produce growers. Fluence global headquarters are in Austin, Texas, with its EMEA headquarters in Rotterdam, Netherlands. Fluence operates as a business unit within Signify's Digital Solutions division. For more information about Fluence, visit www.fluence.science.
About REMY
Established in 2008, REMY 108 LTD specializes in the planning, installation, integration and quality assurance of large-scale agronomic lighting solutions, as well as after-sales service and support, for commercial crop and food cultivation in Israel and beyond. REMY has been providing its customers with agronomic lighting since 2011 and has been the company's main focus since 2018. An authorized reseller of Fluence LED lighting solutions, today, it also provides agronomic lighting training at its headquarters in Yanuv. For more information about REMY, visit https://www.remy.co.il/en/grow.
About Trichome
Trichome is an Israeli agritech company that combines two complementary worlds—quality cannabis agriculture and advanced cannabis technologies. The company philosophy is based on three main pillars: Indoor Growth by Advanced Technology, an international team of cannabis experts and the finest, high-end varieties. Trichome owns the largest Indoor facility for medical cannabis cultivation in the Middle East. With nine flowering rooms, the multilayer facility is spread over 7,000 square meters and has an annual production capacity of six tons of high-quality, consistent standardized inflorescence. Trichome works through several channels including its own brand and white label. For more information, visit www.trichome-il.com.
Comments (0)
This post does not have any comments. Be the first to leave a comment below.
---
Post A Comment
You must be logged in before you can post a comment. Login now.
Featured Product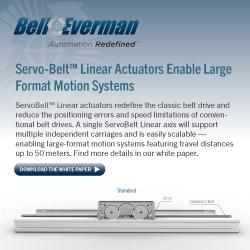 Manufacturing and packaging operations that still depend on manual material or parts handling operations can reap immediate benefits from a type of automation based on long-travel Cartesian robots with custom end-of-arm tooling (EOAT) and advanced sensing capabilities. These robots can support a variety of machines - performing otherwise manual tasks such as machine tending or transferring in-process parts - making long-travel Cartesian transfer robots a major upgrade to processes and operations. Download the White Paper from Bell-Everman