Take Part in the 2023 State of CEA Report
SEATTLE, WA March 20, 2023 – IUNU today released their fourth State of CEA Survey. This survey will provide insights on emerging trends and challenges in the Controlled Environment Agriculture (CEA) industry.
IUNU has been releasing the leading industry report on CEA since 2016. The report was formerly titled State of Indoor Farming and managed by Artemis, which was acquired by IUNU in 2021. This year, the company will expand the report to focus on the different leading segments of the Controlled Environment Agriculture industry: greenhouse fruit and vegetable, and greenhouse ornamental production.
IUNU is researching and releasing the 2023 State of CEA report in partnership with the University of California Agriculture and Natural Resources (UCANR). Their VINE agrifood technology innovation program, Global Controlled Environment Agriculture Consortium (GCEAC), and UC Davis-led AI Institute for Next Generation Food Systems (AIFS) will also collaborate on the report.
Gabe Youtsey, Chief Innovation Officer at UC ANR and co-founder of The VINE said "an industry-led, market-driven approach to guiding innovation priorities and investments is critical as we consider the future of indoor farming. I'm thrilled to partner with IUNU on the development of this State of CEA report with our UC innovation teams from The VINE, GCEAC, and AIFS to create a robust state of CEA report that will guide our CEA open innovation priorities this year."
Since the survey launched in 2016, more than 500 growers have participated in the survey and more than 2 million people have downloaded the report. The industry reports have become one of the most widely circulated and respected sources of industry data.
Allison Kopf, Chief Growth Officer of IUNU said, "this report is a trusted resource for the industry and we're thrilled to bring it back in an expanded capacity. Over the past year, we've seen a swell of news around our industry. This report will go deeper into those stories and share data on how companies are performing, big market opportunities, and the real challenges growers are facing."
You can download past reports here. Recently, IUNU also released a comprehensive report on the Brown Rugose Virus impacting tomato growers worldwide which you can access here.
Greenhouse operators can participate in the 2023 State of CEA survey here. The survey takes approximately 25 minutes to complete. All organizations in CEA (greenhouse, high tunnel, or indoor) are invited to participate. All data collected is confidential and shared only via anonymous trends. No identifying information is ever shared.
The survey will remain open for a few weeks and IUNU expects to launch the 2023 Stateof CEA report immediately following.
###
About IUNU
Founded in 2013 and headquartered in Seattle, IUNU aims to close the loop in greenhouse autonomy and is focused on being the world's leading controlled environment specialist. IUNU's flagship platform, LUNA, combines software with a variety of high-definition cameras — both fixed and mobile — and environmental sensors to keep track of the minutiae of plant growth and health in indoor ag settings. LUNA's goal is to turn commercial greenhouses into precise, predictable, demand-based manufacturers that optimize yield, labor, and product quality.
About The VINE by UC ANR
The VINE is California's agriculture, food and biotech innovation network powered by the University of California Agriculture and Natural Resources (UC ANR). We believe that the state's continued prosperity rests on creation of more productive, sustainable, and equitable food systems. Every day, we harness the power of open innovation to connect entrepreneurs to a broad network of public and private sector resources to enable them to grow and scale globally, build collaborations that catalyze the development of climate-smart technology-based solutions to solve industry challenges, and grow regional capacity to support global innovation as an economic opportunity—because our future, and the nation's, depends on it.
The Global Controlled Environment Agriculture Consortium (GCEAC) – an initiative of The VINE - seeks to build a worldwide ecosystem to bring technology to market that addresses global challenges in food, health, and sustainability. GCEAC is an open innovation partnership between industry, university and government sectors in the United States and The Netherlands, led from California.
Comments (0)
This post does not have any comments. Be the first to leave a comment below.
---
Post A Comment
You must be logged in before you can post a comment. Login now.
Featured Product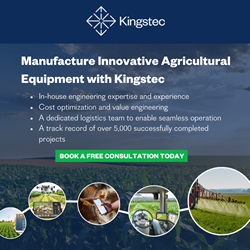 In the rapidly evolving agricultural landscape, leading AgriTech companies are increasingly leveraging the experience and expertise of strategic engineering and manufacturing partners to bring cutting-edge, cost-effective solutions to market. Kingstec is an all-in-one engineering, manufacturing, and logistics partner, with over 40 years of experience and 5,000 successfully completed projects. We can help you bring innovative, cost-optimized farm equipment, sensors, drones, components, and more to market quickly with in-house engineering and manufacturing expertise, a dedicated logistics team, and a network of world-class manufacturing and supply chain partners.