Using AI for data-driven farming of the future
Farming is the next industry set to undergo rapid digital transformation, with a report by MarketsandMarkets predicting that by 2026, the AI in agriculture market will grow at a compound annual growth rate (CAGR) of 25.5%. Increasing numbers of agriculture businesses are planning to evolve from human-reliant farming into autonomous farm management systems to super-charge their crop cycles.
Fuelled by proven new digital technologies – such as AI, ML, and cloud computing – and growing agribusiness-tech partnerships, the potential for AI to deliver for modern farming needs is huge.
Embracing tech-powered farming
The varying speeds of crop delivery – for farming without and with tech support – is incomparable. A normal UK-based wheat crop cycle might take around six to ten months in fields or four to six in a greenhouse. But with smart technology-powered "speed breeding", this is reduced to a mere two to three months.
The potential has sent agribusiness leaders scrambling for advice on automation to save time, money, and resources in automating their farming processes and accelerate crop cycles – to do more with less. It's important to know the best approach to implement a custom smart farming system which can harness the right data to provide actionable insight for intelligent business decisions.
Proven success of data-driven 'speed breeding'
The practice of speed breeding is used to accelerate the crop cycle, to create a greater number of cycles each year. One such experiment conducted by NASA in the UK and Australia illustrated that the exposure of plants to intensive light regimes could boost two crop cycles per year to six. Despite sceptics claiming that overexposure to light will produce weak and stressed plants, scientists have managed to yield perfect crops by speed breeding while dramatically reducing the length of the crop cycle.
Agriculture startups are already realising significant local and global business benefits from investing in building an AI-driven IoT agriculture system. Firstly, as a revenue generator, a smart system may help grow one to four additional crop cycles per year, depending on the crop, resulting in a proportional growth of income. As a typical scenario, a smart farming system might cost between £250,000 to £400,000 to develop. With only a single additional crop cycle it may recoup all the tech infrastructure costs and still add profit within the first year. The wider economic benefits of these shorter crop cycles include supporting the growing global demand for food caused by population growth.
Besides revenue generation, there are other clear advantages of creating a dedicated smart farming system. From a management perspective, having one point of control for an entire farm means it's possible to run an autonomous smart farming system without farmer intervention. The time and labour cost savings of AI-driven efficiencies speak for themselves. With effective operation management software, it's easy to track the way AI adjusts automated farming processes based on collected data without needing to make multiple farmer assessment visits. And fine-tuning IoT systems enables accurate monitoring and reporting on specific areas within the farming processes.
Setting out to build a custom smart farming system
First and foremost, agribusinesses should invest in an autonomous end-to-end system that gathers and processes data. A custom smart farming system can gather valuable data, give actionable outcomes, and put them into practice. In such a way, agricultural companies save thousands of human hours by collecting and analysing the perfect growth conditions using cameras, sensors, and drones.
Understanding what data is useful is critical to success. For instance, extended light exposure for wheat or chickpeas results in shorter crop cycles, but technology can be the driver for understanding the precise accelerative factors for other crops. By measuring certain types of data, for instance light intensity, temperature, and levels of nutrients, this can help shorten the crop cycle.
How AI is key to increasing the number of crop cycles
Adapting the different conditions required for crop growth means measuring the exact accelerative factors for each type of crop. This is where precision technology, such as AI, has the advantage over human expertise.
Advanced agribusinesses are adopting a classic smart farming system, which consists of cameras and sensors, gateways, data storage, analytics, and an implementation layer. AI resides in the analytics and implementation layers of the system and transforms all bits of data into actionable insights, helping farmers use less to grow more. By using remote and smart sensors, drones, GPS sensors, and guidance technologies, farms can use less water, land, herbicides, and insecticides.
The implementation of data generation through sensors and aerial images for crops can lead to an increase in crop productivity through deep-learning technology. A smart system aided with IR cameras, sensors, and computer vision can detect and measure real-time, in-field data on crops, equipment, inputs, and weather conditions. It might be the slightest fluctuations in temperature and humidity can make all the difference to crop performance. The technology is able to detect growth anomalies and diseases, understand when a plant is ripe for harvesting, and monitor hundreds of aspects which are beyond human capability.
Comments (0)
This post does not have any comments. Be the first to leave a comment below.
---
Post A Comment
You must be logged in before you can post a comment. Login now.
Featured Product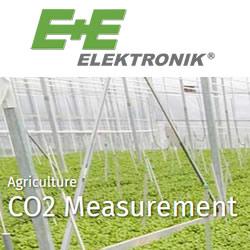 Lowering of energy costs, acceleration of growth and extension of the possible storekeeping duration can be optimised by the precise measurement of humidity, CO2-content and temperature. Optimum basic conditions for animals and plants ensure best agricultural products. As different applications demand various adopted solutions for optimization of agricultural processes, E+E Elektronik provides a broad portfolio of agricultural monitoring products