WarrenUAS developing new leading program for drone use in agriculture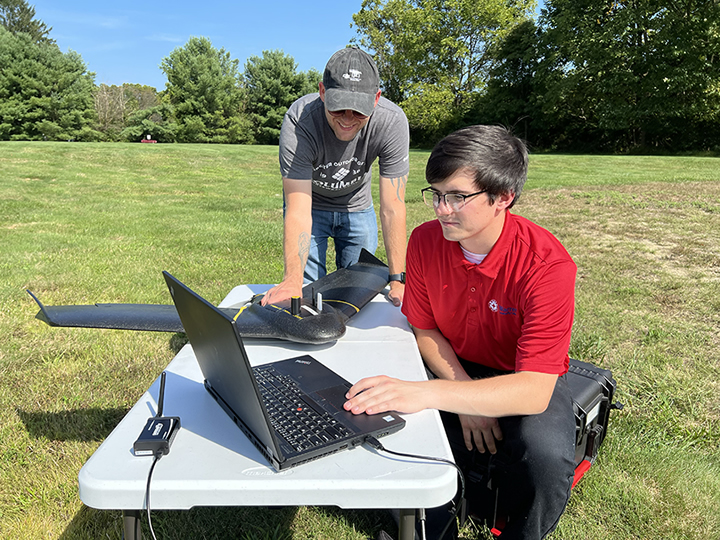 As it moves to lead the country in the study of drone use in agriculture, Warren County Community College is developing the curriculum and technology to offer students career training in the fast-growing field – and farmers a resource that could dramatically change their practices.
The college, a national leader in education and training about the design, operation, and maintenance of drones, is now developing the curriculum for the precision agriculture program and acquiring and outfitting equipment to offer students specific skills in the field. Adam Kyle, a drone pilot with multiple certifications and recent graduate in drone piloting from the top aeronautics university in the country, has come on board at Warren to build the new program.
Students will be able to access the unique training in the fall of 2023, he says. He is working with leaders in agriculture and experts in the specific use of drones in farming to develop course parameters and make certain students have access to the latest equipment.
"The use of drones in agriculture is very new, and for me it is exciting and rewarding to be able to work with the experts at Warren to build a program that will train pilots skilled in this use of autonomous systems," Kyle said. "At the same time, we'll be exploring new ways to use drones in agriculture and helping farmers understand their benefits and how to put them to use."
Global Market Insights (GMI) forecasted in 2021 that the drone market in agriculture would exceed $1 billion that year and ship 200,000 units annually by 2024, attributing the growth to awareness about the capabilities of drones and discovery of a broader spectrum of uses in agriculture.
Dronefly, meanwhile, has reported that about a third of farmers are using drones and another third say they plan to.
"The agricultural drone market is emerging as a profitable industry under the commercial sector," the report from GMI noted. "These products help farmers by providing soil and crop data and by taking pictures to assist in crop management, while adding components such as navigation systems with GPS which improve positioning accuracy."
It notes that drones equipped with infrared, hyperspectral, and multispectral cameras "support the decision-making process" on farms. Images captured by multispectral cameras serve as an effective tool for plant health and soil analysis along with identification of weeds, pests, and pesticide needs. They can also help determine spacing issues, and allow for a quick visual inspection of crops, fencing, herds, and other farm assets.
It noted that fixed wing agricultural drones have accounted for about 70% of the revenue because they can carry heavy payloads and cover long distances. Improved imaging will develop, the report notes, and improved imaging software will increasingly improve.
"The crop scouting applications are forecast to have significant growth prospects owing to utilization in reducing the fertilizer and pesticide wastage, further increasing the crop yield," the report notes.
Agrifarming magazine, like many other publications covering the industry, sees steady growth in the use of drones in the sector and recently described their various uses and listed the drones best suited for use in agriculture.
Efficiency on the farm is key, and DroneFly estimates that drones can spray fertilizer, for example, 40 to 60 times faster than doing so by hand.
Students in the new Warren program might include those already working in agriculture who wish to improve their practices, Kyle said, or drone piloting students interested in developing or working for services that would contract with farms.
Kyle says he wants students to understand how drones can be used in agriculture to quickly check on property without the need for trips into the field. But they also can potentially check on plant and soil health with infrared equipment, evaluate moisture levels and even apply needed chemicals.
"With the application of nutrients or herbicides, for instance, they might be particularly useful in a small plot of land or an area where trees or other obstructions make traditional crop dusting uneconomical or unsafe. We actually are just beginning to discover all the ways they can be used in farming," he said.
Kyle got involved with drones as a teen and decided to pursue a career in drone piloting through Embry–Riddle Aeronautical University in Daytona Beach, FL. He became interested in their use in a variety of fields, including agriculture.
During a conference for Association for Unmanned Vehicle Systems International last year, he met Warren President Will Austin, and began discussing the prospects of establishing a precision agriculture program at the college.
"We often work with local farmers, and we make sure our students are exposed to the ways that drones can be used to improve crop yield and make farmers work easier and more efficient," Austin said. However, we've really wanted to expand our knowledge base about that work – and train students in the field. I think precision farming with uncrewed vehicles is going to grow incredibly fast, and I'd like Warren students to be in a position to fill the jobs and opportunities that will develop."
Austin, a UAS pilot himself, has made the use of the aircraft in agriculture a priority
He is completing an additional degree in Space Operations at Embry-Riddle, where he is focused on agriculture-based satellites and the required systems to download raw digital data to process into usable orthomosaic formats for farmers.
"We will need to integrate satellites into our program, as this will provide us with the macro level data to assess the impacts of climate change on the current planting and harvesting schedules, where drones can provide us micro-level actionable data so we can narrow our focus."
He says space, drones, artificial intelligence, and agriculture research united appear to represent essential scientific inquiry to produce enough food locally as the worldwide economic supply systems reduce imports to the United States.
"Our team at Warren sees this as their secondary mission now, added to educating the workforce of tomorrow."
Warren's rapidly expanding drone education program will take a huge leap this fall with two new facilities and a broader range of courses. Austin expects enrollment in the program to quadruple over the next few years, and the colleges offerings in the field to grow accordingly.
He recently announced the hiring of Sai Sankar an expert in drone and robotics education and development, to help guide its rapidly expanding programs in those fields.
Sankar has been named Teaching Administrator for Artificial Intelligence and Robotics at the college, where he will direct the broad expansion of its robotics and drone programs, housed in two new facilities opening this fall – a new building and a renovated facility that has been the center for the program.
Kyle and Sankar will collaborate on the development of the new program, including acquisition of the software that allows the uncrewed equipment to evaluate crops and equipment that would allow for spraying. Kyle says his priority is acquiring the proper equipment and fitting it to the agriculture-related tasks.
He is particularly interested in developing a program that would quickly allow for a indexed assessment of crops or soil that can determine if they are falling within a suitable range. He's been working with farmers to better understand their needs and exploring drone use on farms where it has been successful.
"It is clear that drones can make farming more productive – including on smaller farms that may be struggling," Kyle said. "When I talk to people in agriculture about ways they can be used, they are very excited about the possibilities. It will be really rewarding to work with people in the drone arena, experts in the agriculture and interested students as we build this program.
Comments (0)
This post does not have any comments. Be the first to leave a comment below.
---
Post A Comment
You must be logged in before you can post a comment. Login now.
Featured Product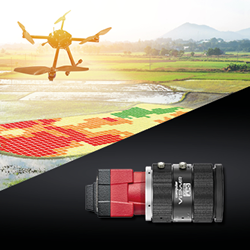 Allied Vision's compact and light weight Alvium SWIR (short wave infrared) cameras are the ideal choice to build cost-effective OEM systems used in embedded and machine vision applications. The cameras support a spectral range from 400 nm to 1700 nm at high quantum efficiencies. This allows to capture images in both the visible and SWIR spectra with a single camera and enables users to reduce overall system costs! Equipped with Sony's IMX990 and IMX991 SenSWIR InGaAs sensors, Alvium SWIR cameras deliver high image quality and frame rates. This makes them well suited for drones or handheld devices used in various industries such as, agriculture, mining, solar cell inspection or medical.