New Air Source Heat Pumps provide energy efficient heating for garden centre whilst reducing CO2 emissions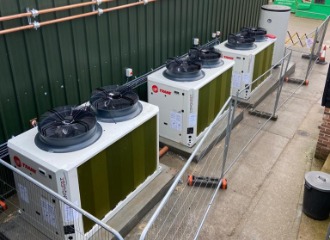 Energy solutions from CambridgeHOK are to help an independent garden centre and nursery save an estimated 79 tonnes of CO2 emissions a year – providing enough heat for the main shop, coffee shop and restaurant and garden shop.
Three new Air Source Heat Pumps (ASHPs) have been installed at the Perrywood Tiptree garden centre in Essex, providing a much more energy-efficient heating solution than the old oil-fired boiler system previously used.
Not only should they generate fuel savings, but the new system will provide the same CO2 savings as planting over 1,300 trees, and the equivalent to the average yearly emissions of 10 people in the UK.
Perrywood Tiptree is committed to reducing its carbon footprint and becoming as carbon neutral as possible in the future.
Operations Director Tristan Bourne said: "Investing in Air Source Heat Pumps will immediately reduce our carbon emissions.
"We are committed to playing our part in the global fight against climate change, and this was the most effective immediate step we could take."
Energy modelling consultations can help businesses identify major savings
Charlotte Penn, Energy Business Development Manager at CambridgeHOK, says the project was a good example of a relatively simple installation that can bring significant benefits.
"We were delighted to work with Perrywood Tiptree on this project as it is a great example of how a relatively simple method of generating renewable energy can make a big difference to a business," she said.
"This system will reduce emissions and provide heat to a number of areas across the garden centre site. This kind of system can produce significant annual and long-term savings and is relatively simple to install and integrate into existing heating and hot water solutions."
Mrs Penn says CambridgeHOK is currently supporting a number of larger business in the horticulture sector with 'energy modelling' consultations, helping them to identify solutions to make significant savings on energy bills by matching production times with the best suited systems.
"We've very much devised an approach whereby we are led by the businesses themselves and their production demands," she said.
"Our modelling system involves looking at everything which impacts on fruit and plant growing, from day length and opportunities to use solar gain to allow for small reductions in heating temperatures, to analysing the Co2 requirements and considering possible changes to growing schedules throughout a year, ensuring demand for products are matched to production times which reduce energy costs.
"We've had some outstanding success and been able to suggest new ways of working for clients to significantly reduce their energy bills long term, and for some of the biggest businesses these savings can be six or even seven figures over a year."
Comments (0)
This post does not have any comments. Be the first to leave a comment below.
---
Post A Comment
You must be logged in before you can post a comment. Login now.
Featured Product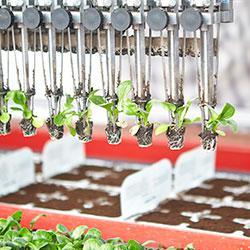 The FAULHABER Linear Actuator L series are designed to provide high performances in compact dimensions, these actuators can support large input speed, high output force and are suited for a wide range of applications like robotics, industrial machines and laboratory equipment.