Pest Scouting
When starting your facility, it's crucial to have a plan in place to mitigate pest pressures that threaten the profitability of your crop. It's not "if" pests and disease will pose risk to your plants, it's "when." That's why a proactive approach is key to maintaining your yields from one harvest to the next. One of the most effective practices to keep your grow free of pests and assess the efficacy of your Integrated Pest Management (IPM) program is to engage in regularly scheduled pest scouting. In this blog, we will break down key considerations and items to remember during pest scouting, as well as tips and tricks to maximize efficiency.
Getting Started / Items to Remember
When getting started, it is important to have the right tools on hand to make sure scouting goes smoothly. First and foremost, you'll want to be sure you're appropriately attired with the right personal protective equipment (PPE) for the job—a long sleeve shirt, eye protection and sterile gloves are musts, while Tyvek suits or lab coats and hair/beard nets are also a good idea. Other equipment that you'll want to bring with you include a clipboard or tablet to write on as you're walking through the garden, a digital device to take pictures and video, and a hand lens to get a close-up look at your plants and hone in on any areas of concern.
It would be advantageous to have vials or bags to collect samples that may be studied and evaluated outside of the growing environment. A pocketknife, scissors, or hand tool is recommended to remove stems and divide stalks allowing you to look for pathogens inside of the plant. A trash bag for green waste is handy to clean up after yourself as you go along with alcohol spray to sanitize between scouting between different plants looking at foliage or bud sites.

Scouting & Observation / Key Factors
It's important to remember that pest scouting is a single-task purpose that requires your full attention. This process is not to be combined with transplanting, pruning, or watering. Before starting to scout, it's important to distinguish between the normal state of your plants and what might be suspected issues. Issue indicators may be plant color, crinkling of leaves, loss of plant tissue, and pinched, stunted, or deformed root systems.

Where To Start
You'll want to start with an overview of the crop, looking for any lack of consistency, unique patterns, or sections of the crop that warrant further examination. You'll want to make sure to document the areas in which infestations is highest and lowest and use that information to hone in on possible contributing factors. Using sticky cards as a basis to determine baseline level of infestation can be useful in prioritizing areas to scout. If there is a section of the garden that you suspect has issues, scouting that area last to prevent cross-contamination is recommended. Also, utilizing your previous scouting records as a reference may help determine where to begin scouting and mitigate the risk of cross-contamination. Certain plants or varieties may be "indicator plants"—these strains are often the first to show signs of an outbreak. You'll then need to carefully observe each plant to get a good idea from top to bottom of what's going on.

Observation Best Practices
Observation best practices include starting by looking at the canopy foliage that you're walking into. This high-level observation will help determine if you're walking into a pest or pathogen contaminated area that could then expose uncontaminated areas in other parts of the grow to risk. Slowly work from the top of the plant to the lower portion, then into the pot rhizosphere area. Be deliberate about looking at the top and underside of the canopy, the stalk, and the rhizosphere medium keeping a keen eye out for any signs of pests, pathogens, and root damage. While in the rhizosphere area, checking the saturation levels of the substrate is also key to identifying any cultural or environmental factors that may be contributing to suboptimal conditions conducive to outbreaks. Continually ask yourself, "are there elements or commonalities emerging that could be contributing factors to an outbreak?" Piecing together these clues can help you solve the puzzle of an outbreak or better yet, prevent one before it presents itself.
Crop scouting is only one component of our Crop Protection Programs (CPP), which take a comprehensive and holistic approach to IPM. Interested in adding plant scientists and experts to your team without adding to your payroll? Contact us today to get started.
Comments (0)
This post does not have any comments. Be the first to leave a comment below.
---
Post A Comment
You must be logged in before you can post a comment. Login now.
Featured Product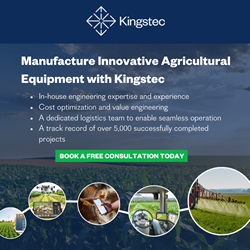 In the rapidly evolving agricultural landscape, leading AgriTech companies are increasingly leveraging the experience and expertise of strategic engineering and manufacturing partners to bring cutting-edge, cost-effective solutions to market. Kingstec is an all-in-one engineering, manufacturing, and logistics partner, with over 40 years of experience and 5,000 successfully completed projects. We can help you bring innovative, cost-optimized farm equipment, sensors, drones, components, and more to market quickly with in-house engineering and manufacturing expertise, a dedicated logistics team, and a network of world-class manufacturing and supply chain partners.