Agtech Company Patents IoT Farming Device Powered by Solar
The agricultural industry is adopting sustainable technologies as countries establish strict conservation regulations. Environmental engineers are combining farming devices with the internet of things (IoT), improving their efficiency rates. IoT uses sensors, real-time monitoring and cloud connections to reduce energy waste.
Agricultural technology (agtech) engineers are also exploring renewable energy's place in the industry. The Solinftec company paired IoT field scanners with solar power to enhance farming sustainability. Farmers can access environmental and economic benefits by adopting advanced technology.
Solinftec's Technological Advancement
Engineers at Solinftec developed an autonomous field scanning robot. The technology autonomously travels down crop lines, collecting and recording real-time data. Solinftec's agtech robot looks like a table on wheels and utilizes the ALICE IoT platform.
The ALICE program supports various devices in the agricultural industry. It is highly efficient and helps monitor nearly 80% of Brazilian sugarcane farms. ALICE is compatible with the new agtech robot, improving data collection features.
Solinftec partnered with Bloomington to test the technology on farms in Illinois. Researchers use the robot to identify early signs of pest invasions or diseases. Early detection can prevent mass crop loss, minimizing adverse environmental and economic effects.
Engineers increased Solinftec's robot by adding photovoltaic (PV) solar panels. The panels produce a continuous stream of electricity, helping the robot monitor crop fields 24/7. They also eliminate emissions related to agricultural maintenance.
Can Agricultural Robots Enhance Sustainability?
Farmers can increase their crops' sustainability when implementing IoT robots. The agtech significantly enhances environmental conservation by reducing crop loss. When yields go to waste, they contribute to resource degradation.
Solinftec's robots can also improve ecological conditions by identifying soil erosion. As the global temperature rises, the evaporation rate follows. High evaporation rates can deplete soil nutrients and leave fields infertile.
Relying on PV solar panels to power the robots also increases sustainability levels. Farmers can additionally install ground-level panels throughout their fields and produce emission-free electricity. Farm owners may start adopting renewable electricity by assessing energy ordinances in their regions.
They can also adopt electric heavy machinery to reduce emissions. Charging excavators and backhoes with solar power can significantly shrink a farm's carbon footprint. Another benefit of solar-powered agtech is food security.
Agtech and Food Security
Food insecurity is a global issue, impacting the health and stability of the ecosystem. Nearly 2.37 billion individuals lack access to sufficient food supplies annually. Preserving soil quality and reducing crop loss can significantly improve global nutrition rates.
Solinftec patented the technology because it is universally accessible and cost-effective. Farmers in developed and undeveloped nations can rely on the robot to autonomously produce energy and monitor fields. Solinftec's agtech may improve food security in regions without reliable or abundant power supplies.
The technology both improves crop yields and the quality of food. Detecting and addressing soil erosion, pest invasions and plant diseases can help farmers improve nutrient density. Farmers are also adopting other solar devices to enhance food production alongside Solinftec's robot.
Solar Power's Place in Food Security
Environmental engineers also created floating PV panels, which may protect farmers' freshwater supplies. Agricultural professionals can place the panels over their water supplies to reduce evaporation-related losses. Farmers in arid regions like Southern California struggle to access enough freshwater for crop production as the global temperature increases.
The floating panels protect freshwater from the sun, increasing growth rates. Farmers can also use ground-level solar arrays to charge electric heavy machinery. Powering agricultural devices with affordable energy supplies helps farmers allocate more money to their crops.
They may also use the shade from solar arrays to protect low-light plants. Low-light crops like tomatoes can benefit from protective coverings. Using panels to reduce crop loss and produce emission-free electricity may improve global food security.
When Will the Solar-Powered Robot hit the U.S. Market?
Bloomington will help Solinftec test its robot pilot this growing season. The companies plan to work together and optimize the agtech for commercial food production. After Solinftec's engineers improve the agtech, it may become commercially accessible.
Comments (0)
This post does not have any comments. Be the first to leave a comment below.
---
Post A Comment
You must be logged in before you can post a comment. Login now.
Featured Product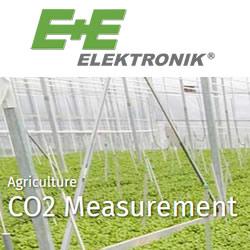 Lowering of energy costs, acceleration of growth and extension of the possible storekeeping duration can be optimised by the precise measurement of humidity, CO2-content and temperature. Optimum basic conditions for animals and plants ensure best agricultural products. As different applications demand various adopted solutions for optimization of agricultural processes, E+E Elektronik provides a broad portfolio of agricultural monitoring products