Fluence and REMY unite to deliver LED lighting solutions that feed huge growth in Israel's medical cannabis market
Fluence by OSRAM (Fluence) has partnered with REMY 108 LTD (REMY) in Israel to bring energy-efficient LED lighting to commercial crop production in the country and drive growth in its legalized cannabis market.

The new partnership makes REMY the exclusive provider of horticultural LED lighting in Israel, helping a burgeoning commercial cannabis sector meet accelerating medical demand for the crop there.
Cannabis was first approved for medical use in the country in 1993. It already had around 120 licensed users by 2005, rising to over 5,000 by the end of 2009. Today, the number is around 60,000 people and is forecast to reach 100,000 by the end of 2021.
"There's incredible growth to come in the Israeli cannabis market over the next few years," said Timo Bongartz, Fluence's general manager for EMEA. "And, like any kind of agriculture or horticulture, the right conditions are crucial for success."
"Fluence believes it takes precision-engineered lighting delivered by a reliable local partner who knows what growers need. In REMY, we're confident we've found a partner that understands and can act fast on customer demands. A natural extension of the Fluence team on the ground in Israel."
Family-owned since its inception in 2008, REMY combines deep lighting knowledge and hands-on experience of precision agriculture. Today, it's focused exclusively on agronomic lighting, providing planning, characterization, and support in and outside of Israel.
"Agronomic lighting is different from architectural and industrial lighting in many ways", said Elad Toby, Founder, CBDO & CTO of REMY. "One of the biggest differences, of course, is the plant will eventually tell you if you did a good job or not."
Agronomic lighting has proven particularly effective in cultivating cannabis, for which the Israeli government first started granted commercial growing licenses in 2006. The crop was officially decriminalized in 2018 and, following reform, it was sold in pharmacies around the country a year later. In June 2020, a bill to legalize cannabis for recreational use passed the first of four Israel government approval stages.
For growers, Fluence LED lighting offers greater control over light spectrum and intensity, enabling them to produce denser, more potent cannabis flowers. The ability to deliver abundant harvests of premium-quality crop while also cutting energy and HVAC costs captured the REMY team's imagination early.
"It was always clear that knowledge and research are a key focus for Fluence," added Elad. "We share the belief that knowledge in the agronomic lighting field cannot be limited to the lighting alone. The job doesn't end when the light fixtures are installed. That's when it begins, and where we can truly add value."
"The extra level of knowledge, coupled with a highest-quality product, delivered by one of the world's leading lighting corporations, gives us confidence the solutions we plan, recommend and deliver for our clients will do what they're supposed to. That was a huge part of our interest in working with Fluence."
About Fluence by OSRAM
Fluence Bioengineering, Inc., a wholly-owned subsidiary of OSRAM, creates powerful and energy-efficient LED lighting solutions for commercial crop production and research applications. Fluence is a leading LED lighting supplier in the global cannabis market and is committed to enabling more efficient crop production with the world's top vertical farms and greenhouse produce growers. Fluence global headquarters are based in Austin, Texas, with its EMEA headquarters in Rotterdam, Netherlands. For more information about Fluence, visit www.fluence.science.
About REMY
Established in 2008, REMY 108 LTD specializes in the planning, installation, supervision and quality assurance of large-scale lighting solutions, as well as after-sales service and support, for commercial crop and food cultivation in Israel and beyond.
REMY has been providing its customers with agronomic lighting since 2011 and it has been the company's main focus since 2018. An authorized reseller of Fluence LED lighting solutions, it today also provides agronomic lighting training at its showroom and headquarters in Yanuv. For more information about REMY, visit https://www.remy.co.il/en/grow
Comments (0)
This post does not have any comments. Be the first to leave a comment below.
---
Post A Comment
You must be logged in before you can post a comment. Login now.
Featured Product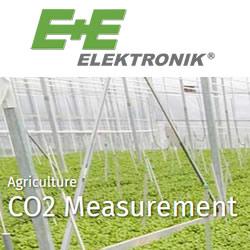 Lowering of energy costs, acceleration of growth and extension of the possible storekeeping duration can be optimised by the precise measurement of humidity, CO2-content and temperature. Optimum basic conditions for animals and plants ensure best agricultural products. As different applications demand various adopted solutions for optimization of agricultural processes, E+E Elektronik provides a broad portfolio of agricultural monitoring products