A New Era of Farming: How DEP's New Drone Technology Will Improve Agricultural Productivity
Detroit Engineered Products (DEP) designs new drone technology that can assist farmers in mitigating some of the toughest agricultural challenges and help secure farm productivity through a comprehensive technological ecosystem.
Unmanned Aerial Vehicles (UAVs) have undoubtedly revolutionized the agricultural industry with their increased applications in recent years. But while significant strides have been made, there are still some inhibiting factors that continue to hinder efficiencies in farming practices. For a farmer managing hundreds of acres of land, the challenges are all too familiar. Variances in terrain, increased invasion by pests and difficulty predicting future crop growth cycles are some of the issues that negatively impact agricultural productivity.
Detroit Engineered Products (DEP) has set out to customize drone technology and further transform the agricultural industry by providing farmers with fast and efficient ways to monitor and thereby improve crop yield and enable better business decisions to improve overall productivity and profitability.
DEP's primary goal in the agricultural industry is to establish a technological ecosystem in order to increase productivity and efficiency. Through both hardware and software customization, DEP's technology provides a flexible drone platform to ensure adaptability for various applications.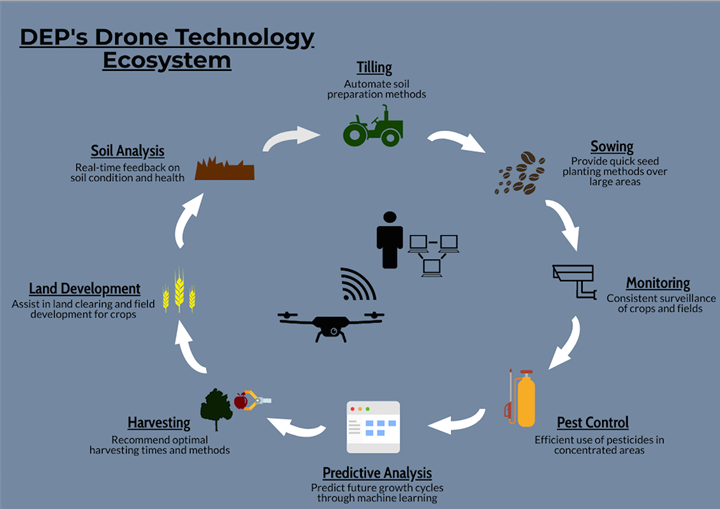 A flexible drone platform is essential for multipurpose use of the drone efficiently for monitoring, and spraying in turn, thereby providing farmers and companies a singular mechanism for agricultural applications. DEP's customizable and programmable drones include flexible hardware that can be altered depending on the given need. Night vision lenses may be added for nocturnal usage, sensors and emitters can be included for bird repelling capabilities and imaging cameras may be inserted to receive detailed analysis land analysis. This new drone technology businesses need only to invest in a single drone that can then be utilized for multiple purposes and provides a software platform where all data is received in one central location.
DEP's uniquely designed drones have the ability to specifically assist farmers in myriad ways:
In the agricultural industry, one of the primary challenges farmers face is dealing with pests. With large areas of land, it can be difficult for farmers to gauge exactly where pesticides are most needed and where to appropriately distribute them. Brute force approach to handle pests would be inefficient and expensive. Not only is it harmful for crop production, but it can be detrimental to humans and the environment alike. To combat these issues, DEP's drone technology provides the ability to localize pest control and elimination by mapping the land and intensity of pest infection. In doing so, it has the ability to ensure high crop yield with reduced environmental impact.
Another key challenge that farmers currently face is knowing how to maximize the agricultural area they have and make effective use of their land. DEP drones aid in analyzing and mapping land area to provide real-time data on soil type and health. Through the use of machine learning technology, these drones are able to identify and assess different terrain types and provide farmers with appropriate information on depths of seed planting and updates on the health of crops, including feedback such as possible rodent infestations. This information is vital in enabling farmers to leverage their land and maximize yield production.
Additionally, DEP drones allow farmers to analyze their crop growth cycles and plan accordingly. Once the field area is mapped, the drones can provide input to enable the farmer to intelligently decide the most optimal areas for planting and relay back that information. When the crops bear fruit or flowers and are ready for harvesting, the drones can provide the input data to determine the optimal time for harvesting and the most economical way to harvest the crop. Finally with the farm information data collected using the drones it is possible to make predictions on the future growth cycles, and allow farmers to further optimize their land for increased revenue and profit.
With its advanced technological hardware and software capabilities, DEP can assist in designing and developing a drone and associated infrastructure that provides surveillance across farmlands. The drones have high endurance to withstand variations in weather and are extremely robust, ensuring long flight durations. Finally, the company's product engineering and aerospace teams can work with businesses to custom design modular drones to meet different farmland needs and are programmable for various terrain and land types.
About Detroit Engineered Products
Detroit Engineered Products (DEP) is an Engineering Solutions and Product Development company. Since its inception in 1998 in Troy, Michigan, USA, DEP is now a global company with footprints in Europe, China, Korea, Japan and India.
At the soul of DEP is a passion for engineering, and this passion has led to the inception of DEP MeshWorks, our proprietary software platform. DEP MeshWorks is a CAE driven platform for rapid concept CAE and CAD model generation, parametrization of CAE models, enabling optimization, advanced meshing and CAD morphing. It has resulted in an accelerated and transformed product development process, which has resulted in several creative solutions to many of our client's problems, thus providing significant value.
Comments (0)
This post does not have any comments. Be the first to leave a comment below.
---
Post A Comment
You must be logged in before you can post a comment. Login now.
Featured Product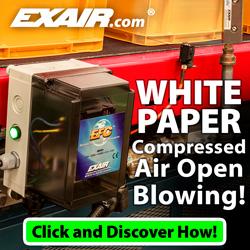 Compressed air is a limited resource that is generated in-house for the benefit of many operations within the manufacturing environment. Learn how to ensure all point of use applications are using your compressed air in the most effective and efficient way possible. Learn how much it costs to produce that compressed air and how Engineered Nozzles can help you use your air more effectively and efficiently.