XAG Resumes Work and Drone Production to Aid Spring Planting, as China Steadily Recovers from Coronavirus Outbreak
As the spread of coronavirus (COVID-19) slows in China, the country has seen an orderly resumption of work to reboot its economy. The Chinese agriculture technology company XAG is one of the first companies obtaining work resumption approval from government. It has restarted business in its Guangzhou headquarters early on February 10, with an overall 90% work resumption rate of its R&D staff on the first day. To fulfil the large purchasing orders of agricultural drones for the farming season, XAG has also set up a 20-million-yuan relief fund for its supply chain partners who struggle to reopen their factories.
According to China's Ministry of Industry and Information Technology, only 52% of small-to-medium sized enterprises have returned to work as of 6 March. While the coronavirus outbreak put many businesses into difficult situation because of the longer-than-expected closure, XAG has already resumed operations in both its headquarters and manufacturing centre. Five key measures have been strictly put in place to ensure that work resumes orderly without compromising the efforts to contain the highly contagious virus.
XAG has established a coronavirus emergency management team, as well as enacting Coronavirus Contingency Plan and Guidance on Protecting Staff from Exposure to Coronavirus. Such prevention and control mechanisms cover a wide range of aspects, including rules on respiratory and hand hygiene, daily health condition monitoring, crisis early warning, disinfection and self-isolation.
All the staff must report their whereabouts over the past 14 days. Those who return by public transport from another city are required to self-isolate before getting back to the workspace.
Sufficient supplies of protective equipment and materials, such as face masks, goggles, thermometers and disinfectants, have been ensured to guarantee the health and safety of every staff member.
Other preventive measures include off-peak commuting, temperature screening and online education on coronavirus.
Although China's business activities have steadily recovered, many manufacturers are still struggling to reopen their factories due to poor cashflow or labour shortages. This has resulted in a disrupted supply-chain that might pose a challenge to the country's agricultural production increasingly dependent on intelligent machines. To prepare for the upcoming spring planting season, XAG has therefore launched a Supply Chain Relief Initiative that helps its supplier partners resume production and improve industry efficiency. Qualified suppliers could apply for a relief fund, which amounted to 20-million-yuan, as prepayment from XAG. Also, professional disinfection services using drone and robots would be provided for free to any supplier in need.
"The supply chain of drone manufacturing is a complex system that involves a broad range of industries. XAG's suppliers are mostly small-to-medium sized manufacturing enterprises. Many of their machine and equipment are financed through bank loans, and obviously it is much more difficult to apply for another loan at this stage. Without enough cashflow, they would not be able to restart operations, let alone returning to full output capacity," said Tang Xiaomin, Vice President of XAG, in an interview with 21st Century Business Herald.
Agricultural drones are an effective precision farming tool designed for direct seeding, crop spraying and fertilisation. They can operate fully autonomously, adapt to various terrains such as hills, mountains and terraces, and deliver pesticides and seeds accurately into targeted fields. As spring farming faces pressure from the coronavirus pandemic, XAG has made unremitting efforts with its partners across the whole supply chain to help farmers resume work with adequate auto agricultural equipment.
Up to 26 February, the work resumption rate of XAG's manufacturing centre, located in Dongguan, has reached 80%. Thousand units of XPlanet Agricultural UAS have been delivered to dealers across 30 provinces in China. With the lockdown policy gradually lifted, more migrant workers have returned to the factory which are getting back on track to its normal output levels.
Under the mission of advancing agriculture, XAG has serviced over 7 million farmers with its smart agriculture solutions on 25 million hectares of farmland. Its manufacturing centre is comprised of an automated production line that occupies an area of 50,000m2, with daily capacity hitting 200 units of agricultural drone so far.
Comments (0)
This post does not have any comments. Be the first to leave a comment below.
---
Post A Comment
You must be logged in before you can post a comment. Login now.
Featured Product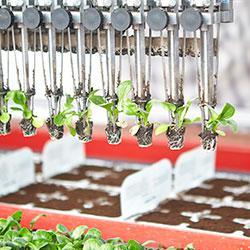 "Smart farming" is an important part of the answer to this existential question: Extremely high efficiency in food production through the targeted use of the latest technology, computer-supported and - where possible - fully automatic. Seeds are individually and precisely placed; fruits carefully picked by mechanical grippers; fertilizers and plant protection products applied in small doses and in a targeted manner. These operations require a large number of small electric motors that are both robust and powerful.