CAN AI HELP FARMERS MITIGATE THE IMPACT OF WEATHER?
How can you manage the risk created by weather? AI and data modelling are offering new ways to mitigate the impact: bespoke weather forecasting to optimise crop scheduling; a novel way to predict extreme events, and an insurance policy to protect against price volatility are to be discussed at an Agri-TechE event 'Keeping a Sunny Outlook – De-risking Agriculture Through Weather-Tech' on 29th April near Norwich.
The recent heavy rain was predicted back in December in a long range forecast by Weather Logistics, as CEO Chris Nankervis explains: "Large irregularities in the usual patterns of rainfall across the British Isles are largely a result of our Atlantic jet stream airflow, a high-altitude ribbon of fast-moving air that steers our weather systems. In recent years, this has resulted in a marked increase in the volatility of farming incomes."
The decade of 2010-2019 was the hottest since records began according to the Copernicus Climate Change Service (C3S), which also revealed that each of the last five years have been the warmest on record. Chris continues: "There are now concerns that stagnation of the jet stream is leading to changes in the Arctic and more extreme weather events. The impact of this would be more frequent and intense extreme weather conditions such as prolonged heatwaves, droughts and more widespread and severe flooding events.
"Unlike temperature, rainfall is irregular in both space and time. However, using many computer models with input from several weather providers, we are confident that we now have the best tools in place to reliably inform growers about the likelihood of a soaker."
Weather Logistics can detect disruptions in the jet stream throughout the year and uses this, and other data, to create bespoke weather forecasts. Farmers can use this information to improve decision-making such as delaying or bringing forward drilling or other farming operations to avoid adverse seasonal weather conditions.
Chris estimates that optimising crop scheduling for those in the horticultural industry could increase profit margins by up to 20% and ensure that delivery programmes are met with food retailers. He says: "Integrating long-term weather forecast data into decision-making platforms offers more efficient land use and the opportunity to optimise fresh produce supply, reduce pesticide use and improve smart water use."
Joe Brooker, Senior Analyst at Stable Group Ltd, argues that, while weather predictions are useful, the risks farmers have to deal with are interconnected - and price and yield are the largest. "Price and yield risk are linked. Weather impacts production, which can impact yield, yield can impact price but this depends on scale, timing and other factors. These factors can also occur independently. Weather can be volatile, but it is not as volatile as price."
Stable Group Ltd has developed an insurance model that uses independent commodity indexes to protect against price volatility. Farmers are able to fix the price and the insurance will pay out if the price drops. The platform runs 62 trillion simulations per week to forecast prices and spot future pricing signals, balancing its risk portfolio across crop, geography, time and place.
The use of AI to manage complexity and mitigate climate change is being taken to the next level by Cervest. Chief Business Officer Mark Hodgson says the company is developing the ability to predict extreme events anywhere on the planet, so governments, businesses and communities can better manage their current and future exposure to climate risk.
"After three years of VC-backed machine-learning research and development, global data acquisition and modelling, and market testing, Cervest is bringing to market an independent climate data platform that enables users to 'score' risk exposure and make objective, informed decisions on the assets they manage – be they natural assets such as crops and land, or build infrastructure assets, such as buildings, roads, utilities.
"In 2020 we will be offering location-level risk by gathering discreet signals from a wide array of data sources that can be transformed into meaningful ratings and metrics that the food, agriculture, insurance and financial sector can use to help manage their exposure from extreme precipitation and heat events, as well as other natural hazards such as flooding. We will be starting with UK and Europe before extending into the US."
Mark continues: "our unique Earth Science AI offers anyone a personalised prediction of climatic and extreme weather events in real-time on any area of land. Anyone who owns or has an interest in a particular land-based asset – be they an individual, grower, business or government agency – will soon be able to access these personalised, dynamic predictions to make more informed decisions on how to respond.
"The platform also enables stronger collective decision-making and more resilient value chains. Climatic and extreme weather events do not discriminate. We need to make sure that everyone in a connected economy is as secure as possible from an increasingly volatile climate."
Dr Belinda Clarke, director of Agri-TechE, event organisers, comments: "The falling cost of computing power and the convergence of technologies such as imaging, remote sensing and monitoring, AI and data modelling are enabling a big picture view that until now has been too complex to capture and comprehend. Weather is a great example of where a systems approach to decision making would offer immediate benefits – I am looking forward to hearing the discussion."
The Agri-TechE Pollinator event 'Keeping a Sunny Outlook – De-risking Agriculture Through Weather-Tech' is taking place on Wednesday 29th April, 4pm, at Hethel Innovation, Norwich NR14 8FB.
For more information visit agri-tech-e.co.uk/upcoming-events
Comments (0)
This post does not have any comments. Be the first to leave a comment below.
---
Post A Comment
You must be logged in before you can post a comment. Login now.
Featured Product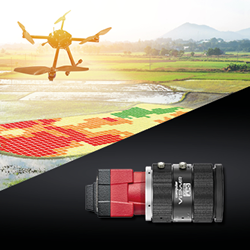 Allied Vision's compact and light weight Alvium SWIR (short wave infrared) cameras are the ideal choice to build cost-effective OEM systems used in embedded and machine vision applications. The cameras support a spectral range from 400 nm to 1700 nm at high quantum efficiencies. This allows to capture images in both the visible and SWIR spectra with a single camera and enables users to reduce overall system costs! Equipped with Sony's IMX990 and IMX991 SenSWIR InGaAs sensors, Alvium SWIR cameras deliver high image quality and frame rates. This makes them well suited for drones or handheld devices used in various industries such as, agriculture, mining, solar cell inspection or medical.