Introduction to Cellular Agriculture?
Cellular agriculture is the production of agricultural products from cell cultures rather than entire animals or plants. Cell lines, growth media, scaling technologies, scaffold materials, and 3D tissue systems are among those used to produce agricultural products from cell culture. The growing environmental and ethical problems associated with industrial farming have impacted the global livestock industry. However, the desire to eat animal-derived protein products has led to the emergence of cellular agriculture. The rising consumer awareness over the health benefits offered by cultured meat and non-dairy milk is driving the demand for further innovation in cell-cultured products. The increased acceptance of plant-based meat products, dairy substitutes, and insect-based foods is boosting market growth.
Cell-produced meat products are estimated to grow exponentially as nutritionally rich alternatives with minimal impact on the environment, and hence, a growing number of industry participants are manufacturing cell-based meat products. The growing affluence of the middle-class population, rising health consciousness among consumers, and the increasing acceptance for cell-based food with nutritious ingredients and health benefits are driving the consumption of meat analogs in North America.
What factors are expected to impact the growth of cellular agriculture market?
The chart below reflects the projected consumption of various meat types around the world for the period spanning from 2017 to 2026. Poultry is one of the major categories in the cultured meat market, which is expected to show the highest growth during the forecast period, due to an increase in demand for affordable animal protein over red meat.
GLOBAL MEAT CONSUMPTION, 2017–2026 (MILLION TONNES)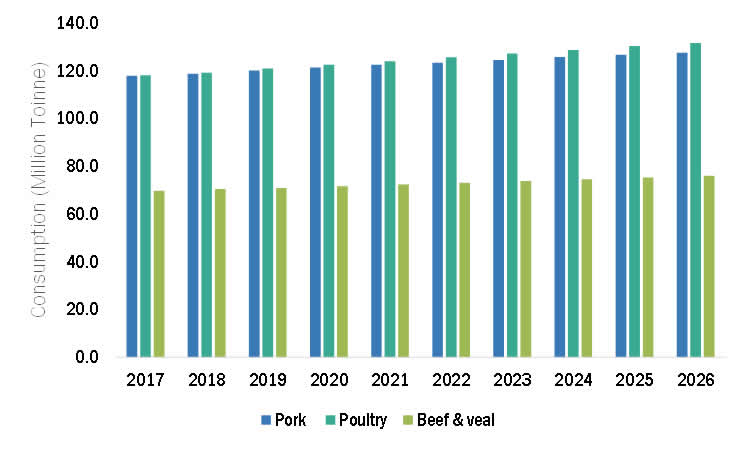 Source: Organisation for Economic Co-operation and Development (OECD)
Developing regions such as Asia Pacific and Africa are expected to account the highest growth in the next 10 years, due to a shift from cereal-based diet to protein-based diet. This growing trend of protein consumption is expected to create several opportunities for various meat processors and food companies to invest in alternative meat protein such as cultured meat to fulfill the consumer demand for meat.
Which companies are capitalizing the opportunities in cellular agriculture and what are the strategies employed by them?
Some of the major companies commercializing cellular agriculture-based products include Impossible Foods (US), Beyond Meat (US), Modern Meadow (US), Clara Foods (US), Perfect Day (US), Bolt Threads (US), and Gingko Bioworks (US).
Recent advancements in food technology have helped in the development of new alternate protein products such as plant-based protein, cultured meat, and edible insects. They provide a considerable amount of protein but require fewer natural resources compared to common protein sources such as meat and fish. This practice has been gaining popularity in the market and has high growth potential. A notable number of players have emerged in the animal protein sector.
In insect protein, nextProtein (France), founded in 2015, provides insect-based protein for animal feed, under its brand, Protix, which is an ideal protein source for pet food applications.
In cultured meat, a few startups are in their R&D phase and are about to make their cultured meat products commercially available by 2021. Meatless food products such as meat-free burgers by Impossible Food (US) and pea-based shrimp by New Wave Foods (US) have already garnered a competitive edge over meat giants.
Comments (0)
This post does not have any comments. Be the first to leave a comment below.
---
Post A Comment
You must be logged in before you can post a comment. Login now.
Featured Product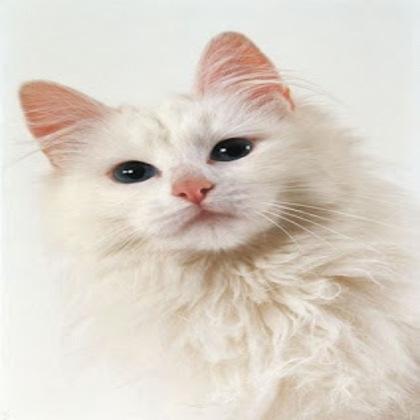 The 13 MP autofocus camera uEye XC is especially easy to operate and delivers high-resolution images and videos in the blink of an eye. Unlike typical webcams, it has been specifically designed for use in industrial applications and delivers sharp image data even in changing light conditions. Setting up and operating only requires a cable connection. The webcam-like camera is characterised by its particularly elegant and lightweight magnesium housing: with dimensions of only 32 x 61 x 19 mm, it is compact, sturdy despite its light weight and absolutely suitable for industrial use - benefiting, for example, kiosk systems, applications in industrial production or agriculture. With the uEye XC Starter Set, IDS offers a full-package deal for $500. (launch promotion, valid until 30 November 2022) that allows customers to evaluate and use the full range of functions of the new camera. The set includes not only the camera, tripod adapter and cable, but also a macro lens. Thanks to this lens, the camera is also suitable for demanding applications at close range. It easily shortens the minimum possible object distance and opens up additional application possibilities.