Motiv Robotics Announces Enhanced RoboMantis® Robot
RoboMantis: Industry's most dexterous work horse and academia's most capable research tool!
"RoboMantis is an open architecture robot running ROS and today's release of the robot with the Actin® addon exemplifies the flexible architecture of the system. We are truly excited to leverage this unique capability with our customers," said Chris McQuin, Chief Engineer at Motiv Robotics. Approximately human scale, RoboMantis can be configured with up to four mobility limbs and two manipulators which can be outfitted with a wide variety of end-effectors. Payload capabilities of the robot enable unique heavy lift operations not found in existing mobile platforms.
Capability Impact-
The unique design of the modular RoboMantis robot allows for utilization in a wide number of applications from industrial inspection, mining, agriculture, defense, and academic research to name a few. RoboMantis has been released for iROS 2019 using Energid's Actin® SDK as an addon to unlock even more advanced capability.
RoboMantis Availability-
Motiv is committed to continuously enhancing its robotic product line by increasing the value proposition to its customers and being responsive to their needs. "Part of having a robotic architecture that is modular and scalable is having options for customers that fit their specific needs. Enhancement options, such as the Actin addon for the RoboMantis, greatly expand our ability to meet our customers' wide-ranging needs," said Chris Thayer, CEO at Motiv Robotics. The RoboMantis robot is available now from Motiv Robotics.
Motiv Robotics, founded in 2015, offers a broad range of robotic solutions and services designed to tackle challenging applications.
For more information visit http://www.motivrobotics.com
Motiv Robotics and RoboMantis are trademarks of Motiv Robotics, Inc. in the United States and/or other countries.
Comments (0)
This post does not have any comments. Be the first to leave a comment below.
---
Post A Comment
You must be logged in before you can post a comment. Login now.
Featured Product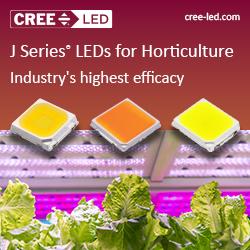 Horticulture and other forms of agricultural lighting require application-tuned ratios of spectral content, high efficacy and long lifetimes. Since these systems are designed to maximize yields for plants and animals, they require different metrics than lighting products designed around the human visual system. Cree LED delivers a wide range of spectral options and products optimized for these applications with leading efficiency and reliability.