WiFi Technology poised to change the indoor growing landscape.
Kind LED Grow Lights has announced the launch of the new K5 Wifi, a massive update to their award-winning K5 XL1000 fixture. Newly integrated on-board computer with wireless command center, an easy-to-read LCD interface, and amplified UV diodes, makes this the perfect LED grow light solution for growers from beginner to the professional level.
The all-new Kind web-based Command Center gives growers the ability to set timers and light spectrum from the convenience of a computer or mobile device, eliminating the need to manually program individual lights or rely on third-party controller devices. KIND offers a large menu of preprogrammed lighting schedules, from seedling to late flowering stages, incorporating sunrise and sunset intensity changes to mimic mother nature and increase overall plant health. Growers also have the ability to customize and save lighting recipes based on the unique needs of their garden environment or plant type.
Kind LED Grow Lights has been the gold standard of LED Grow Lights for years, and have been honored by High Times magazine with their S.T.A.S.H. Gear of the Year award for four consecutive years since 2014. The new K5 WiFi LED grow light greatly amplifies quality and potency, with newly enhanced UV diodes to increase terpene and flavor profiles. The proven perfect 12-band spectrum significantly increases flower density and harvest weight with re-calibrated secondary optical lenses that focus light intensity and deliver up to 200% greater canopy penetration.
"The XL1000 has been the jewel in the crown of the horticultural lighting industry since it launched," said Kind CEO Rory Kagan. "It's an award-winning fixture and produces amazing results for home growers and commercial cultivation facilities alike. We wanted to build on everything the XL1000 does so well and incorporate today's leading technology to take it to the next level."
In today's massive commercial agriculture industry, LED technology offers undeniable advantages over traditional grow lighting fixtures. LED grow lights require 40% less electricity to operate, cutting production costs in half when coupled with the reduced AC and cooling infrastructure needed when running LED grow lights. However, only the top-performing fixtures like those from KIND LED Grow Lights are able to achieve this without sacrificing yield, while simultaneously increasing harvest quality. Most large scale growers see a return on investment within a year while using LED. While traditional grow lights typically carry a 5,000-hour lifespan, KIND LED technology remains highly effective up to a whopping 100,000 hours.
The Kind LED K5 XL1000 WiFi grow light is available for preorder on October 15th with a retail price of $1,895. For commercial level inquires, contact a KIND LED lighting expert for a custom digital lighting plan at 855-559-5463. For more news and information, please sign up for updates at kindledgrowlights.com.
Comments (0)
This post does not have any comments. Be the first to leave a comment below.
---
Post A Comment
You must be logged in before you can post a comment. Login now.
Featured Product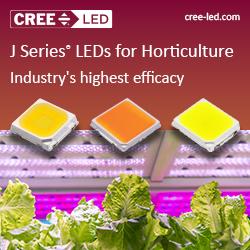 Horticulture and other forms of agricultural lighting require application-tuned ratios of spectral content, high efficacy and long lifetimes. Since these systems are designed to maximize yields for plants and animals, they require different metrics than lighting products designed around the human visual system. Cree LED delivers a wide range of spectral options and products optimized for these applications with leading efficiency and reliability.