Precision Farming Market to cross USD 12 billion by 2025
Global Stationary Battery Storage Market is set to grow from its current market value of more than $4 billion to over $12 billion by 2025; according to a new research report by Global Market Insights, Inc.
The software segment is expected to hold a share of over 38% of the precision farming market in 2025. An extensive use of farm management system software and mobile apps for enabling precision farming applications will lead to the market growth. Farmers and researchers are using these platforms for data visualization and analytics, which will enable them in developing effective farming strategies to improve crop yield.
The remote sensing technology in the precision farming market is expected to witness a growth rate of over 17% over the forecast timeline. The market growth is attributed to use of remote-sensed images acquired by sensors mounted on different agricultural machinery and vehicles. As remote sensing devices capture critical information related to crops, their utility in the precision agriculture is increasing consistently for aiding the real-time decision-making applications.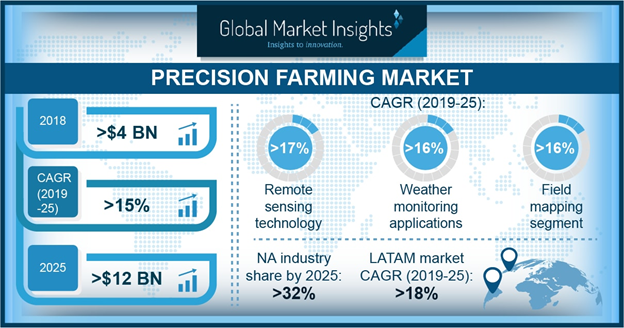 Weather monitoring applications in the precision farming market will grow at a CAGR of over 16% from 2019 to 2025. As the agricultural sector is vulnerable to disruptive weather events, the demand for actionable & timely information increases. The real-time data regarding weather conditions help farmers to increase their yield and reduce costs while minimizing crop damage risks.
The precision farming services market is projected to exhibit an accelerated growth of over 19% from 2019 to 2025 due to the large-scale adoption of integration, training, and maintenance services by users for efficiently managing precision farming functions. The demand for these services is expected to rise due to the lack of technical expertise of users to deploy, integrate, and maintain these solutions.
Another factor contributing to the precision farming market growth is the huge use of drones and aircrafts for precision farming operations. Drones have emerged as an excellent alternative to the traditional surveying & data gathering methods in agricultural operations. By using drones for crop monitoring, farm owners can significantly lower their production costs and reduce required the man-hours and work-load. The players operating in the market are developing modern agriculture-focused drones with sophisticated precision & accuracy to increase productivity.
APAC Precision Farming Market Size, By Country, 2018 & 2025 (USD Million)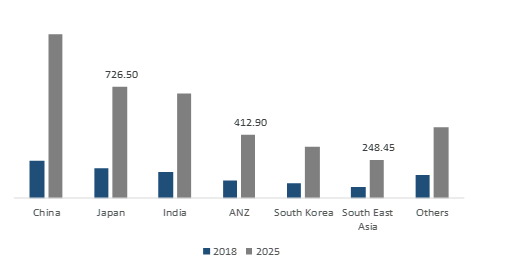 The precision farming market is expected to exhibit a significant growth over the forecast timeline due to a huge support from governments for the adoption of advanced technologies such as AI and the IoT. These technologies help farmers in managing their resources and give access to real-time information through their smartphones, offering mobility and ease of use. Various government initiatives & subsidies and investments by private entities in the agriculture sector to improve farm productivity will result in the precision farming market growth.
The Latin America precision farming market is estimated to grow at a CAGR of over 18% between 2019 and 2025. The market growth is attributed to the rising popularity of drones for precision farming applications and favorable government initiatives for brining innovation in the sector. For instance, in October 2017, Agribotix expanded its partnership with Climate Corp., a digital agriculture company based in the U.S. to bring innovative field imagery to the Brazilian agriculture sector. In June 2018, the UAE's Ministry of Climate Change and Environment (MoCCAE) conducted a pilot project to map & survey agricultural areas using drones to generate highly-efficient aerial data, such as topographic & vector mapping, which can help to create reliable agricultural database to support decision-making in the precision agriculture.
Comments (0)
This post does not have any comments. Be the first to leave a comment below.
---
Post A Comment
You must be logged in before you can post a comment. Login now.
Featured Product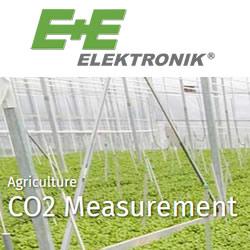 Lowering of energy costs, acceleration of growth and extension of the possible storekeeping duration can be optimised by the precise measurement of humidity, CO2-content and temperature. Optimum basic conditions for animals and plants ensure best agricultural products. As different applications demand various adopted solutions for optimization of agricultural processes, E+E Elektronik provides a broad portfolio of agricultural monitoring products