HYOSHIGA IKE: ANOTHER CIEL & TERRE'S FLOATING PV PLANT IN JAPAN, PRESERVING (AGRI)CULTURE
The 2.7 MWp floating solar farm, constructed with Ciel & Terre's Hydrelio® technology, was recently successfully grid-connected. At the origin of this project, among others, the Energy Bank Japan (EBJ), an Osaka Gas Company's subsidiary, and JFE Plant Engineering Corporation as an EPC. This solar array, located in Kobe City, Kobe, has taken into account both agriculture and a historical feature of the site…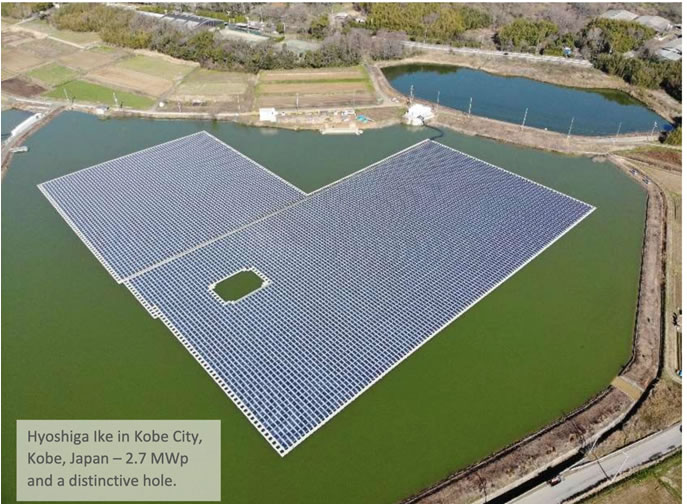 General information
Late March, one more project designed and supplied by Ciel & Terre was grid-connected in Japan, the "world leader in floating solar power" (World Economic Forum). With its numerous and disused inland water bodies, Japan has a great potential to welcome floating solar. Hyoshiga Ike represents 2.7 MWp additional to the 128 MWp already implemented in the country by Ciel & Terre. Owned by EBJ and constructed by JFE Plant Engineering, the plant provides electricity for utility use, and benefits from feed-in tariffs to continue to make people aware of the technology and promote floating solar.
Hyoshiga Ike should generate 3,138,474 kWh, equivalent to around 872 residential electricity annual consumption. It should cut off CO2 emissions up to 163 T in the meantime.
A Partnership to Continue Floating Solar's Expansion in Japan
JFE and EBJ (Energy Bank Japan) are two well-known stakeholders on the Japanese floating solar market working with Ciel & Terre. JFE is an EPC deemed for its engineering method and it has also been one of the first customer to apply a floating solar system at an early stage (Maeno Ike, 2014). EBJ is a company affiliated to Osaka Gas and has the driving ambition to have renewable energy quality facilities, accounting for its involvement in floating solar projects, notably by Ciel & Terre. And the partnership between JFE, EBJ and the FPV group is a solid and longstanding one. In point of fact, Hyoshiga Ike is the 8th project issued by the collaboration of these two entities and Ciel & Terre, and the third in the zone. The three plants altogether (see picture opposite) stand for 5.12 MWp.
The 5-year joint effort of these three companies in favour of floating solar is highly reputed on the national floating solar market, and serves the promotion of this proven eco-friendly and cost-efficient solution, which reliability and bankability are recognized in Japan.
A Technology which respects culture (anD culture)
Hyoshiga Ike's floating solar farm lies on an irrigation pond, meaning that the water contained in the reservoir is used to water plantations. This requires to have harmless materials used for the technology, which Hydrelio® is as a tried-and-tested and patented technology. And the particular advantage for the owner here is that he was able to gauge the safety of the facility regarding the local farming via the feedback on previous projects.
As the pictures show, a hole is noticeable in the center of the island. Hyoshiga Ike's floating PV plant is actually installed above a historical spot, a shrine for the good harvest, which uncovers when water level goes down. This area is a place of worship since it is a cultural symbol for all the local farmers. So, the gap was designed on purpose by Ciel & Terre so that this sacred zone is left free. Ciel & Terre's Hydrelio® preserves both agriculture… and culture.
About Ciel & Terre
Established in 2006 as a specialist in the integration of photovoltaic systems, Ciel & Terre® (C&T) has been fully devoted to floating solar PV since 2011, developing the first patented, and industrialized water-based PV concept: HYDRELIO®.
The company was awarded Intersolar Prize 2017 for its innovative technology. In response to land use conflicts, this solution consists of installing PV modules on inland and artificial water bodies to produce energy in a more efficient way.
The floating PV group's activity is fully-integrated, including technical innovation, manufacturing, project development, design, as well as system O&M, financing solutions and consulting activities. So far, the track-record of the company reaches 300 MWp.
Comments (0)
This post does not have any comments. Be the first to leave a comment below.
---
Post A Comment
You must be logged in before you can post a comment. Login now.
Featured Product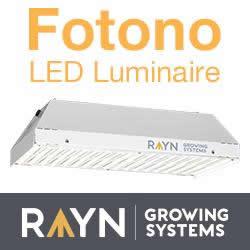 Fotono is a full spectrum LED horticultural luminaire designed to directly replace HPS lights in greenhouses. At 12 pounds, 20 inches long, and 5 inches high, Fotono's compact size makes installation simple while minimizing structural burden on greenhouses. This compact fixture packs energy-saving and yield-improving features, such as a high output, stepless dimming, advanced spectral capabilities, and more.