Farm Dog, John Deere, and ADAMA Unveil Mobile-to-Sprayer Integration Solution
Farm Dog, John Deere, and ADAMA recently previewed their mobile-to-sprayer integrated solution to 750 agriculture professionals at the 2019 Develop with Deere Conference in Chicago from January 23-24. The solution increases labor efficiency on the farm by simplifying information sharing and reducing the likelihood of operational errors for agronomists, growers, and spray equipment operators.
"We are spending unnecessary time on communication hand-offs between agronomic decision-makers and equipment operators – too many calls, faxes, emails, and texts. In addition to labor waste, we estimate that miscommunication occurs in up to one-third of these hand-offs due to everyday occurrences such as spotty phone signals, illegible handwriting, and stubby fingers. It's the agricultural equivalent of a frustrating game of Telephone," said Liron Brish, CEO of Farm Dog.
The solution seamlessly integrates two key activities in precision agriculture for pest and disease management – treatment recommendation based on in-field observations and variable rate spray application. Growers and agronomists will now be able to create treatment recommendations within the Farm Dog mobile application and send them directly from the field to variable rate spray equipment via John Deere Operations Center, without risk of miscommunication of key information. Artificial intelligence empowers users with insights into treatment history, local regulations, crop specifics, and other key agronomic inputs.
Added Brish: "This integration removes communication hand-off costs and risk, ensuring that everybody responsible for keeping fields healthy is aligned in real-time."
The joint collaboration project between Farm Dog, John Deere, and ADAMA is supported by the Binational Industrial Research and Development Foundation (BIRD Foundation).
About Farm Dog
Farm Dog is a precision agriculture solution for pest and disease management to help growers and agronomists optimize treatments, increase yields, and promote sustainability. Leading growers and top scouting groups worldwide rely on Farm Dog in their day-to-day operations to make more informed decisions. To learn more, visit http://www.farmdog.ag
About John Deere
Deere & Company is a world leader in providing advanced products and services and is committed to the success of customers whose work is linked to the land - those who cultivate, harvest, transform, enrich and build upon the land to meet the world's dramatically increasing need for food, fuel, shelter and infrastructure. Since 1837, John Deere has delivered innovative products of superior quality built on a tradition of integrity.
About ADAMA
ADAMA is one of the world's leading crop protection companies. We strive to Create Simplicity in Agriculture – offering farmers effective products and services that simplify their lives and help them grow. With one of the most comprehensive and diversified portfolios of differentiated, quality products, our 6,600-strong team reaches farmers in over 100 countries, providing them with solutions to control weeds, insects and disease, and improve their yields. For more information, visit us at www.ADAMA.com and follow us on Twitter® at @ADAMAAgri.
Comments (0)
This post does not have any comments. Be the first to leave a comment below.
---
Post A Comment
You must be logged in before you can post a comment. Login now.
Featured Product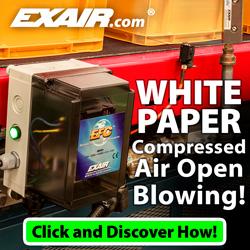 Compressed air is a limited resource that is generated in-house for the benefit of many operations within the manufacturing environment. Learn how to ensure all point of use applications are using your compressed air in the most effective and efficient way possible. Learn how much it costs to produce that compressed air and how Engineered Nozzles can help you use your air more effectively and efficiently.