Grower Replaces T5s Fluorescents with VividGro's GroBar™ Luminaires, Gains Dramatic Savings in Time and Expense
"If you have not seen a GroBar™ yet, you have not seen one of the best lights to hit the growing industry," says John Minor, owner and operator of TURBO POTS. The first automated aeroponic growing system, TURBO POTS delivers nutrient saturation through short injections of light fluid nutrients, water and air through the soil. On a mission to create a cutting-edge indoor growing environment, Minor worked to identify optimal lighting for the cloning stage of his crop. "I'm always looking for ways to be innovative, I don't care about how it's been done in the past. When I understood the potential of GroBars, it was a no-brainer," he continued.
On the list of GroBar benefits, cool bulb temperature was key, according to Minor. Heat-emitting bulbs, like the T5, must be mounted to prevent close proximity to the crop. Plants that unexpectedly exceed the estimated height can come into contact with lighting fixtures, causing damage. Because GroBar luminaires are completely cool, plants can come into direct contact without incurring any damage. Growers then have greater flexibility in stacked grow options and see an additional benefit in reduced cooling costs.
Minor has also noticed other benefits that make a difference, saying, "Because of the mounting configuration, GroBars are easy to clean. It takes ten minutes to disassemble, wipe down and reassemble a T5 bank. It takes seconds to wipe down GroBars." He has also noticed a significant difference in durability and longevity: whereas T5 bulbs can break during installation and require frequent replacement of the bulbs or repair to the ballast, GroBars are made of plastic, surviving drops and installation for longer use. With an internal driver, expenses and lost time related to ballast repairs and replacements are a thing of the past.
"The output of the GroBars also impressed me: one GroBar does the work of two T5s and draws less power," says Minor. Let's do the math on that. T5 bulbs draw 54 W each, while GroBars draw 30 W and you need half the amount of them." So:
T5 at 54 W

per bulb

GroBar at 30 W

per bulb

Difference

4-Bulb Fixture

216 W

60 W

GroBar = 96 W less

8-Bulb Fixture

432 W

120 W

GroBar = 192 W less

12-Bulb Fixture

648 W

360 W

GroBar = 288 W less
But what are the savings in dollars and cents? Well:
Electricity

Rates

11.5¢kWh

WV, TX, OR, NC, NV,
MT, MI, ID

12.5¢kWh

AL, CO, DE, GA, IL, IN,
ND, SC, SD, WY

19¢kWh

CA, NH, RI, VT

T5 4-bulb

fixture, 216 W

$24.84

$25.92

$41.04

GroBar 2-bulb
fixture, 60W

$6.90

$7.20

$11.40

Savings per hour

$17.94

$18.72

$29.64

Savings in one
day (10 hours)

$179.40

$187.20

$296.40
"To me, the savings in utility costs alone make the choice pretty clear. Add to that the lifespan of three years, compared to a T5s needing replacement every six months. It really is a no-brainer."
Minor is on a mission to bring awareness to his fellow growers, saying, "In my perspective, the GroBar lives up to its name – it IS the coolest light in cannabis, both in temperature and features. We currently have replaced all our T5 fixtures with GroBarsand will never look back. When I show somebody the GroBar, their mouth drops. If you're looking to update or create a new grow room, before you spend your money on any other light, you must check out the GroBar first."
About VividGro
VividGro is a pioneer in the AgTech space. Tailored to the automation and efficiency needs of the indoor agriculture and horticultural markets, VividGro implements solutions that help growers maximize yields and reduce costs. Our state-of-the-art VividGro customized lighting product line delivers optimized PAR to maximize plant growth and PAR efficacy. Our control automation systems and data collection strategies are able to measure and modify growing to help growers learn how to use their resources more efficiently. It is not the lights you use it is how you use them. Learn more about VividGro at www.VividGro.com and join us on social media at Facebook, Twitter, and Instagram.
About Turbo Pots
Turbo Pots is the first automated growing system to deliver multiple short injections of fluid nutrients, water, and air throughout the soil area and directly to the root zone, stimulating an optimum growing environment and increased plant growth. The Turbo Pots hoop design provides even saturation to the entire root zone for instant absorption, resulting in the growing speed of hydroponics with all of the great flavor of soil-based production. Configurations for hobbyist and professional growers are available. More information including side-by-side testing is available at https://www.turbopots.com/.
Comments (0)
This post does not have any comments. Be the first to leave a comment below.
---
Post A Comment
You must be logged in before you can post a comment. Login now.
Featured Product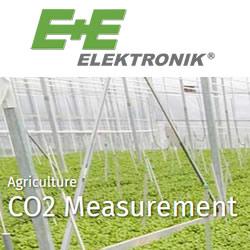 Lowering of energy costs, acceleration of growth and extension of the possible storekeeping duration can be optimised by the precise measurement of humidity, CO2-content and temperature. Optimum basic conditions for animals and plants ensure best agricultural products. As different applications demand various adopted solutions for optimization of agricultural processes, E+E Elektronik provides a broad portfolio of agricultural monitoring products