Asai Nursery and DENSO Establish Joint Venture to Advance Agricultural Technology and Efficiencies
Asai Nursery, Inc. (Asai Nursery) and DENSO Corporation (DENSO) today announced a joint venture to create a next-generation model for horticulture using large-scale greenhouses and agricultural technology. The company, titled AgriD, Inc., will build one of Japan's largest agricultural greenhouses and develop technologies to improve cultivation productivity for growing vegetables. Construction of the greenhouse will take place in Inabe City, Mie Prefecture which offers ideal amounts of solar radiation for greenhouse cultivation and is scheduled to begin in 2019.
AgriD aims to increase the efficiency of agricultural practices through large-scale cultivation. Through agricultural production management, the venture will develop technologies for better controlling the environment in greenhouses, improve efficiency through automation and ensure growth and cultivation control. The model plans to employ a variety of development technologies from both Asai Nursery and DENSO including national distribution channels, air conditioning systems, engine control and robot technologies.
DENSO has long been developing products for controlling environments within greenhouses to improve productivity and reduce climate risks in agriculture. In 2015, DENSO released its "Profarm-Controller" product and has supported cultivation in collaboration with Toyotane Co., Ltd. In December 2018, DENSO will establish another joint venture with Daisen Co., Ltd. and Toyotane. In May 2019, the company will release "Profarm T-cube", which is a semi-closed agricultural greenhouse.
Asai Nursery aims to provide sophisticated agricultural research and develop production fields and technologies to help control and enhance competitiveness in Japan, especially for tomatoes and cherry tomatoes. Asai creates added value by optimizing agricultural value chains from cultivation management to distribution development. Ultimately, the company strives to develop a new and sustainable model for agricultural management.
About DENSO in North America
DENSO is a leading global automotive supplier of advanced technology, systems and components in the areas of thermal, powertrain control, electronics and information and safety. With its North American headquarters located in Southfield, Michigan, DENSO employs more than 23,000 people at 28 consolidated subsidiaries and 4 affiliates across the North American region. Of these, 25 are manufacturing facilities located in the United States, Canada and Mexico. In the United States alone, DENSO employs more than 17,000 people in Alabama, Arkansas, California, Iowa, Georgia, Kentucky, Michigan, North Carolina, Ohio, Pennsylvania, South Carolina, Tennessee and Texas. DENSO's North American consolidated sales totaled US$10.9 billion for the fiscal year ending March 31, 2018. For more information, go to www.denso.com/us-ca/en. Connect with DENSO on Facebook at www.facebook.com/DENSOinNorthAmerica.
About DENSO Corporation
DENSO Corp., headquartered in Kariya, Aichi prefecture, Japan has more than 220 subsidiaries in 35 countries and regions (including Japan) and employs approximately 170,000 people worldwide. Consolidated global sales for the fiscal year ending March 31, 2018, totaled US$48.1 billion. Last fiscal year, DENSO spent 8.8 percent of its global consolidated sales on research and development. DENSO common stock is traded on the Tokyo and Nagoya stock exchanges. For more information, go to www.denso.com, or visit our media website at www.denso.com/global/en/news/media-center/.
Comments (0)
This post does not have any comments. Be the first to leave a comment below.
---
Post A Comment
You must be logged in before you can post a comment. Login now.
Featured Product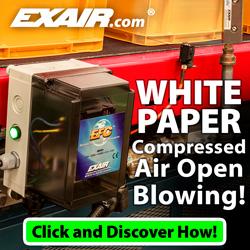 Compressed air is a limited resource that is generated in-house for the benefit of many operations within the manufacturing environment. Learn how to ensure all point of use applications are using your compressed air in the most effective and efficient way possible. Learn how much it costs to produce that compressed air and how Engineered Nozzles can help you use your air more effectively and efficiently.