Seawater Greenhouse brings agriculture to world's harshest environments
Matt Hickman for Mother Nature Network: To riff on an old proverbial phrase: When life gives you a hot, punishing climate and nary a drop of fresh water for irrigation, why not make …
OK, there's literally nothing you can make — or grow, in this particular instance — with those things. Not lemonade, not tomato salad, not a banana and strawberry smoothie. Nada.
However, British theatrical lighting designer-turned-inventor Charlie Paton has devised an agricultural workaround that enables some of the most arid, drought-stricken communities in the world to successfully grow and harvest crops by harnessing the two things that parched coastal regions happen to have in spades: sunshine and saltwater. As a result, residents of fresh water-starved locales like Somaliland, Oman, Abu Dhabi and bone-dry South Australia are finding that they can indeed grow lemons — and make delicious lemonade — along with a variety of other crops that would be otherwise impossible to grow in harsh environments where water insecurity is a pressing issue.
Revolving around a technology first developed and piloted in Spain's Canary Islands in the early 1990s, Paton's company, Seawater Greenhouse, specializes in just that: solar-powered greenhouses where crops are grown using saline water, which in normal circumstances is a plant killer (save for salt-filtering mangroves and a few other plants, most of which aren't fit for human consumption.)
The two-step technology is rather straightforward. "The idea is so simple that it's rather insulting," Paton tells Wired U.K. in a profile of Seawater Greenhouse's latest endeavor in Somaliland, an autonomous region of Somalia that's home to 4 million-some residents who have long struggled with crippling drought and famine. "People say, 'If that's going to work then somebody would have done it before.'" Full Article:
Comments (0)
This post does not have any comments. Be the first to leave a comment below.
---
Post A Comment
You must be logged in before you can post a comment. Login now.
Featured Product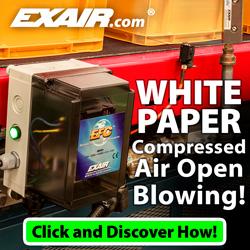 Compressed air is a limited resource that is generated in-house for the benefit of many operations within the manufacturing environment. Learn how to ensure all point of use applications are using your compressed air in the most effective and efficient way possible. Learn how much it costs to produce that compressed air and how Engineered Nozzles can help you use your air more effectively and efficiently.