Seawater Greenhouse brings agriculture to world's harshest environments
Matt Hickman for Mother Nature Network: To riff on an old proverbial phrase: When life gives you a hot, punishing climate and nary a drop of fresh water for irrigation, why not make …
OK, there's literally nothing you can make — or grow, in this particular instance — with those things. Not lemonade, not tomato salad, not a banana and strawberry smoothie. Nada.
However, British theatrical lighting designer-turned-inventor Charlie Paton has devised an agricultural workaround that enables some of the most arid, drought-stricken communities in the world to successfully grow and harvest crops by harnessing the two things that parched coastal regions happen to have in spades: sunshine and saltwater. As a result, residents of fresh water-starved locales like Somaliland, Oman, Abu Dhabi and bone-dry South Australia are finding that they can indeed grow lemons — and make delicious lemonade — along with a variety of other crops that would be otherwise impossible to grow in harsh environments where water insecurity is a pressing issue.
Revolving around a technology first developed and piloted in Spain's Canary Islands in the early 1990s, Paton's company, Seawater Greenhouse, specializes in just that: solar-powered greenhouses where crops are grown using saline water, which in normal circumstances is a plant killer (save for salt-filtering mangroves and a few other plants, most of which aren't fit for human consumption.)
The two-step technology is rather straightforward. "The idea is so simple that it's rather insulting," Paton tells Wired U.K. in a profile of Seawater Greenhouse's latest endeavor in Somaliland, an autonomous region of Somalia that's home to 4 million-some residents who have long struggled with crippling drought and famine. "People say, 'If that's going to work then somebody would have done it before.'" Full Article:
Comments (0)
This post does not have any comments. Be the first to leave a comment below.
---
Post A Comment
You must be logged in before you can post a comment. Login now.
Featured Product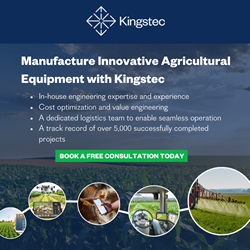 In the rapidly evolving agricultural landscape, leading AgriTech companies are increasingly leveraging the experience and expertise of strategic engineering and manufacturing partners to bring cutting-edge, cost-effective solutions to market. Kingstec is an all-in-one engineering, manufacturing, and logistics partner, with over 40 years of experience and 5,000 successfully completed projects. We can help you bring innovative, cost-optimized farm equipment, sensors, drones, components, and more to market quickly with in-house engineering and manufacturing expertise, a dedicated logistics team, and a network of world-class manufacturing and supply chain partners.