Farmer's Business Network, Inc. Announces $110 Million Series D Funding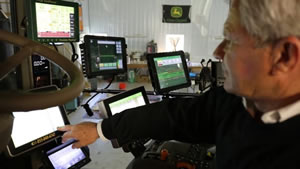 Farmers Business NetworkSM, the independent farmer-to-farmer network, announced a $110 million Series D funding round, led by funds and accounts advised by T. Rowe Price Associates, Inc. and Temasek. Previous investors Acre Venture Partners, Kleiner Perkins Caufield & Byers, GV (formerly Google Ventures) and DBL Partners also participated in this round.
The latest investment will be used to expand the company's offerings, including its digital crop marketing, FBN Direct™, and farm analytics services, as well as expand internationally to Canada. With the backing of premier investors and nearly 5,000 member farms, the FBNSM Network is poised to help farmers in all regions and crops fundamentally revamp how they do business and maximize their earnings.
"Farmers Business Network fiercely advocates for farmers – democratizing information, providing market transparency, and leveling the playing field through networking," said Charles Baron, Co-Founder and VP of Product. "We're bringing growers the transformative power of a digital farm economy. By connecting farmers digitally, farmers are empowered through network-enabled agronomic insights, transparent online input purchasing, and a global crop marketing network to drive profitability even in the toughest markets."
"The pressure this year is greater than ever to save money. Between the input savings and what I'm realizing on the crop marketing premiums, my FBN membership could be worth $90 per acre," said Pat Duncanson, a farmer from Minnesota. "I've committed almost half my acres this year to the crop marketing program and I'm wondering if that's not enough. It gives me transparency around the prices I'm paying, and has given the grower more power in the market to get premiums. With the seed intelligence I get through FBN Seed Finder, I am unequivocally able to find and buy seeds with confidence."
This investment comes on the heels of rapid growth of the FBN Network in just two and half years since its commercial launch. The FBN Network now serves over 16 million acres of farmland (a land area larger than West Virginia) throughout 42 states and Canada.
"Having the buy-in and long-term support of world-class, independent investors is fundamental to our mission of serving family farms. This funding brings massive firepower to the FBN Network. We now have over 200 employees and soon will bring hundreds more high-tech jobs to rural America," said Amol Deshpande, CEO and Co-Founder.
Creating an Independent Farm Economy to Put Farmers First
The idea for the FBN Network originated from farmers who wanted to create an independent, farmer-driven information and commerce network. In the past, important information such as fair market input prices, real-world seed performance, or optimal grain delivery points were hidden from farmers or difficult to determine. The FBN Network makes all this information transparent in a no frills way – driven by real-time statistics from its millions of acres of member farms.
With the price transparency and online purchasing through FBN Direct, farms have commonly saved tens of thousands on inputs, even as much as $120,000 in a single year. Yearly FBN membership costs only $600 with no punishing acreage fees, making it easily affordable for farms of all sizes.
This latest round brings the company's total equity funding to nearly $200 million. The company's investors have been inspired by the potential to create a better farm and food economy for farmers and consumers through digital technology.
For more information, visit farmersbusinessnetwork.com.
About Farmer's Business Network, Inc.
Farmer's Business Network, Inc. is an independent farmer-to-farmer network, built by and for Farmers, representing Farmers FirstSM. FBN members receive comprehensive farm benchmarking, real world seed performance, input optimization and pricing analytics based on over 115 million acre events of real-world precision agronomic data. The FBN Direct e-commerce platform provides national, transparent pricing on ag chemicals, fertilizers, seeds, technology and services. FBN Crop MarketingTMprovides farms premium contracts, production contracts, risk management, and price intelligence powered by a global buyer network.
The FBN Network has grown to over 16 million acres of member farms in the US and Canada. Blending the best of Midwestern agricultural roots and Silicon Valley technology, the company has offices in San Carlos, California, and a National Operations Center in Sioux Falls, South Dakota, and employees spanning 25 states and Canadian provinces.
The FBN Network's mission of creating a better farm economy has earned the support of world-class technology investors GV (formerly Google Ventures), DBL Partners, Kleiner Perkins Caufield Byers LLP, Bow Capital, Acre Venture Partners, Temasek, and T. Rowe Price.
About T. Rowe Price
Founded in 1937, Baltimore-based T. Rowe Price Group, Inc., is a global investment management organization with $971 billion in assets under management as of October 31, 2017. The organization provides a broad array of mutual funds, subadvisory services, and separate account management for individual and institutional investors, retirement plans, and financial intermediaries. The company also offers sophisticated investment planning and guidance tools. T. Rowe Price's disciplined, risk-aware investment approach focuses on diversification, style consistency, and fundamental research. For more information, visittroweprice.com or the company's Twitter, YouTube, LinkedIn, and Facebook sites.
About Temasek:
Incorporated in 1974, Temasek is an investment company headquartered in Singapore. Supported by 10 offices internationally, Temasek owns a S$275 billion (US$197b) portfolio as at 31 March 2017, mainly in Singapore and the rest of Asia. Our portfolio covers a broad spectrum of industries: financial services; telecommunications, media & technology; transportation & industrials; consumer & real estate; life sciences & agribusiness; as well as energy & resources. Our investment activities are guided by four investment themes and the long term trends they represent: Transforming Economies; Growing Middle Income Populations; Deepening Comparative Advantages; and Emerging Champions. For more information on Temasek, please visit www.temasek.com.sg
Comments (0)
This post does not have any comments. Be the first to leave a comment below.
---
Post A Comment
You must be logged in before you can post a comment. Login now.
Featured Product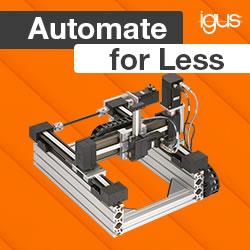 drylin® gantry robots consist of two base X-axes, a Y-axis, and an optional Z-axis. Their self-lubricating plastic liners have been engineered to slide instead of roll and to run smoother and quieter than recirculating ball bearings. drylin® gantries are also lightweight, corrosion-resistant, maintenance-free, and cost up to 40% less than traditional gantry robots. Visit this webpage to learn more.