IKEA & Top Chef David Chang Round Out AeroFarms Financing For $40M Series D Round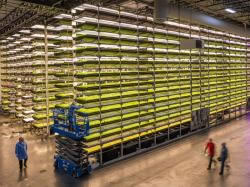 (Newark, NJ) AeroFarms, the pioneer and leader for indoor vertical farming since 2004, closed $40 million in Series D financing led by an international line up of financing all-stars including Dubai-based Meraas Holdings, London-based ADM Capital, NYC-based AB (AllianceBernstein), and Netherlands-based Ikea Group with continuing support from existing investors including London-based Wheatsheaf Group and Beijing-based GSR Ventures. A number of individual investors also participated highlighting the breadth and depth of strategic partners interested in helping AeroFarms identify and capitalize on additional growth opportunities such as General David Petraeus and top chef David Chang of the Momofuku Group.
AeroFarms just built its ninth farm to date in Newark New Jersey that is the world's largest indoor vertical farm based on annual output. Having raised in total over $100 million in corporate and project financing, AeroFarms will used the latest round of funds for continued investment in leading R&D and technology and additional farm expansion around the world.
AeroFarms Co-Founder and CEO David Rosenberg stated, "We are happy to have been able to make room for Ikea and David Chang to close out our May financing. Strategically partnering with additional major international investors and leaders with a shared vision and values demonstrates the maturity of our business and our ability to expand and have a global impact. We have built a world-class organization that has expertise in all aspects of horticulture, biology, engineering, automation, machine vision, building systems, food safety, and nutrition to manage the growing process from seed to package for a truly differentiated product. We are as much a capabilities organization as we are farmers, vertically integrated to give us the tools and insights to optimize for taste, texture, color, nutrition, and yield. We are at a major inflection point globally as we think about the challenges of increasing population and urbanization, loss of fresh water and arable land, worker welfare, food safety, and food security, and AeroFarms is uniquely positioned to address each of these areas with proprietary growing technology and unmatched growing history and expertise. We are proud to have these investors join our core round of investors and partners like MissionPoint Capital, Middleland Capital, Prudential, and Goldman Sachs who continue to help us build our company."
Commented Alastair Cooper, Head of Early Stage Investments at ADM Capital Europe LLP: "We are delighted with the Cibus Fund's investment in AeroFarms. In our opinion, AeroFarms is at the vanguard of the necessary integration of big data analytics and food production, enabling the production of more food with less; and provides part of the solution to feeding the World's growing urban population."
Said Rosenberg, "As a Certified B Corporation, we have had an incredible change-the-world company story that has been mission-driven from day one. We have had an innovative, ground-breaking technology story as we have built a world class team developing all of our own proprietary growing systems. We have an even more amazing product story attracting major interest from global retailers and top chefs like David Chang who in addition to investing will also be joining our Board of Advisors to help us with further culinary developments."
Stated David Chang from Momofuku Group, "As a chef, I'm always seeking new sources of deliciousness. Momofuku has always championed local farmers and is continuously looking for innovative solutions to improve our quality and sustainability practices. AeroFarms' incredible technology allows them to grow consistent, high-quality ingredients all year round. At the end of the day, the goal is always to find delicious ingredients from local purveyors we admire, and I am excited to partner with AeroFarms."
About Dream Holdings, Inc. ("AeroFarms")
Founded in 2004 and having built 9 farms to date, AeroFarms is on a mission to fundamentally change the way the world thinks about agriculture by building, owning, and operating indoor vertical farms around the world that grow flavorful, safe, healthy food in a sustainable and socially responsible way. AeroFarms patented indoor vertical farming systems make year-round harvests with peak flavor possible while disrupting the traditional distribution channels that lead to massive carbon emissions and food waste. AeroFarms is able to bring the farm to the consumer while mitigating the food safety and environmental risks of commercial field farming. Led by CEO David Rosenberg who has been recognized by the World Economic Forum as one of the "Transformational Leaders in Agriculture", AeroFarms is a Certified B Corporation and a member of the Ellen MacArthur Foundation Circular Economy 100. For more information, please visit www.AeroFarms.com.
About Meraas Holdings
Meraas is a Dubai-based investment company with diversified interests across a number of sectors including real estate, retail, hospitality, healthcare, leisure & entertainment and technology. For more information, please visit www.Meraas.com.
About The Cibus Fund
London and Hong Kong based private equity and investment group, ADM Capital manages or advises over $1.4 billion across Asia, Europe, and North America, including the Cibus Fund, a new global agribusiness investment vehicle, which has just reached a $100m first close. Cibus Fund, advised by the London-based ADM Capital Europe LLP, focuses on mid-market investment opportunities in sustainable food processing and production companies, primarily across Europe and Australasia, is targeting a $500m final close in 2018. For more information, please visit www.admcapital.com
About Alliance Bernstein L.P. (AB)
AB is a leading global investment management firm that offers high-quality research and diversified investment services to institutional investors, individuals and private wealth clients in major world markets. For more information, please visit www.abglobal.com.
About IKEA Group (Ingka Holding B.V. and its controlled entities)
The IKEA vision is to create a better everyday life for the many people and they offer well designed, functional and affordable, high quality home furnishing, produced with care for people and the environment. The IKEA Group owns and operates 354 stores in 29 countries under franchise agreements with Inter IKEA Systems B.V. In addition, there are more than 40 stores run by other franchisees. The IKEA Group venture capital unit makes venture and growth capital investments with the aim of supporting innovative companies that are building a more sustainable, connected and affordable life at home. For more information, visit http://www.ikea.com/.
About Wheatsheaf Group Limited and The Grosvenor Estate
Wheatsheaf was established at the beginning of 2012 by Grosvenor Estate. Its remit is specifically to develop and invest in businesses that will contribute solutions towards meeting the global challenge brought about by a rapidly changing world population and its demands for food, energy and water in an increasingly resource constrained environment. The Grosvenor Estate represents all of the assets and business interests, including rural estates owned by trusts on behalf of the Grosvenor family headed by the Duke of Westminster. The three key elements are Grosvenor Group, an international property group active in 60 cities around the world; Wheatsheaf Group, which comprises investments in sustainable food and energy initiatives together with a number of trading companies in the North West of England; and the Family Investment Office which includes 5 rural estates in the United Kingdom and Spain and a charitable foundation. The Grosvenor Estate employs more than 1,100 people, whilst relating to many more through its ownership and management of land and property. For more information visit www.wheatsheafgroup.com and www.grosvenorestate.com.
About GSR Ventures
GSR Ventures is a venture capital fund that invests primarily in early and growth stage technology companies that have very large market opportunities, strong management teams and disruptive intellectual property, business models or market positions that will give them a competitive advantage to successfully compete in the global market. For more information, visit www.gsrventures.com.
About Momofuku Group
Established by chef and founder David Chang in 2004 with the opening of Momofuku Noodle Bar, Momofuku has grown to include restaurants in New York City, Sydney, Toronto and Washington, DC. Momofuku has a total of twelve restaurants (Noodle Bar, Ssäm Bar, Ko, Má Pêche, Seiōbo, Noodle Bar Toronto, Daishō, Shōtō, Fuku, Fuku+, CCDC, Nishi), a bakery established by award-winning pastry chef Christina Tosi with multiple locations throughout New York City, Washington, DC, and in Toronto (Milk Bar), two bars (Booker and Dax, Nikai), and a Culinary Lab. Momofuku also has a product and equipment development company called Booker and Dax. The restaurants have gained recognition for their innovative take on cuisine, while supporting local, sustainable and responsible farmers and food purveyors. For more information, visit www.momofuku.com.
Comments (0)
This post does not have any comments. Be the first to leave a comment below.
---
Post A Comment
You must be logged in before you can post a comment. Login now.
Featured Product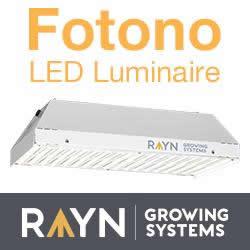 Fotono is a full spectrum LED horticultural luminaire designed to directly replace HPS lights in greenhouses. At 12 pounds, 20 inches long, and 5 inches high, Fotono's compact size makes installation simple while minimizing structural burden on greenhouses. This compact fixture packs energy-saving and yield-improving features, such as a high output, stepless dimming, advanced spectral capabilities, and more.