An Urban Farm Grows in Brooklyn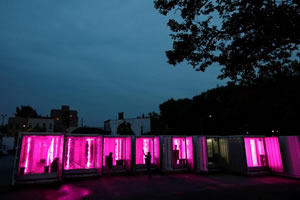 Melissa Fares for Reuters: Erik Groszyk, 30, used to spend his day as an investment banker working on spreadsheets. Now, he blasts rapper Kendrick Lamar while harvesting crops from his own urban farm out of a shipping container in a Brooklyn parking lot.
The Harvard graduate is one of 10 "entrepreneurial farmers" selected by Square Roots, an indoor urban farming company, to grow kale, mini-head lettuce and other crops locally in the Bedford-Stuyvesant neighborhood of Brooklyn.
For 12 months, farmers each get a 320-square-foot steel shipping container where they control the climate of their own farm. Under pink LED lights, they grow GMO-free greens all year round.
Groszyk, who personally makes all the deliveries to his 45 customers, said he chooses certain crops based on customer feedback and grows new crops based on special requests.
"Literally the first day we were here, they were lowering these shipping containers with a crane off the back of a truck," said Groszyk. "By the next week, we were already planting seeds."
Tobias Peggs launched Square Roots with Kimbal Musk, the brother of Tesla Inc (TSLA.O) Chief Executive Elon Musk, in November, producing roughly 500 pounds of greens every week for hundreds of customers.
"If we can come up with a solution that works for New York, then as the rest of the world increasingly looks like New York, we'll be ready to scale everywhere," said Peggs.
In exchange for providing the farms and the year-long program, which includes support on topics like business development, branding, sales and finance, Square Roots shares 30 percent of the revenue with the farmers. Peggs estimates that farmers take home between $30,000 and $40,000 total by the end of the year. Full Article:
Comments (0)
This post does not have any comments. Be the first to leave a comment below.
---
Post A Comment
You must be logged in before you can post a comment. Login now.
Featured Product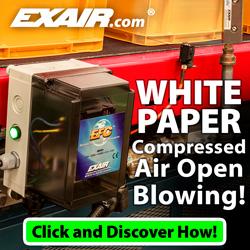 Compressed air is a limited resource that is generated in-house for the benefit of many operations within the manufacturing environment. Learn how to ensure all point of use applications are using your compressed air in the most effective and efficient way possible. Learn how much it costs to produce that compressed air and how Engineered Nozzles can help you use your air more effectively and efficiently.