Intelligent Growth Solutions (IGS) launches industry-first research network to fast-track vertical farming innovation
Edinburgh, Scotland - [Thursday 16 November 2023] A world-first international research network designed to bring together leading minds in crop and data science as well as multiple engineering disciplines has been established to drive innovation in vertical farming, a technology that can dramatically improve global food security.

Vertical farm infrastructure enables producers to grow crops regardless of climate, weather or environmental conditions such as soil health. It is a crucial tool in helping the world sustainably feed a growing population, improving food security and reducing food miles while catering to local needs and tastes.
Launched by agritech infrastructure business and vertical farm innovator, Intelligent Growth Solutions (IGS), the research network so far spans four continents, bringing together the brightest minds in plant science, data science horticulture, forestry and engineering to continue to broaden the application of vertical farming technology and the range of its applications.
Its aims include maximising and defining optimum conditions to grow regionally important crops, speed breeding, new variety development, establishing best practice to reduce energy and water consumption as well as proving the technology's capabilities to efficiently grow novel crops.
David Farquhar, CEO of IGS, said: "Formally launching this network of globally linked research institutions is a huge milestone not only for IGS, but also for the wider CEA industry. We are confident that by bringing together diverse mindsets from all regions of the world with such a wealth of experience across key areas such as horticulture, agriculture and forestry, we will be able to continue to broaden the application of our vertical farming machinery.
"IGS has always been an engineering business with the double-helix of crop and data science at our core, so establishing a way to give the research community direct access not only to our technology, but also to a closely-linked network of like-minded institutions is a significant step. The more we understand about vertical farming, its scope, opportunities and limitations, the greater the impact our technology can have on securing a greener, more sustainable future, in close partnership with traditional growing methods."
Among those to have so far signed up as inaugural members of the IGS Research Network are the James Hutton Institute in Scotland - a long-term research partner with IGS - England's Nottingham Trent University, the University of Queensland, Australia, and Germany's University of Applied Science, HSWT. Each member will build an IGS vertical farm on their site, supported by IGS, to allow them to study crop growth and performance in their own geography and environment.
Chris Horne, who will lead the research project for IGS, said: "Our aim with the research network is to continue to drive forward crop science and indoor growing innovation by collaborating with the leading minds across the world, validating the technology across different environments and climates, thus improving even further the growth recipes we've already developed.
"The World Resources Institute estimates that we need 56% more food than available today to feed the global population by 2050. This work has never been more important. So far, we have proved that more than 200 varieties of crops can be successfully grown indoors - and we've demonstrated that having total control of the growing environment enables us to produce high-quality crops at up to six times the speed of other techniques, such as traditional farming or glass houses."
Priority themes for research include plant analysis, photobiology, and nutrition, including studying ways to enhance nutritional density with an emphasis on produce freshness, flavour and quality. Researchers will also have the chance to work together and share knowledge across different climates and markets.
IGS' technology is protected by more than 25 patents that uniquely allow automation of every element of the growing environment, including providing optimal light, airflow, watering and nutrition.
Professor Derek Stewart from the Advanced Plant Growth Centre at the James Hutton Institute said: "Having worked with IGS for several years we know very clearly how the IGS system adds to our research toolbox and is complimentary to other assets like growth chambers and glasshouses. Effectively it gives us 50 lab benches in each tower to enable crop research under very precise control but also at scale. It is also what I call a "time machine" for research, speeding up cycles within projects. We are looking forward to collaborating across the IGS Research Network to accelerate crop science - it will dovetail perfectly with our existing work at the Advanced Plant Growth Centre."
For more information, visit www.igs.farm.
Featured Product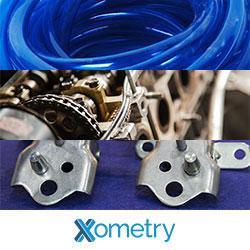 Xometry is your source for custom parts. Now, in addition to getting instant quotes on 3D Printing, CNC Machining, Sheet Metal, and Injection Molding, customers can create and send RFQs for die casting, stamping, and extrusion work to our nationwide network of pre-vetted manufacturers with just a 2D drawing. You will receive and be able to review responses from qualified shops within 7 days on an advanced web-based RFQ management platform. To learn more go directly to our site to issue and RFQ today. Stop wasting time managing RFQs through email and by phone, and start issuing RFQs at scale and in the cloud.