UbiQD is transforming greenhouse agriculture with Nobel Prize-winning quantum dot technology
UbiQD, Inc., the New Mexico-based leader in quantum dot (QD) technology and manufacturing, is today announcing a major step forward for sustainable agriculture. UbiGro Cover is the next evolution in optimizing greenhouse productivity. Expanding on the widely adopted UbiGro Inner—which has revolutionized hundreds of greenhouse spaces worldwide—UbiGro Cover is the latest addition to the greenhouse brand.

UbiGro Cover integrates fluorescent QD technology into a first-of-its-kind extruded greenhouse cover film, which enables lower prices, wider formats, and higher performance. See the new promotional video here. Using fluorescence, UbiGro creates a more optimal light spectrum for enhanced photosynthesis and crop yield by shifting the colors within sunlight. This innovation marks a transformative approach to sustainable greenhouse farming, offering a tangible solution for the escalating challenge of food production on limited arable land.
"It's hard to overstate our excitement for UbiGro Cover," said Eric Moody, UbiQD Vice President of Sales and Marketing. "Cultivators have been requesting a roof-integrated 'full cover' quantum dot solution at a cost-effective price point, and I'm pleased to announce that the future has arrived."
UbiGro Cover's QD technology results from extensive research and development, tailored to produce specific light spectra that boosts crop growth and can promote plant health and quality. Many of the initial UbiGro Cover orders are from existing UbiGro Inner customers that have seen positive results. This technology stems from foundational work recently honored with the 2023 Nobel Prize in Chemistry.
"Developing a fully extruded yet stable quantum dot greenhouse film was no small feat," said Matt Bergren, UbiQD Chief Product Officer. "Decades of R&D on the materials, horticulture, and product engineering has gone in to making it work, and now we're delivering a cover solution to our customers."
The introduction of UbiGro Cover comes at a time when the agriculture industry is under pressure to produce more quantity without compromising on sustainability or crop quality. As climates change and populations rise, the need for renewable farming practices becomes more urgent. UbiQD has also been engineering QD materials for enhancing the performance of thin-film solar modules and agrivoltaics.
"With the introduction of UbiGro Cover, traction in big solar, and the Nobel Prize, quantum dots are having a great year," added Hunter McDaniel, UbiQD CEO. "These novel materials are graduating from the early beachhead markets, such as display, and catching their stride by making positive advancements in food and energy. It's exciting to see nanomaterials innovation translate into tangible products."
The UbiGro team will be exhibiting at MJBizCon 2023 in Las Vegas November 29 to December 1. Come meet us and see UbiGro Cover in action at Booth # 38004 or schedule a meeting with sales@ubgro.com.
About UbiQD, Inc.
UbiQD® (pronounced 'ubiquity') is a global leader in quantum dot manufacturing and technology. Founded in 2014, the company is powering product innovation in agriculture, clean energy, and security. Our quantum dots enable products that harness the power of color and light, and our greenhouse technology, UbiGro®, uses fluorescence to create a more optimal greenhouse spectrum for crops. Headquartered in Los Alamos, New Mexico, UbiQD is licensing technology developed at leading research institutions, including Los Alamos National Laboratory and M.I.T. The company was recently recognized as the 'Best Overall Venture' at the 2023 National Renewable Energy Laboratory (NREL) Industry Growth Forum (IGF) in Denver. To learn more, please visit https://ubiqd.com and https://ubigro.com.
Featured Product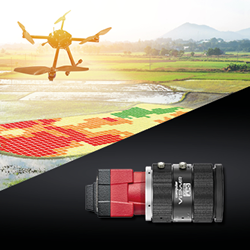 Allied Vision's compact and light weight Alvium SWIR (short wave infrared) cameras are the ideal choice to build cost-effective OEM systems used in embedded and machine vision applications. The cameras support a spectral range from 400 nm to 1700 nm at high quantum efficiencies. This allows to capture images in both the visible and SWIR spectra with a single camera and enables users to reduce overall system costs! Equipped with Sony's IMX990 and IMX991 SenSWIR InGaAs sensors, Alvium SWIR cameras deliver high image quality and frame rates. This makes them well suited for drones or handheld devices used in various industries such as, agriculture, mining, solar cell inspection or medical.