seamless pipe and welded pipe manufacturer & supplier
Generally, steel pipes are divided into seamless steel pipes and welded steel pipes according to the production method. Welded steel pipes, also called welded pipes, are steel pipes made of steel plates or strips that are welded after being curled and formed. The length is generally 6 meters. The production process of welded steel pipes is simple, the production efficiency is high, there are many varieties and specifications, and the equipment investment is low, but the general strength is lower than that of seamless steel pipes. So, how are welded steel pipes processed? The carbon steel pipe manufacturer will introduce it to you in detail below.

Welded steel pipes are seamed steel pipes, which are formed by bending the pipe blank (steel plate and steel strip) into a pipe with the required cross-sectional shape and size through various forming methods, and then welding the welds through different welding methods . The process of obtaining steel pipes. Compared with seamless steel pipes, welded steel pipes have higher product accuracy, especially wall thickness accuracy, simple main equipment, small floor space, continuous operation during production, flexible production, and a wide range of unit products.
Welded pipes should be divided into three categories based on production technology: spiral submerged arc welded pipes; straight seam double-sided submerged arc welded pipes; straight seam high-frequency resistance welded pipes.
1. The production process of spiral steel pipe is roughly as follows
The raw materials of spiral steel pipe are steel strip coil, welding wire and flux.
Before forming, the steel strip is leveled, trimmed, surface cleaned and transported, and pre-bent.
The welding seam control device is used to ensure that the welding seam meets the welding requirements and strictly controls the pipe diameter, misalignment amount and welding seam. After being cut into individual steel pipes, each batch of three steel pipes must go through a strict first inspection system to check the mechanical properties, chemical composition, fusion status of the welds, the surface quality of the steel pipes, and pass non-destructive inspection to ensure that the pipe manufacturing process is qualified. Officially put into production.
2. Long seam submerged arc welded pipe
Longitudinal submerged arc welded pipes are generally made of steel plates. After different forming processes, the welded pipes are formed by double-sided submerged arc welding and post-weld diameter expansion.
The main equipment includes milling machines, pre-bending machines, forming machines, pre-welding machines, pipe expansion machines, etc. At the same time, there are various methods of forming LSAW pipes such as UO (UOE), RB (RBE), JCO (JCOE), etc. The steel plate is first pressed into a U shape and then into an O shape in a forming mold, and then internal and external submerged arc welding is performed. After welding, the diameter (expansion) is usually referred to as the end or full length of UOE welded pipe. It is UO welded pipe. Roll bent steel plates are then subjected to internal and external submerged arc welding. After welding, the diameter is enlarged to RBE welded pipe or not to RB welded pipe. The steel plate is formed in the order of J-type - C-type - O-type, and after welding, the diameter is expanded to a JCOE welded pipe or not to a JCO welded steel pipe.
3. Straight seam high frequency resistance welded pipe
Straight seam high-frequency resistance welded pipe (ERW pipe) is a hot-rolled coil that is formed by a forming machine. The skin effect and proximity effect of high-frequency current are used to heat and melt the edge of the pipe blank, and the pressure is carried out under the action of the extrusion roller. Welding is used to realize the production of products.
Featured Product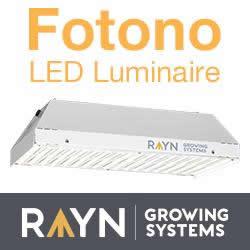 Fotono is a full spectrum LED horticultural luminaire designed to directly replace HPS lights in greenhouses. At 12 pounds, 20 inches long, and 5 inches high, Fotono's compact size makes installation simple while minimizing structural burden on greenhouses. This compact fixture packs energy-saving and yield-improving features, such as a high output, stepless dimming, advanced spectral capabilities, and more.