As the world faces increasingly complex agricultural challenges, Yara and xFarm Technologies have a shared vision of leveraging data, connectivity, and artificial intelligence to transform the way farmers manage their operations.
Oslo and Milan, 14th November 2023 - Yara and xFarm Technologies are joining forces to help boost farmers' economic performance and nutrient use efficiency, contributing to the ambition of a more sustainable food system. This partnership aims to launch digital solutions that combine Yara's crop nutrition and agronomic expertise with xFarm's cutting-edge digital agriculture solutions.

As the world faces increasingly complex agricultural challenges, Yara and xFarm Technologies have a shared vision of leveraging data, connectivity, and artificial intelligence to transform the way farmers manage their operations.
Digitalization as a key to boost farm sustainability
Yara's crop nutrition advice and recommendations are rooted in a long history of agronomic expertise, complemented by extensive field trial data and the insights of local agronomists from around the globe. By integrating Yara's crop nutrition technology into the xFarm Technologies platform, farmers can easily access this expert knowledge, unlocking unique benefits of crop nutrition management and improving the efficiency and sustainability of the food supply chain.
xFarm Technologies, a leading tech company that supports the work of 300k farmers, offers a unique range of solutions to the food chain. The integration of Yara's expertise with xFarm Technologies' sustainable solutions will reshape how farmers plan and manage their crop systems, enabling them to optimize yields and minimize in-field emissions more effectively.
"Plant nutrition is becoming more complex, especially because of changing climate conditions. Digital solutions, such as the ones provided via our partnership, can make a big difference and enable farmers to improve nutrient use efficiency and reduce losses to the environment." says Marion Martinez, SVP for Business Unit South Europe at Yara International.
xFarm Technologies's CEO, Matteo Vanotti, echoed this sentiment, stating: "We are excited to combine our technological innovation with Yara's deep agricultural knowledge. Together, we will empower farmers with data-driven tools that will change the way they farm, making it more efficient and sustainable. In xFarm Technologies, we are working to develop a digital ecosystem to provide farmers with an all-in-one solution to improve the efficiency of their daily work; integrating an international player like Yara into our xFarm Connect module will certainly help achieve this goal."
This partnership not only benefits farmers but also contributes to a greener and more productive food supply chain, fostering a more sustainable and prosperous agricultural future.
The collaboration between Yara International and xFarm Technologies, will be showcased at Agritechnica in Hannover, Germany, from November 12 to November 18. Stand A03 for Yara and Stand A12 for xFarm Technologies are located in Hall 8.
About Yara International:
Yara grows knowledge to responsibly feed the world and protect the planet. Supporting our vision of a world without hunger and a planet respected, we pursue a strategy of sustainable value growth, promoting climate-friendly crop nutrition and zero-emission energy solutions. Yara's ambition is focused on growing a nature positive food future that creates value for our customers, shareholders, and society at large and delivers a more sustainable food value chain.
To achieve our ambition, we have taken the lead in developing digital farming tools for precision farming and work closely with partners throughout the food value chain to improve the efficiency and sustainability of food production. Through our focus on clean ammonia production, we aim to enable the hydrogen economy, driving a green transition of shipping, fertilizer production and other energy intensive industries.
Founded in 1905 to solve the emerging famine in Europe, Yara has established a unique position as the industry's only global crop nutrition company. We operate an integrated business model with around 17,000 employees and operations in over 60 countries, with a proven track record of strong returns. In 2022, Yara reported revenues of USD 24 billion. www.yara.com
About xFarm Technologies:
xFarm Technologies is a tech company focused on the digitization of the agri-food sector, providing innovative tools that can support farmers and stakeholders in the management of their businesses.
Born from the merge of xFarm and Farm Technologies, it offers apps for farm management, connected sensors, support in Digital Transformation projects, algorithms applied to agriculture and training activities for the whole sector.
By combining AI technologies with its deep agronomic knowledge, xFarm Technologies supports the work of 300,000 farms belonging to more than 50 supply chains on 3 million hectares in more than 100 countries worldwide.
Featured Product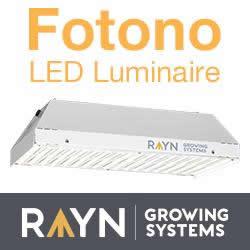 Fotono is a full spectrum LED horticultural luminaire designed to directly replace HPS lights in greenhouses. At 12 pounds, 20 inches long, and 5 inches high, Fotono's compact size makes installation simple while minimizing structural burden on greenhouses. This compact fixture packs energy-saving and yield-improving features, such as a high output, stepless dimming, advanced spectral capabilities, and more.