• New Category On Thomasnet.com Makes It Easy For Enterprise Buyers To Identify Manufacturers That Are Compliant With The BABA Initiative • Part Of Bipartisan Infrastructure Law, BABA Requires Federally Funded Infrastructure Projects To Source Materials, Components And Products Produced In the U.S. • Designation Reflects Thomas' Commitment To Further Strengthen America's Domestic Supply Chain In Support Of The Country's 600,000+ Small- And Mid-Size Manufacturers
NORTH BETHESDA, Md., Sept. 20, 2023 -- Xometry's Thomas, a leading industrial sourcing platform, today announced that it has added "Build America, Buy America" as a recognized certification on its popular Thomasnet.com, a multifaceted directory of more than 500,000 suppliers.

The addition of the "Build America, Buy America" (BABA) category allows domestic manufacturers on Thomasnet.com to signal their compliance with the BABA initiative, a significant component of the bipartisan Infrastructure Investment and Jobs Act (IIJA). Under the act, BABA requires federally funded infrastructure projects to source materials, products and construction materials that are produced or manufactured in the United States.
"Our aim is to help major companies seamlessly connect with BABA-compliant suppliers to further strengthen our domestic supply chain and provide continued support to American manufacturers," said Randy Altschuler, CEO of Xometry, parent company to Thomas. "America's 600,000 small- and mid-size manufacturers are the backbone of our domestic economy and are deeply ingrained in their communities. Supporting them is a win for the American worker, for our neighbors and for our country."
"Investing in America means giving our companies the tools they need to Make It In America. That's why we made the Build America, Buy America initiative a cornerstone of the historic Bipartisan Infrastructure Law," said Congressman Steny H. Hoyer of Maryland. "I'm pleased to see the creative ways that Thomas is helping connect BABA-compliant suppliers with the manufacturers who represent the bedrock of our economy. As Chair of the Regional Leadership Council, I am grateful for the cooperation of partners like Thomas and Xometry as we work to implement the transformative laws that we enacted last Congress."
Suppliers on Thomas can easily self-identify as BABA compliant directly on Thomasnet.com, North America's largest platform for industrial sourcing. Nearly 500,000 suppliers on the Thomasnet.complatform are based in the United States. More information about the Build America, Buy America act is available here.
About Xometry
Xometry's (NASDAQ:XMTR) AI-powered marketplace, popular Thomasnet industrial sourcing platform and suite of cloud-based services are rapidly digitizing the $2.4 trillion manufacturing industry. Xometry provides manufacturers the critical resources they need to grow their business and makes it easy for buyers to access global manufacturing capacity and create locally resilient supply chains. The Xometry Instant Quoting Engine® leverages millions of pieces of data to quickly and effectively analyze complex parts in real-time, match buyers with the right suppliers globally and provide accurate pricing and lead times. Through its extensible marketplace, Xometry continuously scales its offerings, delivering an ever-expanding menu of manufacturing capabilities. Learn more at www.xometry.com or follow @xometry.
Featured Product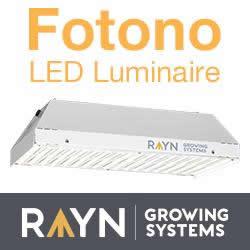 Fotono is a full spectrum LED horticultural luminaire designed to directly replace HPS lights in greenhouses. At 12 pounds, 20 inches long, and 5 inches high, Fotono's compact size makes installation simple while minimizing structural burden on greenhouses. This compact fixture packs energy-saving and yield-improving features, such as a high output, stepless dimming, advanced spectral capabilities, and more.